5 Loss Prevention Stats Retailers Should Know
One of the biggest challenges today in the retail industry is loss prevention. For retailers, shrinkage is a major cost of doing business. The retail industry loses billions each year dishonest customers, careless employees, and other employees with sticky fingers.
As the statistics below will reveal, retail theft is a problem that is not going away. In fact, in many ways, retailers with lax loss prevention programs are getting exploited by shoplifters more than ever. But, don't take our word for it. The numbers speak for themselves.
US Retailers Lost $60 billion in shrink. (Source: Forbes.com)
Not only is the number incredibly steep – it's growing. in 2014, retail shrinkage accounted for $57 billion in losses. And, according to a similar Retail Fraud Survey, employee theft is the main cause in this rise in shrinkage. Fortunately, as theft rates rise, loss prevention technology is improving as well. There are a number of ways to get one step ahead of shoplifters and dishonest employees. And a big one is keeping track of where your employees are, and tracking the location of your high value inventory with inventory management software.
The global financial impact of cargo loss exceeds $50 billion annually. (Source: InboundLogistics.com)
The battle of against theft doesn't just take place on the retail floor. A huge chunk of inventory losses can occur in transit from the warehouse to the retail store. And, unfortunately, this is far too often the time when your inventory is most vulnerable. But, cargo loss can become a compounding problem that can become quite detrimental to your supply chain. Lost or stolen items means a heavier strain on customer service. It'll cost you with supply chain interruptions, under stocked shelves, and the occasional criminal investigation. Ultimately, it pays to keep your items secure in transit.
RFID LOCK & EnCODE SEALS
A low cost, highly secure alternative to conventional padlocks, CYBRA Lock & EnCode™ RFID Seals feature long-range RFID-reading performance in an easy to engage, advanced locking form factor.
Developed by CYBRA Corporation, the makers of award-winning MarkMagic™ Bar Code Labels, RFID Tags, and Electronic Forms software and Edgefinity IoT RFID Control Software, CYBRA's Lock & EnCode™ Locking RFID Seals are easy to integrate into Edgefinity IoT-based and other RFID logistic solutions.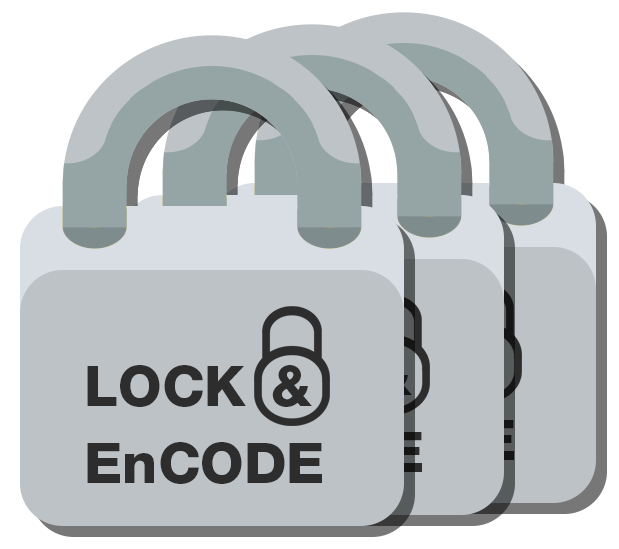 That's right – nearly half of all retail theft is done by employees. And not only that; US employees have the stickiest fingers, according to Fortune.com. What's tricky about employee theft is that workers have an easier means than shoppers to get off the premise without raising any alarms. While a shopper must past shoplifting alarm detectors, employees can easily steal from the stockroom.
And, once off the premise, it is gone, and finding out how the inventory was stolen is even harder to uncover. This is why many retailers are looking seriously at improving inventory tracking capabilities. With technology like RFID hardware and softwre, retailers can track where inventory has gone. They can track when it was taken, who took it, and where it may have gone. With inventory visibility like that, it's no wonder major retailers like Target and Kohls are investing heavily in RFID technology.
Shoplifters are caught an average of only once in every 48 times they steal. (Source: NASP)
The truth is, shoplifters are hard to stop. Even if a retailer is as vigilant as they can be, shoplifters will still be able to find ways to steal. Only a handful of thieves need to succeed for their actions to cause negative fiscal and operational reverberations for an operation. And, there is certainly no shortage of shoplifters these days. According to the NASP, more than 10 million people have been caught shoplifting in the last five years.
Regular loss prevention measures are no longer enough to fight theft. Standard retail store alarms and hidden cameras aren't enough to fight off theft. Cutting edge technology that is by nature a step ahead of shoplifters is what retailers are finding today. Electronic article surveillance is at the forefront of many successful retail loss prevention strategies. These strategies would allow retailers to stop both casual shoplifters as well as professional thieves who come armed with wire cutters. But, ultimately, retailers should use loss prevention technology that works cohesively with their retail operation.
While you can't walk out of a store with a couch under your jacket, it is obvious that shoplifters aren't just kids stealing candy bars. Many of the most popular shoplifted items tend to be expensive, luxury brands. Items such as handbags, high end liquor, jeans, electronic toothbrushes, high end perfumes/cosmetics, and razors.