Cannabis Tracking Solutions
RFID based cannabis tracking software and inventory management solutions for cannabis growers. With CYBRA's Edgefinity IoT, growers can track marijuana plants from the seed to sale. Track your inventory's location, status, history, and sales data.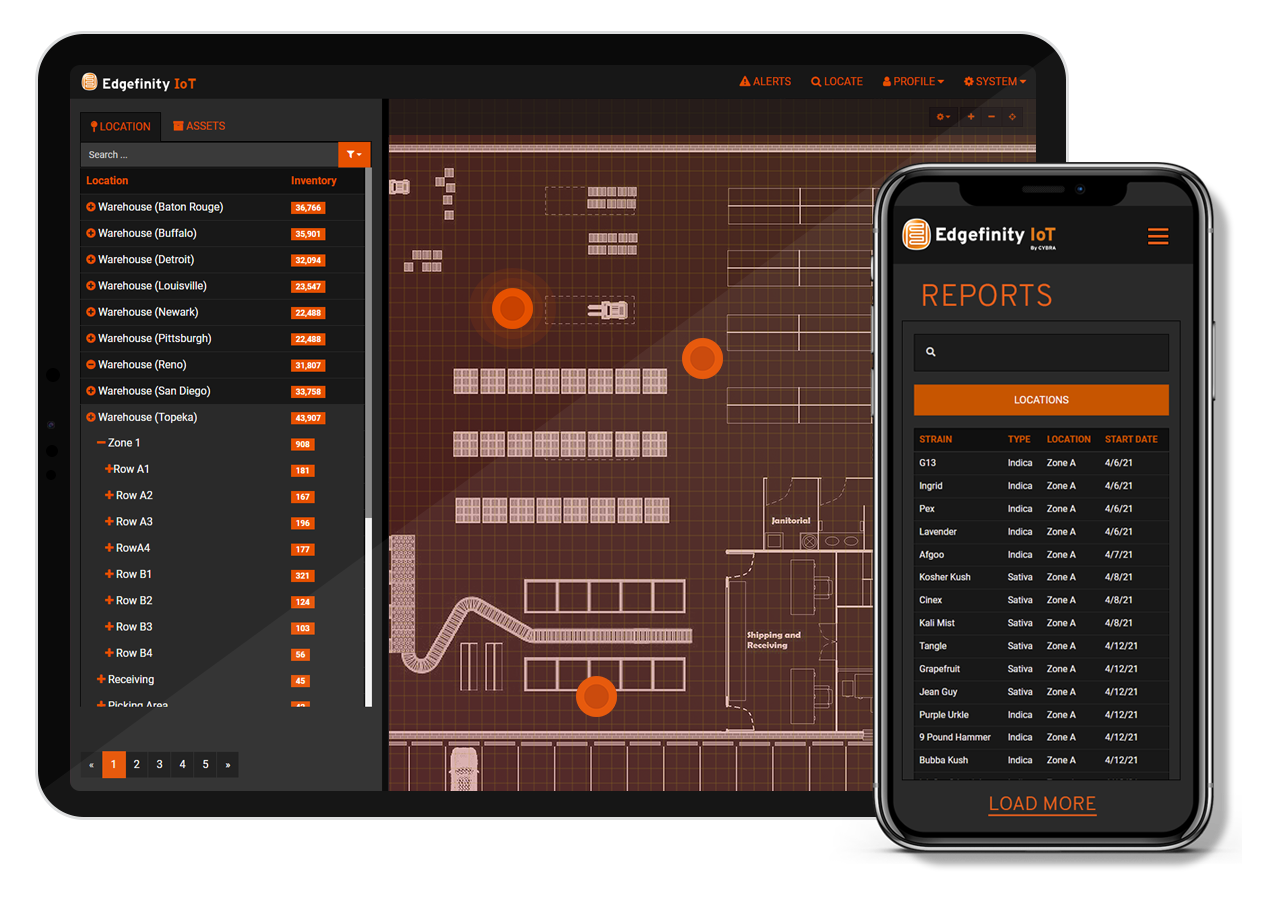 RFID Software for Cannabis Tracking
Deploy powerful RFID tracking capabilities into your supply chain. CYBRA's medical and recreational marijuana RFID tracking and product recall system enables growers to quickly retrieve records and match products to customers and dispensaries. By supplying the information, growers can be prepared for audits, recalls, and any other supply chain challenges.
Tag and Track Inventory, Cannabis Plants, and Equipment
With CYBRA, cannabis growers can create RFID tags and labels for mother plants, clone trays, plant bags, bucket labels, and product labels. Print tags and labels on demand to save time and money.
Cannabis Supply Chain Recall Management
With Edgefinity IoT, Your team can automatically capture information across your supply chain and facilities. With the scan of an RFID reader, data is fed to Edgefinity IoT, which can then pass it to appropriate team members, or store the data for review.
Cannabis Tracking Documentation and Recording
Completely document the chain of custody of all marijuana and marijuana products throughout your supply chain. From seed to sale, Edgefinity IoT gives cannabis growers the ability to record and review every aspect within their operations.
Quick Compliance
Protect your license, company and investment. CYBRA's RFID tracking system allows cannabis growers to instantly respond to unannounced compliance audits.
Queries and Reports
CYBRA's cannabis tracking system contains both an interactive query function, and a mandated log report generation capability. Create dried flowers logs, batch records, lot worksheets, and extraction records.
Deploy Work in Process
Proper usage and put away of equipment is vital in successful WIP (Work in Process) methodologies. Edgefinity IoT helps cannabis growers locate assets, track equipment storage, and monitor usage.
RFID Seed to Sale Tracking Software Objectives
From marijuana plant tracking to product recall, CYBRA's cannabis tracking system empowers growers to take control over their supply chain from seed to sale. With CYBRA's RFID system, growers can achieve the following:
Document the chain of custody of all marijuana and marijuana products.
Maintain and comply with written policies and procedures, approved by the authorities, for the manufacture, security, storage, inventory, and distribution of marijuana.
Automatically identify, record, and report diversion, theft or loss in inventories.
Automate response handling of mandatory and voluntary recalls of marijuana products.
Help ensure that any outdated, damaged, deteriorated, misbranded, or adulterated marijuana is segregated from all other marijuana and destroyed.
Ensure that marijuana product is distributed in a FIFO (first in first out) manner.
Document the steps in the process of manufacture, distribution, transfer, or analysis in order to prevent diversion, theft or loss.
Minimize time it takes to locate a specific plant, batch, lot or product.
Install a solution with minimal disruption to existing practices in the grower facility
Track RFID-tagged items automatically with an autonomous system that validates employee data entry
Maximize grower's existing investment in application software, network protocols, and peripheral devices.
Minimize grower's incremental investment to support the Marijuana Tracking and Product Recall System.
Educate and train grower staff to realize the best possible return on investment.
Gain practical experience with RFID technology.
Install an RFID solution with minimal custom programming and integration
Choose a solution that can be easily adapted to meet future application system requirements.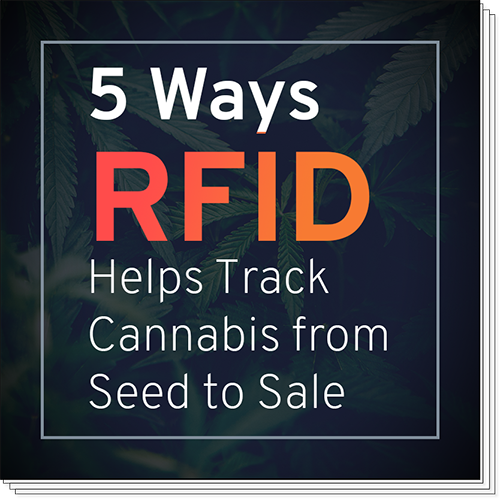 5 Ways RFID Helps Track Cannabis from Seed to Sale
RFID can provide powerful benefits for cannabis growers including inventory management, work in process tracking, plant tagging, serialization, and more. A complete guide that will help cannabis growers understand the great benefits from integrating RFID into their supply chain.
Track Cannabis Plants, Equipment, and Inventory Throughout Your Supply Chain
Thousands of software vendors and customers worldwide rely on CYBRA's award-winning software to save time and money. Our experts can show you how to implement scalable RFID and inventory tracking solutions within your cannabis supply chain.
Seed to Sale Tracking FAQs
What is a Metrc?
Metrc stands for Marijuana Enforcement Tracking Reporting & Compliance. It is a cannabis compliance management solution. Government regulators require cannabis growers and distributors to share data to the Metrc system in order to fulfill their legal seed-to-sale tracking obligations.
As of 2021, Metrc is used by cannabis growers in the following states:
ALASKA
CALIFORNIA
COLORADO
COLORADO INDUSTRIAL HEMP
DISTRICT OF COLUMBIA
LOUISIANA
MAINE
MARYLAND
MASSACHUSETTS
MICHIGAN
MISSOURI
MONTANA
NEVADA
OHIO
OKLAHOMA
OREGON
WEST VIRGINIA
Learn more at: https://www.metrc.com/
Is Tracking Cannabis Necessary?
For the most part, yes. Marijuana is still illegal on a federal level. For this reason states are required by law to have its grows and distributors maintain a high degree of transparency. Those in the cannabis industry must maintain elaborate records that may be reviewed or audited from time to time by government agencies. Records should include information such as profits, losses, inventory, procedural documentation, and operational records.
What is Seed to Sale Software?
"Seed to Sale" is a term used for any software product that provides cannabis growers with the ability to track their inventory from the day the seeds are planted all the way to when the product is put on a dispensary shelf. Every legal cannabis state is required by law to have seed-to-sale tracking software, but states with only medical marijuana may or may not be required to have it.
Can You Use Barcodes in a Work in Process Tracking System?
While you can use barcodes to track items throughout your work in process system, you will likely face several challenges. Barcodes need to be scanned one by one. So either a worker needs to scan each item as they move throughout the supply chain, or a fixed reader needs to be placed somewhere AND the barcodes must be placed in a way where they are seen and scanned properly. Both options are highly prone to errors and high amounts of manual labor. RFID tags, on the other hand, can be scanned automatically and don't require the same line of sight as barcodes. If accuracy and visibility are high priorities, RFID is the way to go.
RFID and Barcoding Solutions
Since 1985, CYBRA has been solving some of the most vexing auto-ID challenges in the world. Relied on by many of the biggest names in retail, manufacturing, and safety & security, trust CYBRA with all your barcoding and RFID needs.