Color Label Printing
Support for Epson Colorworks® color label printers has been added to MarkMagic. No more pre-printed label stock with color background. Print color labels with plain stock, and save. Print labels fast without smearing at a stunning 1200 x 600 DPI.
Epson Colorworks Color Label Printing Support
Epson's ColorWorks solutions increase productivity while reducing the cost of using pre-printed labels. Ideal for high mix label requirements, ColorWorks solutions deliver dependable, commercial inkjet printing with fast-drying, durable color inks.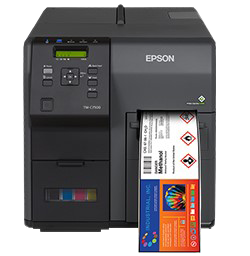 ColorWorks C7500
Fast, full-color heavy production ColorWorks C7500 Inkjet Label Printer for Just-In-Time Color™ printing of large print jobs and jobs with tight time windows.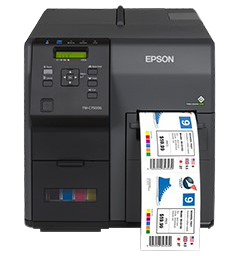 ColorWorks C7500G
The C7500G offers on-demand, full-color glossy label printing at speeds up to 11.8″ per second. Ideal for high-volume environments that require durable, glossy, customized labels.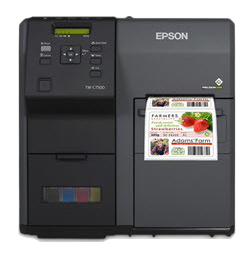 ColorWorks C7500GE
Built for reliable, high-quality performance, the ColorWorks C7500GE is ideal for demanding, high-volume environments that require customized glossy labels at a low cost.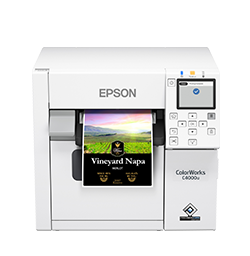 ColorWorks C4000
With print speeds up to 4.0″ per second, this compact color label printer capable of printing 4.25″ wide rolls of BS5609-certified color labels at 1200 DPI.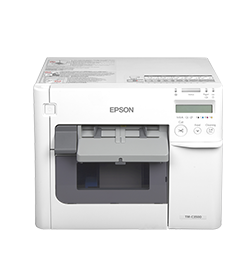 ColorWorks C3500
The C3500 is a compact color label printer that can handle media of 1.2″ to 4.4″ widths at high volume. Includes individual ink cartridges for efficient use of ink.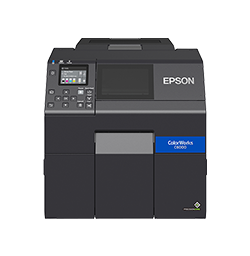 ColorWorks C6000A
Epson's C6000A is a powerful on-demand color printer. Built to be reliable, this printer can handle high-volume print jobs and can speed through labels at up to 5″ per second.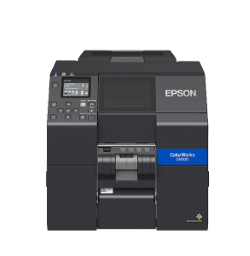 ColorWorks C6000P
Like other Epson Colorworks printers, this machine can handle print jobs at high speeds. This printer offers a peel-and-present option making it ideal print-and-apply applications.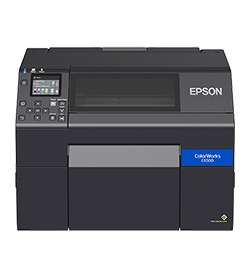 ColorWorks C6500A
Need to print larger color media? Rely on Epson's C6500A color label printer to output labels up to 8″ at lightning fast speeds of 5.8″ per second.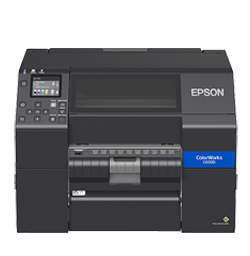 ColorWorks C6500P
The first label printer specifically designed as a color upgrade to black-and-white thermal transfer printers, the C6500P can handle a wide range of media sizes at fast speeds.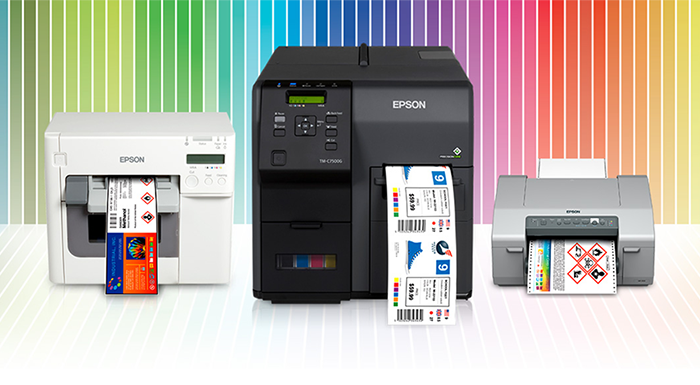 Find the Right Printer
CYBRA has partnered with Epson to combine the highest quality color label printing output with the best barcode label printing software. Contact us today to speak with a labeling expert.
Epson Color Label Printing Advantages
Image Quality – PrecisionCore® technology delivers vibrant precise colors, smooth gradations, ultra-sharp text and accurate barcodes. Epson Colorworks printers use DURABrite Ultra pigment ink, and can print labels at an amazing 1200 x 600 DPI.
Ease of Use – Fully supported by CYBRA's MarkMagic , you don't have to be a programmer or technical wizard to design, maintain, and print great-looking labels every time. With any MarkMagic license, users receive its easy to use WYSWYG designer for free.
Ultra Durable – Rely on Epson's world-class highly durable water-resistant labels that won't smudge, smear or fade.
Reliable Performance – Renowned Epson printhead, ink and design technologies yield unmatched quality and durability.
Low Operating Cost – Extreme long-life head technology, on-demand printing and high speeds provide significant cost savings.
Color Label Printers for Every Need and Budget
Your one stop for short-run, on-demand high quality color label printing
Now you can easily add the impact and clarity of one-step color label printing. Forget old-fashioned, hard-to-read, black-and-white labels. And forget having to manage pre-printed label stock. Simply upgrade to an Epson ColorWorks® printer and you can create vivid color labels on demand. And once you do, you will lower your costs by eliminating of specialized pre-printed forms and reduce label waste.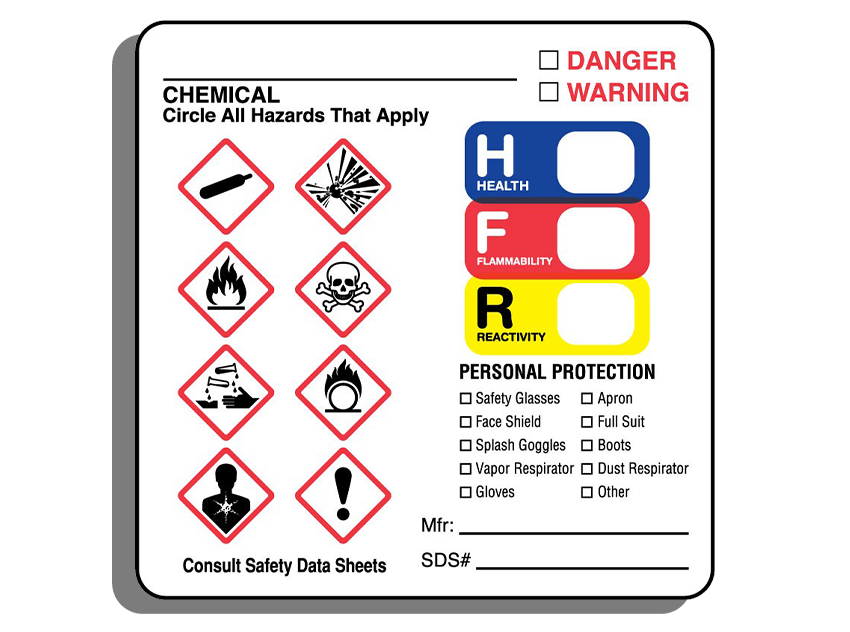 GHS-Compliant Labels
HazCom Label Printing
Create durable, GHS-compliant color labels that won't smudge, smear or fade with incredible speed and ease.
Customized Packaging Labels
Warehouse and Package Label Printing
Create color-coded, branded labels with incredible ease including crisp barcodes and ultra-accurate color.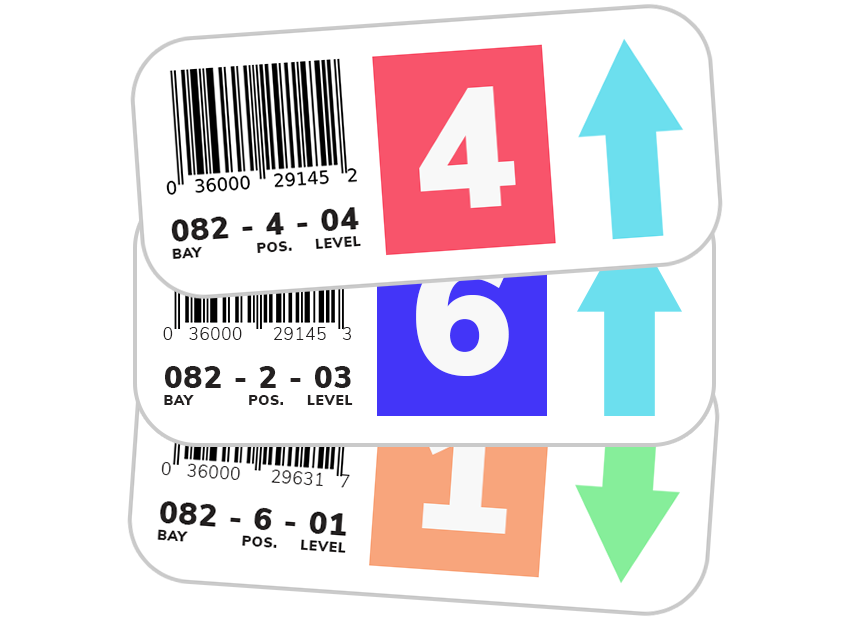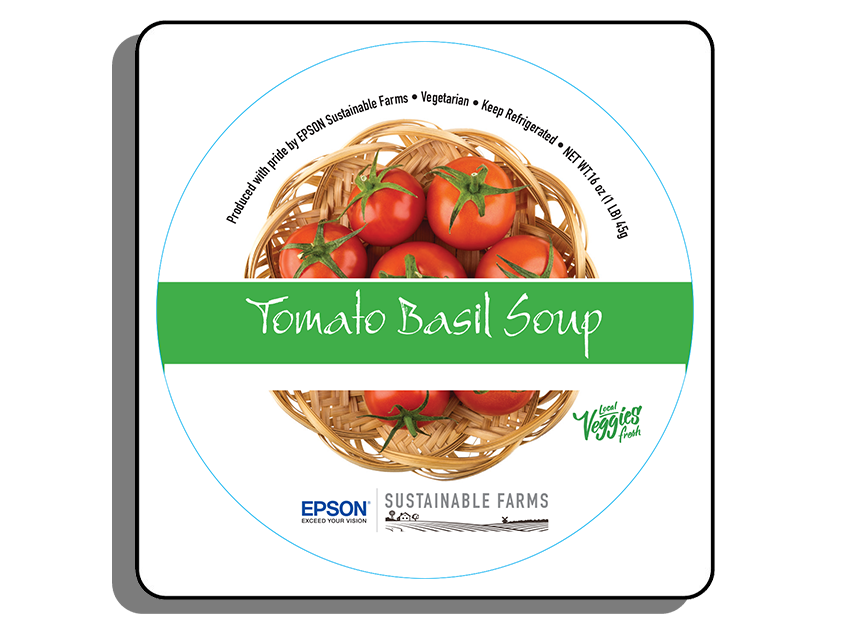 Branded Product Labels
Product Label Printing
Quickly and efficiently print high-quality, color-accurate product labels with variable data in any size run.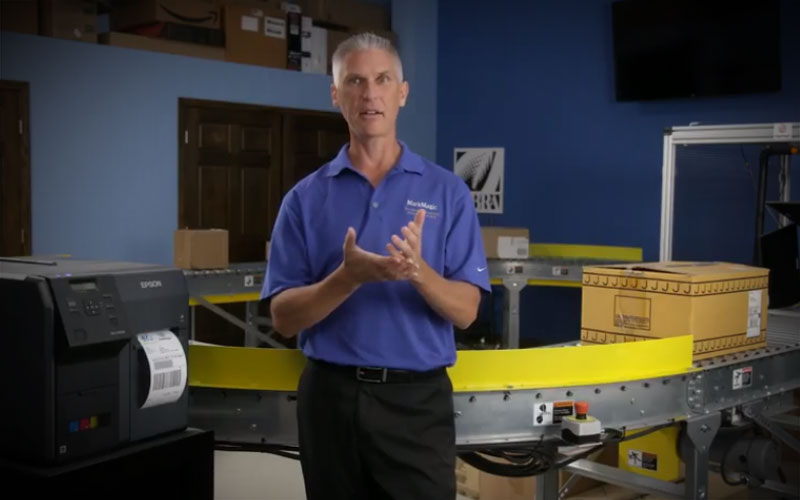 How CYBRA Helps West Four Group Deploy On-Demand Color Label Printing
CYBRA's MarkMagic helps West Four Group stand out from the competition with on-demand color label printing.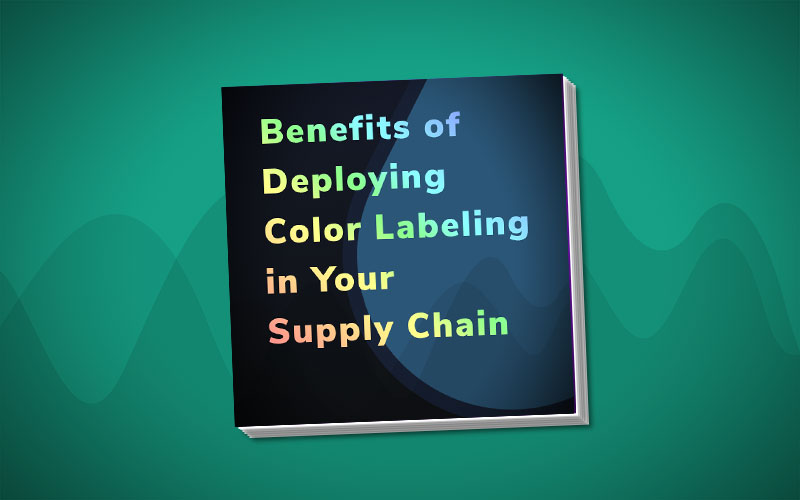 Benefits of Deploying Color Labeling into Your Supply Chain
A quick guide that shows the biggest benefits brands can enjoy when adding color to their product labels and supply chain.
Start Printing Color Labels
Since 1985, CYBRA has been solving some of the most vexing auto-ID challenges in the world. Leading software vendors such as Manhattan Associates, VAI, and Oracle, and thousands of customers worldwide rely on CYBRA's award-winning software to save time and money.
Color labels you can produce include:
GHS-compliant color labels
Custom food labels
Healthcare labels
Branded product labels
Packaging labels
Contact the MarkMagic sales team to discuss your unique color labeling needs. We can supply the entire solution — the label stock, the inks, the printers, and the software: MarkMagic.