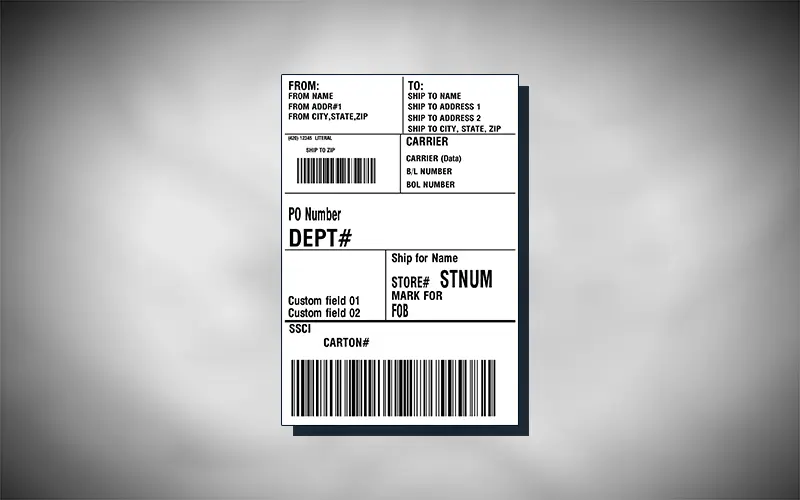 In the world of shipping, a VAS (value added service) is any sort of service a shipper, fulfillment organization, or 3PL can offer their partners and customers. These may include any of the following:
Shipment Tracking
Same Day Delivery
Product Assembly
Pre-printed Shipping Labels
One of the more cost effective ways of providing additional shipping services is to offer VAS labels. These are any type of label that may support a retailer or vendor such as return label or coupon. The kinds of labels may include a return address, shipping barcode, and other information that a shipping carrier uses to identify the destination and track the package. VAS labels have increased in popularity with the growth of online shopping and ecommerce.
Whether you're working with USPS, UPS, or FedEx, it's important to know what goes on a shipping label before you generate one.
What is a VAS (value added service) Label?
A shipping VAS (value added service) label is simply any document that shippers or fulfillment teams may add to shipment on behalf of their partners and retail clients. The best part in adding VAS labels to your shipping operations is that it does all of this for a relatively low cost. A third-party logistics (3PL) provider can support the packaging needs of their partners by offering additional packing and shipping services.
VAS Label Examples
Return Labels
Receipts
Delivery Labels
Shipping Labels on Polybags
Coupons
The best way to get the most bang for your buck is to understand what you are actually delivering, how frequently it needs to be delivered, and then work with a partner who can make that happen. A good 3PL will provide you with the tools and resources to get your business up and running quickly while ensuring that you never miss a delivery or an order. You will be able to focus on what matters most, your core competency.
Return Labels
Return shipping labels are a key component of online retail businesses. They allow customers to send back their products if they are not the intended recipients or the items arrive in a damaged condition.
The shipping label contains important information like the seller's name and address, recipient name and address, package weight, unidirectional code (maxicode), and postal barcode. All of this data can be read by humans or machines, thereby making the return process easy for both parties.
There are two types of return shipping labels – prepaid and postpaid. Prepaid labels are those that you pay for upfront and use them as needed, whereas postpaid ones come with the delivery.
Return shipping labels are an essential part of online retail business since they work as a way to increase your profit and popularity in the market. They are also cost-efficient if you select the lowest mailing class.
Receipt Labels
A shipping vas (value added service) label is a unique identifier that gets packed inside a shipment. It can be used to help your ecommerce customers open their packages easily and safely.
The label also provides critical information to your logistics services provider, such as a ship to postal code. This information is important for ensuring that your shipment gets delivered quickly and efficiently, which can save you both time and money in the long run.
Depending on how you want your shipment to be handled, you can include a variety of other information on the VAS label. This can include instructions for how to open the box, a custom logo, or eco-friendly packaging.
Often, your VAS label will need to be reprinted if the order details change. You can quickly edit and reprint these labels using MarkMagic.
Delivery Labels
A shipping vas (value added service) label is a great example of the type of services 3PL providers can offer their clients. This small piece of paper has a lot of information on it, including the size of the package, a barcode for scanning, and the method used to deliver it.
The label also shows the recipient's address, making it easy for couriers to find their destination. The label is a great way to make sure a delivery gets to the right place on time and in one piece.
Value-added services are all the rage, from expert kitting to branded packaging and even custom message printing. They can also be a great way to improve customer satisfaction and boost overall business efficiencies. It's important to choose a logistics partner that is willing to go the extra mile for your brand. The best ones will be willing to implement special projects to suit your unique needs and budget.