LONE WORKER SAFETY
Make sure lone workers and employees are safe no matter where they are.
REQUEST DEMO
SOFTWARE SOLUTIONS FOR LONE WORKER SAFETY
Edgefinity IoT is an application that allows you to keep track of your lone workers. Edgefinity IoT uses RFID technology and RTLS (Real Time Location Systems) to give you an eagle eye view of your facilities and employees.
No matter where managers are, they can always have a live, real-time view of any active alert situation.
PREVENT FALLS FROM BECOMING FATALITIES
ENFORCE MINIMUM STAFFING REQUIREMENTS
ENSURE MUSTERING & EVACUATION PROCEDURES
TRACK & MONITOR WORKERS IN REAL TIME
ACCURATE LOCATION TRACKING
Edgefinity IoT can give you exact coordinates of the location where the lone worker is located. No guessing. No confusion.
REAL TIME MONITORING
When an incident occurs, there is no time to waste. Edgefinity IoT gives you a live look at your facilities without any buffering or waiting.
EASY RULE BUILDING
Make sure when an incident happens, it is handled correctly and quickly. In Edgefinity, you can easily build complex rules to ensure everything is taken care of.
IMMEDIATE ALERTS
During any incident, Edgefinity IoT can call security or first responders, lock doors, send text messages to all staff, call 911, or communicate with other devices.
TRACK LONE WORKERS EVERYWHERE
Edgefinity IoT is a complete RFID control software solutions perfect for manufacturers, or any operation looking to get a better handle on their supply chain and inventory. Implement an advanced RFID inventory management system without any programming. Hardware and software installation takes weeks, not months to successfully install.
Edgefinity IoT is the cutting edge for real-time tracking of inventory, assets, and employees.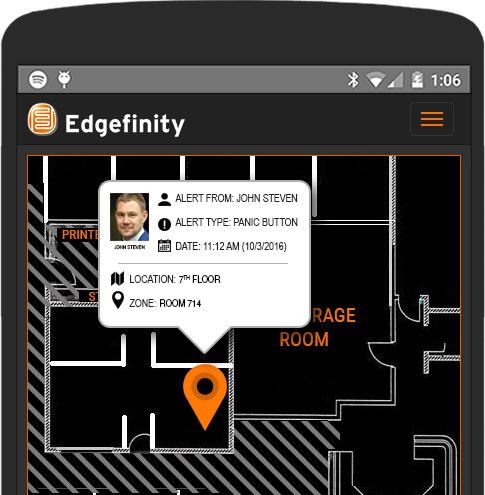 Sophisticated in Capabilities. Easy to Use.
Built on CYBRA's expert system technology, Edgefinity IoT baseline alerts were developed utilizing the latest in RFID and RTLS (Real Time Tracking Systems) capabilities. Contact an RFID expert today to see how our technology can improve your organizational operations.