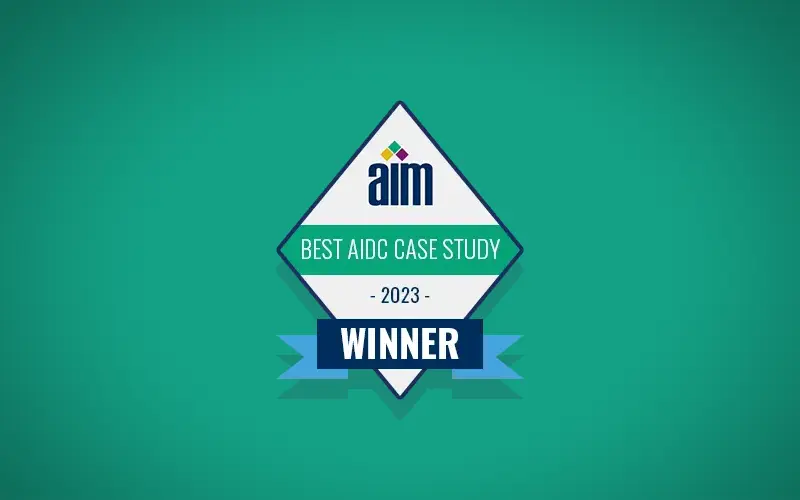 CYBRA's MarkMagic® barcode label software solution receives an award recognizing trailblazers in automatic identification and data capture technologies.
CYBRA Corporation, the developers of MarkMagic® barcode labels, RFID tags, and electronic forms software, has been named as a winner of AIM Global's 2023 Case Study Competition. The annual competition awards companies whose projects display trailblazing efforts in the areas of automatic identification and data capture technologies.
CYBRA's winning case study details how their software solution assisted a major healthcare services company in leveraging cold-chain technology into their supply chain. CYBRA delivered an innovative "over the air" labeling solution that automated the creation of shipping labels for their client's eco-friendly Ember Cubes. MarkMagic empowered the pharmaceutical manufacturer's personnel to produce an e-ink image, change the destination as needed at any point during the package's journey, and manage the safe return of the Ember Cube they used — all through the Cloud. MarkMagic, working in tandem with the Ember Cube, eliminated the need for a thermal printer, bar code label stock, and special barcode label ribbons.
The Ember Cube self-refrigerated package combined with MarkMagic's Bar Code Label solution provides labeling efficiency through the Cloud to support the pharmaceutical manufacturer's sustainability agenda, in addition to streamlining the deployment of their cold chain solution. CYBRA's solutiom provides critical cold supply chain visibility and eliminates the cost, bother, care, and feeding of expensive barcode printing equipment and supplies.
"MarkMagic simplified how we generate the labels needed to utilize Ember Cubes," said the pharmaceutical manufacturer's IT supply chain execution manager. "We wouldn't have an Ember solution without MarkMagic."
Since MarkMagic's inception, the software product has won numerous awards. But according to CYBRA's CEO and Founder, Harold Brand, it's always nice to get a little recognition. "The CYBRA team was thrilled to have our case study selected as the winner by AIM," says Brand. "It's always gratifying to see our work recognized in such a complimentary way. We look forward to seeing this kind of label digitization application grow in the labeling space g in many other industries. "
About CYBRA Corporation
CYBRA Corporation is a leader in Auto Identification – barcode and RFID technology – serving customers in a wide range of industries. CYBRA software solutions run on all major computing platforms, including Microsoft Windows, Linux, Unix, cloud and IBM Power Systems (System i, iSeries, AS/400, AIX). In addition to MarkMagic® barcode label software, CYBRA's other flagship product is Edgefinity IoT® (PATENTED U.S. PATENT OFFICE 11,024,105).  Edgefinity IoT is a platform for rapidly configuring integrated applications that locate objects and people using RFID, RTLS and other advanced tracking technologies. To learn more information, visit https://cybra.com.