A Perfect Barcode Labeling Solution For Fruit Distributors
The Customer
Del Curto supplies the world markets with more than 120 varieties of fresh fruit, produced by more than 900 growers. Thirteen facilities, exporting more than 16 million boxes of fruit each season, are strategically located, from the deserts of Northern Chile to the green fields a thousand miles south.
Del Curto is a pioneer in the Chilean fruit industry – from establishing research programs to using highly sophisticated equipment. Equipment such as forced air precooling, hydrocooling, electronic sorting, computerized packing lines, RFDC equipment from Psion Teklogix, and MarkMagic software from CYBRA.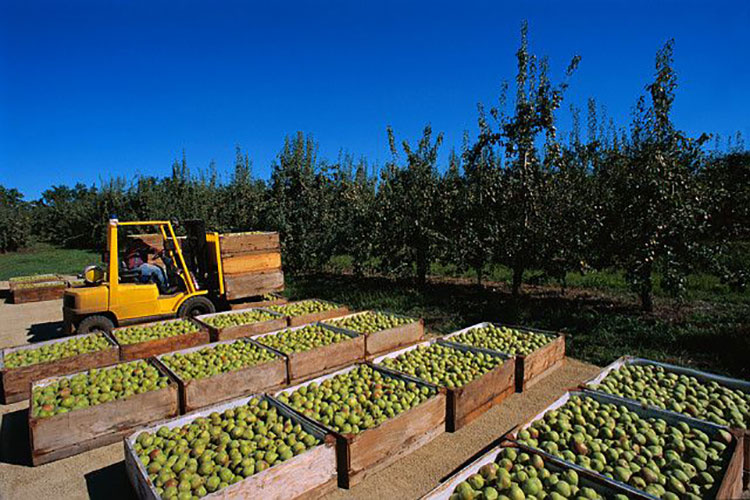 The Challenge
Exporting a perishable product is a time-sensitive process. To more efficiently process, track and store over 30,000 boxes of fruit a day at each facility, Del Curto implemented an RFDC network. Wireless terminals are used by personnel in receiving, packing and cold storage.
The system provides operators with direct real time access to Del Curto's IBM System i computer network to verify and record movement of more than one million boxes each week during the peak of the season. Del Curto built customized wireless carts to accommodate a terminal, scanner, printer and power source. The power source – two 12-volt batteries – provides power for the cart for an entire shift.
But there was still a BIG obstacle: Due to the sheer immensity of the barcode label, the most cost effective printer would be a laser printer. But no one had ever printed barcodes on a laser printer off a System i wireless network.
The Solution
What is 8″ wide, 14″ long and has more than 300 fields? A barcode label format that David Del Curto needed to print on demand — at harvest time — in the company's orchard processing plants. The grower turned to Psion Teklogix for wireless data processing to connect the company's System i computers with orchards across the country, and Psion Teklogix turned to CYBRA to deliver a key component of the system.
CYBRA delivered an innovative solution that integrated Hewlett-Packard HPLJ5P laser printers and Psion Teklogix Wireless terminals using CYBRA's MarkMagic barcode labeling software.
The software's support for COBRA Systems BCM-500 Barcode Modules, hardware interfaces that cut print stream traffic considerably and enabled reasonable response despite the huge legal-size form, was key to satisfy the unique challenge.
As the crates of fruit arrive from the fields, workers enter information about the growers and the varieties of produce into the system. They then generate barcode labels for each crate.
After the crates are selected for processing, they are moved to the fruit processing areas. A forklift driver loads the fruit onto a processing line, where it is transported to the washing process. After the fruit is washed and polished, it continues down the line where inspectors check for quality and sort it for size and variety.
The fruit is then carefully handpacked into boxes, specified by variety and size. The specified boxes are stacked onto pallets. Supervisors enter information about each pallet into the system, which generates a barcode label that is attached to the pallet. The barcode labels give the product's name, number, lot, count, variety and a number of additional codes.
After the barcode labels are attached, the pallets of fruit are then ready to be moved to cold storage. Del Curto's cold storage facility in Paine, Chile is the largest in South America, with the capability to refrigerate one and a half million boxes.
Try MarkMagic for Free
Loaded with powerful features, MarkMagic is the easiest way to design and print the barcode labels, electronic forms, reports, and RFID tags you need to communicate with your customers and suppliers. Request a free demo today!