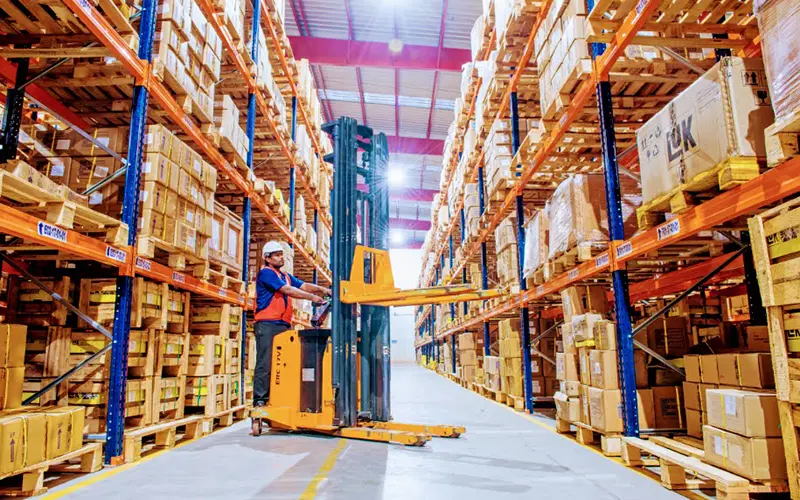 RFID offers a wide rang of solutions across numerous industries and environments. In some scenarios, being able to get a live look at an environment is advantageous whereas some operations only needs to review the latest status of items. There are two kinds of RFID tag – passive and active. Active RFID tags come equipped with a battery to ensure the tag can be in constant communication with a frontend RFID system, thereby accommodating for a live tracking application. For projects that don't require live communication or tracking, passive RFID. Your particular needs will ultimately decide whether your RFID project requires passive or active RFID tags.
Passive RFID is a form of RFID that does not use a battery. Instead, passive tags reflect radio-frequency signals emitted from an RFID reader to identify assets and hardware. This form of RFID is a cost-efficient solution for tracking lower-value, smaller items. It can also be used to monitor the movement of products and equipment in warehouses and manufacturing environments.
Tracking Inventory
Passive RFID tags are a great way to track inventory. They are small, lightweight and easily readable. In fact, if items or inventory is ordered properly, organizations can expect read rate accuracy of 99% or more.
Keeping track of assets and materials can be challenging for most businesses. Whether it's components on a production line, finished products being shipped out or industrial containers that need to be returned to the manufacturer, tracking these items can be an important part of efficient logistics.
One of the most common passive RFID use cases is to track inventory in warehouses. This can be done in a multitude of ways – one of which is by placing a tag on each item and scanning it using an RFID reader to determine its status. If inventory is tagged, warehousing teams can place RFID portals at strategic locations such as dock doors to ensure inventory is scanned as soon as it enters or exits the warehouse
The system can also be used to track personnel in facilities. A portable RFID reader allows staff to scan multiple items at once and input them into a tracking system.
RFID inventory systems can help to increase efficiency and reduce costs. They are a cost-effective alternative to barcode-based inventory tracking systems and can be implemented in warehouses and distribution centers. They also allow for greater visibility and more data to be stored on each tag, which can help to improve the overall accuracy of a company's inventory.

Work in Process Tracking
The manufacturing process can be a complex and challenging operation, and many companies struggle to track work in progress (WIP) to ensure production runs efficiently. Without WIP visibility, companies may waste money or produce products incorrectly if a production error occurs.
RFID can be used to track work in process, and it can help companies maintain a lean manufacturing system by maintaining low inventory levels and reducing wastage. Additionally, RFID can be used to detect any errors that occur on the production floor by reporting deviations or exceptions immediately.
In addition, RFID can be used to track equipment and other assets. This allows companies to reduce lost equipment and improper put away, ensuring a successful WIP methodology.
Active and passive RFID tags are both available for use in asset tracking systems. The type of tag you choose will depend on how you plan to use the system and what you need to track.
Passive RFID tags are often small, but they can be made from different materials and can withstand harsh conditions. They can also be embedded in equipment or be used as labels.
They can be read by an antenna that is attached to an RFID reader. The reader emits radio waves that power the microchip inside the tag, which then sends its information to a database. The reader can be mobile or fixed, and it depends on how far the tag needs to be read.
Using Passing RFID for Asset Tracking
Asset tracking is a necessary component of any business, but it can be labor intensive and costly to implement. Historically, companies have used barcodes or serial numbers to track assets, which require staff to locate the barcode and then scan it or input the serial number into a database.
Fortunately, there are many efficient and cost-effective alternatives to manual asset tracking systems. These include RFID asset tracking software that can provide more granular visibility into the movement of individual assets than barcode scanning or manual entry.
Passive RFID is a popular option for asset tracking because it uses low-frequency radio waves and doesn't require batteries. This type of tag is also easy to deploy and can be used on static or moving assets that aren't constantly changing locations.
For example, passive RFID can be used for tracking construction equipment such as tools and trucks. It's a great way to get a better understanding of the condition and location of each piece of equipment, which can be useful for maintenance and repair work.
Asset management solutions can also help spot expensive operational delays, which can significantly impact your bottom line. This is because an automated system reduces the amount of human interaction required to track assets, leaving your employees free to focus on their job duties.