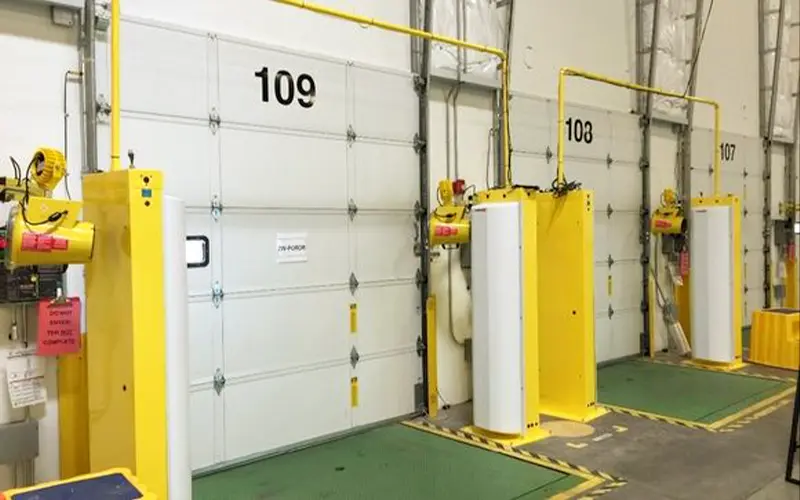 RFID-enabled dock door portals help improve the productivity and throughput of manufacturers, distributors, and fulfillment teams. They're designed to be durable, serviceable, and easy to implement.
Integrated UHF RFID portals monitor items as they pass through dock doors and conveyors, checkpoints, zones, and more. They also help to increase inventory accuracy and eliminate shipping errors.
What is an RFID Dock Door Portal?
An RFID dock door portal is a device that scans incoming and outgoing RFID tags as they pass through an entrance. This technology is a powerful data acquisition tool that can provide valuable insights to warehouse operations and improve product tracking.
In RFID technology, a passive tag emits a small radio signal that activates the tag when it comes in close proximity with a fixed reader. The tag then transmits the information it contains to the reader, which updates the WMS or inventory system.
This type of technology is used in various commercial and industrial settings to help improve workflow management, asset tracking, traceability, and compliance applications. It is particularly useful in warehouses, manufacturing plants, pharmaceutical plants, labs, hospitals, and retail backrooms.
Zebra's transition RFID portal, for example, automates and improves the efficiency of formerly manual data collection and product flow operations. These portals feature the company's FX9600 RFID reader and unique Multi-Linear Wave antennae, which combine to deliver high-performance reading.
How Does an RFID Dock Door Portal Work?
An RFID dock door portal, also known as an RFID gate, is a device that detects and registers RFID tags when they pass through an entrance or a passageway. RFID portals can play a vital role in implementing RFID for distributors, manufacturers, and warehousing within a retail supply chain. This helps companies track tagged items that are traveling through a warehouse, manufacturing plant, distribution center, or any other facility that needs to quickly catalog a shipment.
The technology works in a similar manner to bar code scanning, with a transceiver that generates a radio signal and an antenna that sends the signal to a RFID tag when it passes within range. Once a tag has been registered, the information is then stored in a database for further processing.
RFID technology is a great way to improve asset visibility and accelerate the time it takes to process shipments. This can mean that warehouses have less labor, reduce shipping costs, and increase customer satisfaction.
How Can an RFID Dock Door Portal Help You?
An RFID dock door portal is a device that allows for the automated tracking of goods through loading docks. This can include everything from checking in or out equipment to tracking shipments from point of origin to point of consumption.
RFID portals come in a variety of forms. Typically these devices feature a fixed reader and antenna configuration that creates a tight, high-performance read zone.
Despite the ubiquity of the RFID technology, there are still many challenges to deploying an effective solution. Some of the most common include high cost of ownership, RF reflections and tag orientation sensitivity.
How Can an RFID Dock Door Portal Help Your Business?
An rfid dock door portal helps your business track and manage your assets and inventory. RFID technology enables you to assign a unique identifier to every item, case or pallet and consistently update informational elements like location, date/time and quantity with each read.
Automating these process can save your company time and money, helping to improve WIP and asset tracking workflows. They also provide more visibility over products moving in and out of warehouses, manufacturing plants, and other facilities.
One of the most important benefits of an RFID dock door portal is that it allows you to verify that each carton loaded into an outbound trailer is actually going on the correct truck. This validation can help prevent inventory loss and act as a trigger to generate an electronic proof of delivery (EPOD) record.
Several different types of RFID portals are available to fit your specific needs. There are transition portals that can be used to track items as they enter a dock door, wall mount portals that can be affixed to walls, and fixed tunnel portals that can be placed above a conveyor system to read items as they travel along.