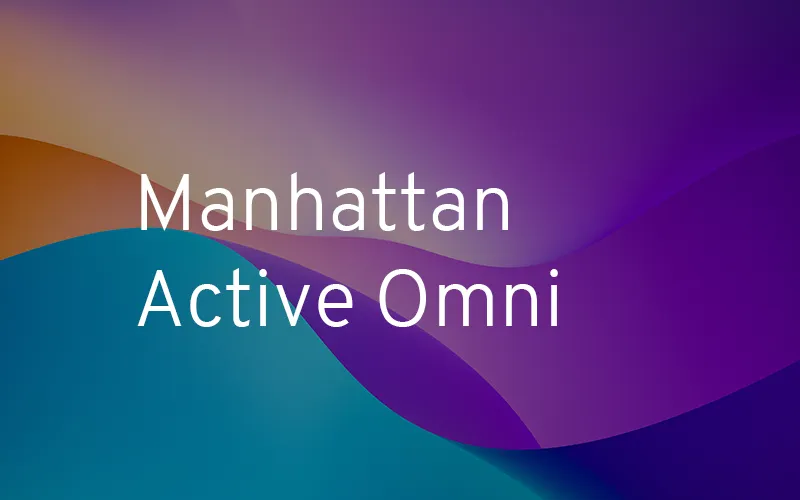 Today, supply chains need to be leaner and more efficient than ever. In order to respond to the needs of modern fulfillment demands Manhattan Associates developed Omni Active. Let's explore everything that Manhattan Omni Active has to offer.
What is Manhattan Active Omni?
Manhattan Active Omni is a cloud-native, unified commerce platform engineered to profitably deliver on the promise of omnichannel customer experiences. It delivers a comprehensive portfolio of order management, inventory, fulfillment, customer engagement and point of sale solutions that are always current and fully extensible.
The industry's most advanced order orchestration and optimization solution, Manhattan Active Omni is the only unified commerce application designed to profitably drive the business outcomes that matter most to retailers. It also includes next generation point of sale, intuitive store fulfilment, omnichannel promotions and retail-focused CRM with case management and native social integration to help retailers create memorable, rewarding experiences.
The Technology Behind Manhattan Active Omni
Powered by the latest RFID technologies, Manhattan Active Omni streamlines and automates inventory counting, receiving, picking, checkout, return and exchange processes. Using handheld RFID devices, store associates can perform unit-level counts with speed and accuracy, reducing inventory shortages and improving overall warehouse efficiency.
Built on resilient, cloud technology, the Manhattan Active Omni solution supports off-line operation with full checkout support including pricing and promotions. When a network failure occurs, the system seamlessly transfers to another location and continues to function without interruption or loss of data.
Active Omni Software Features
Manhattan Active Omni's Digital Self-Service features give customers the ability to track shipment, initiate returns or cancel orders from anywhere, anytime. It also provides customers with the option to receive a redelivery or pick-up notification.
In addition, customers can use the Digital Self Service portal to request customer support calls for questions or concerns, and they can also access a range of tools to manage their accounts. By integrating with their existing contact centre infrastructure, the solution also offers a single view of their accounts and transactions, which reduces confusion and helps improve the customer experience.
Enhanced order cancellation options are also included in the latest version of Manhattan Active Omni, giving customers more flexibility and control over their orders. By providing a broader range of options, they can select which items to cancel and the reason why. They can preview the new order total before confirming their choice.
The latest release of Manhattan Active Omni has also enabled improved order tracking and returns, allowing customers to see where their orders are being sent from, and to initiate and track the returns process at the distribution center or store. This provides a convenient, streamlined order fulfilment experience that improves the customer journey and increases satisfaction levels.
By enhancing its ecosystem, Manhattan has added a number of key partners that now interface with the TMS, such as Real-time Freight Visibility (RTVS), Digital Freight Brokers and Carrier Connectivity Networks. This allows shippers to leverage these ecosystems to simplify the carrier onboarding process.
Third Party Resources
Manhattan Associates Omni Active leverages products like Google Cloud to achieve agility, scalability and resiliency for their containerized workloads. This enables them to scale their application instances up and down, automatically provisioning and auto-repairing nodes when needed and monitoring and logging to ensure they have complete visibility and control of their environments.
For throughput and fulfillment, Omni Active has CYBRA's MarkMagic barcode label printing software built in natively. MarkMagic printing functions are built into Manhattan's software, and already installed on your server. No messy uploading, downloading, or creating special printer queues. Get started immediately with Manhattan Associates top 100 certified compliance templates. Plus, hundreds of other popular Manhattan integrated MarkMagic templates are at your fingertips. Any existing legacy formats that you already have – no matter how they were originally created – can be easily imported into MarkMagic.