EdgeBox Controller
A strategically engineered, high performance, dust-resistant, zero maintenance server.
A Simple Server Solution
The Edgefinity IoT EdgeBox Controller server is a purpose-engineered, high performance, dust-resistant, zero maintenance server.
Featuring zero noise, low heat, and minimal energy usage, the Edgefinity IoT EdgeBox Controller is a solid state solution with no moving parts that is designed for maximum uptime. Perfect for unattended installations such as a retail branch in store controller, the CYBRA EdgeBox is ready to go out of the box, engineered for maximum uptime and zero surprises. CYBRA's EdgeBox assures easy roll outs of Edgefinity IoT based RFID solutions.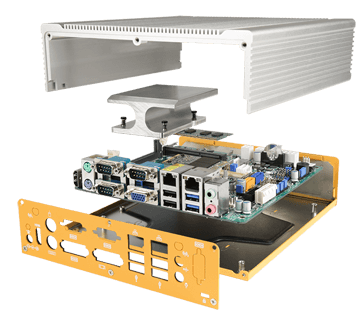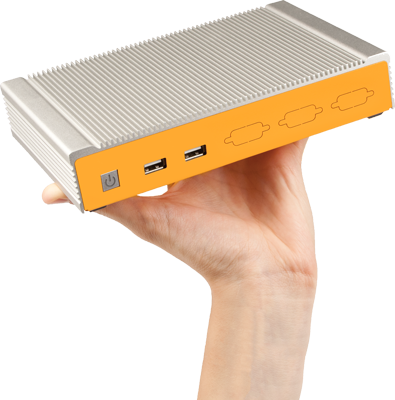 Recommended Applications
The high-quality nickel-plated steel chassis with aluminum extrusion is ideal for environments requiring durability. The built-in VESA MIS-D 75 mm mounting holes allow for display mounting, and the system is available with optional wall and DIN rail brackets for use in a variety of environments.


Specifications
Intel NUC (Next Unit of Computing) form factor
Processor: 2.80 GHz Intel Core i
Memory: 8GB DDR3 1600/1333/1066 SO-DIMM
Storage: 250 GB SSD
Graphics: Intel HD Graphics 4000
Onboard LAN: Intel 82579LM Gigabit Ethernet
Single-interface heatsink
Operating Temperature Range – 0°C ~ 40°C
Power: DC 19V
Expansion options for additional I/O, Wi-Fi, Bluetooth
Optional Uninterruptible Power Supply (UPS)
Built-in VESA MIS-D 75 mounting holes
Optional rail mounting kit
Mount controller to any horizontal or vertical surface
Benefits
CYBRA's Edgefinity IoT RFID Platform Software preloaded
Ultra small Industrial Computer
Designed for maximum uptime
Dustproof, ventless, fanless chassis
Solid State solution – no moving parts
System consumes less than 30W
Smart Power Button with auto power on feature
Choice of Operating System
Microsoft Windows 8, 64-bit
Microsoft Windows 8 Professional, 64-bit
Microsoft Windows 7 Professional, 32-bit/64-bit
Microsoft Windows Embedded Standard 7 E, 64-bit
Ubuntu 12.04.4 LTS 32-bit/64-bit
Dimensions
Measuring 196 x 37 x 131 mm ( 7.7″ x 1.45″ x 5.17″), the EdgeBox is small enough for discreet placement in space constrained environments, including kiosks or beneath a workstation. Based on Intel's Next Unit of Computing form factor, the EdgeBox allows for unprecedented performance in a compact footprint.
Interested in the EdgeBox Controller?
Contact CYBRA to discuss your specific software and hardware needs, and to see how CYBRA's Edgebox Controller can positively impact your business.