Barcode Software
MarkMagic – The Forms and Barcode Labels printing solution you've been looking for.
Award-winning MarkMagic is the Bar Code Label, RFID Tag, Forms, and Report Writing solution that's fast, versatile and powerful. And with all that power, it's still amazingly easy to learn and use.
Need to print bar code compliance labels, plain paper laser forms or RFID smart labels? Here's how to make quick work of it! MarkMagic integrates easily with your system.
MarkMagic supports more than 450 bar code label, forms, and RFID tag printer types.
Fast, versatile design features let you create labels, forms and tags and easily merge information from your databases.
MarkMagic combines power and speed. Cut format design time with exclusive field linking. Instantly merge information from multiple bar code, data or text fields. Edit variable data for improved readability.
Effortless application integration. Easily add bar code, RFID tag, and forms printing functions in a fraction of the time required for other solutions.
Don't Have a PC?
No Problem
Don't have access to a PC? No problem. Just use MarkMagic's 5250 Visual Designer Interface — even for RFID smart label design.
Easy AIAG Compliance
MarkMagic includes compliance label templates for GM, Chrysler, Ford, and other members of the Automotive Industry Action Group (AIAG).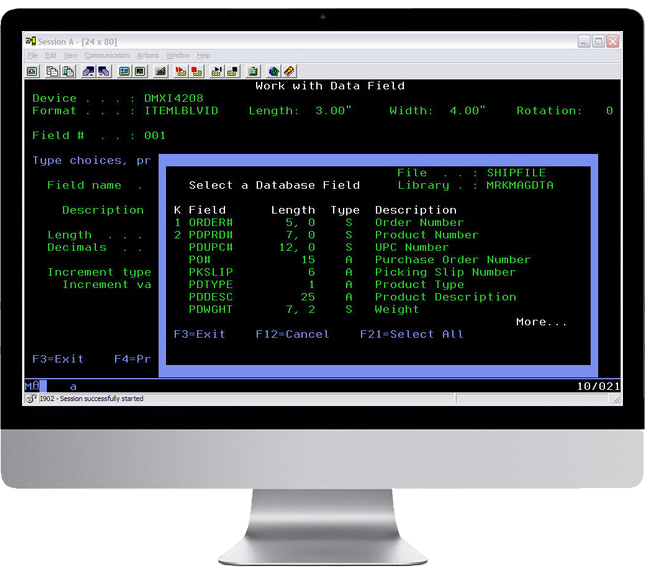 Three Classic 5250 Interfaces
Prefer to work in classic 5250? Try the QuickEdit Spreadsheet view. Need to add variable data? One function key jumps you right to the field you need!
Save Money on Chargebacks
MarkMagic includes UCC-128 compliance label templates for J.C. Penney, K-Mart, Sears, Walmart, and other retailers.
MarkMagic makes it easy to comply and save money on chargebacks.
Easy Carrier Compliance
MarkMagic includes carton label templates for UPS, FedEx, and other carriers. Our exclusive Print Preview lets you design labels with your actual system data right on the screen!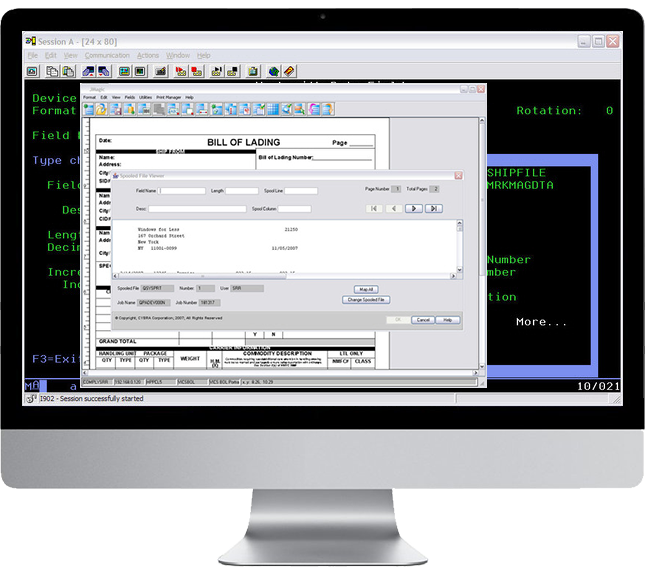 Quickly & Easily Design Forms
With the included JMagic WYSISWYG label and forms designer, it's easy to design the forms you need. Just map to any spooled output file. Add boxes, lines, and graphics and you're ready to save money by replacing preprinted forms with sharp looking plain paper laser forms.
Up to 999 Fields Per Format
With support for up to 999 fields per format, there's virtually no limit to size and complexity of forms you can create easily and quickly with MarkMagic and the included JMagic WYSISWYG designer.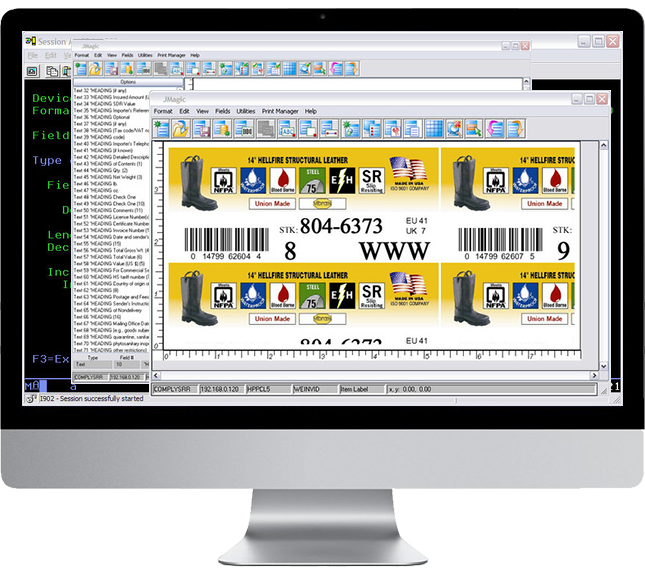 Save Time With Variable Graphics
Easily add color logos or product drawings. And you can define variable graphics when you want different images to print automatically for each product.
MarkMagic Add-ons & Extensions
MarkMagic can print out bar codes 73% faster than any other software. And boasts a 99% accuracy rating for the bar codes.
Depending on your application, performance gains range from 5% to 90% in file creation when using the latest version of MarkMagic.
of the Top 50 Apparel Companies Rely on CYBRA for In-Plant Care Label, EPC Tag, or GS1 Shipping Label Printing. Shouldn't you?
Our most recent survey of customer satisfaction revealed some pleasant results… 95% of our customers gave us an A+.
MarkMagic Solves Issues in Any Industry
You are a medical lab looking to track slides and vials from preparation, through testing, to short and long term storage.
You are a looking to reduce the time (and labor cost) for conducting physical inventory at your warehouse. With MarkMagic, you can see time of labor reduced by 80% or more.
You know loss prevention is serious. Retail operations lose billions each year. Decrease your product losses by using CYBRA's tracking software.
You need a new way to track your employees to ensure their safety. And, of course, you want the solution to be inexpensive to implement.
You are a garment or watch manufacturer looking to reduce the time required to "check out" samples from your inventory and "check in" samples from trade shows and showrooms.
Improve the process of your food production by implementing CYBRA's simple bar code labeling software. It's quick, easy to use, and even easier to install.
Does MarkMagic Have a RFID Solution?
Yes, MarkMagic offers a RFID Encoding add-on option. The MarkMagic RFID Option makes it easy to print RFID (radio frequency identification) tags so you can comply with EPC (Electronic Product Code) compliance specifications from such trading partners as Wal-Mart, Target Stores, the U.S. Department of Defense, and others, as well as implement other "smart label" applications on your IBM System i.
Can MarkMagic Let Me Design My Forms & Labels the Way I Want?
Yes. All MarkMagic development editions feature our exclusive Java-based JMagic WYSIWYG Label and Forms Designer. It is FREE with your MarkMagic Developer License. You'll be productive instantly. Working with MarkMagic's elegant WYSIWYG designer is effortless. Picture yourself tracing compliance labels right on the screen. Then, preview your finished label or form right on the screen with your actual data automatically extracted from your application files.
Is MarkMagic Easy to Use?
Yes! No programming knowledge is required to achieve professional results from MarkMagic. Even installing the software is easy, and can be done by a non-programmer.  MarkMagic Enterprise combines true report writing, WYSIWYG label and forms design, and an enterprise-class print processing engine in one integrated product that lets you create sophisticated print jobs without programming.
Does MarkMagic support other platforms besides System i?
MarkMagic works with all major platforms such as IBM Power Systems (AIX, AS/400, iSeries, System i), Linux, Unix, and Microsoft Windows.
Our Printers Are Old. Will MarkMagic Work With them?
Yes (most likely). MarkMagic can work on any modern printer. That is any printer that is compatible with your operating system. To see a full list of compatible printers, click here.
How Much Information Can MarkMagic Bar Codes Handle?
MarkMagic offers a 2D bar code for laser printers add-on option. The newest bar code types known as 2D, or two dimensional, are capable of storing far more information than previous bar code types. Because 2D bar code symbologies are "portable data files," able to encode entire packing lists or shipping label addresses, these bar code types are now specified by a number of carriers for their labels. The MarkMagic 2D Option makes it easy to print PDF417, UPS MaxiCode and DataMatrix 2D Bar Codes on Hewlett-Packard PCL5 and IBM AFP/IPDS laser printers. CYBRA does.
What Kind of Bar Codes Can MarkMagic Print?
MarkMagic 8 introduced cutting edge technologies that give you great ROI with support for such technologies as:
• Smartphone and Social Media QR Codes – with MarkMagic 8 you can add QR barcodes to any label or form and integrate marketing and promotion programs with logistics documents.
• Quick Comply RFID – lets you quickly and easily meet EPC compliance mandates with built-in item level (SGTIN) serialization. While previous versions of MarkMagic fully supported RFID tag compliance, new MarkMagic accomplishes this in a matter of minutes, rather than hours.
Can I print checks with MarkMagic?
You can produce any type of business document required directly from your system including:
Plain Paper Laser and MICR Forms
Checks
Invoices
Statements
Bill of Lading forms
CYBRA Corporation

Makers of world class RFID software applications and barcode printing software.
Contact CYBRA and see how our barcode & RFID Solutions can save you time and money and positively impact your bottom line. Contact CYBRA at 1-800-CYBRA-88 (1-800-292-7288) or info@CYBRA.com.