MarkMagic™ Bar Code Labels, RFID Tags, Electronic Forms, and Report Writing Software
The Forms and Labels design and printing solution you've been looking for.
MarkMagic barcode software is the easiest way to design and print the barcode labels, electronic forms, reports, and RFID tags you need to communicate with your customers and suppliers. The culmination of years of innovative software engineering, MarkMagic is a total document development solution with features and capabilities not found in any other product on the market.
MarkMagic replaces multiple software packages with one cost-effective, integrated offering to help you add barcode, forms, reports, and RFID technology without programming. Powerful and easy to use, once you try MarkMagic, you'll see why thousands of software vendors and customers worldwide rely on MarkMagic to create their business critical documents.
Need to print bar code compliance labels, plain paper laser forms or RFID smart labels? Here's how to make quick work of it! MarkMagic integrates easily with your system. MarkMagic runs natively on on the IBM Power System i, but can also run on AIX, Linux, Mac, and Windows. Try finding another barcode software program that can do that!
MarkMagic barcode software has the widest array of features not available in any other software product, at any price.
Try MarkMagic Now For Free!
Download Demo
MarkMagic Features
MarkMagic features new capabilities that enhance your ability to design complex bar code labels, RFID tags, forms and reports while virtually reducing your programming burden to zero. Enhanced printer control, more powerful edit codes, new utilities, and even a new rules engine for the popular PrintTransformer Add On Option add up to empower you to produce supercharged labels, RFID tags, forms and reports.
MarkMagic supports more than 450 bar code label, forms, and RFID tag printer types. MarkMagic was the first barcode software program to do this.
Fast, versatile design features let you create labels, forms and tags and easily merge information from your databases.
MarkMagic combines power and speed. Cut format design time with exclusive field linking. Instantly merge information from multiple bar code, data or text fields. Edit variable data for improved readability.
Effortless application integration. Easily add bar code, RFID tag, and forms printing functions in a fraction of the time required for other solutions.
Detailed Specs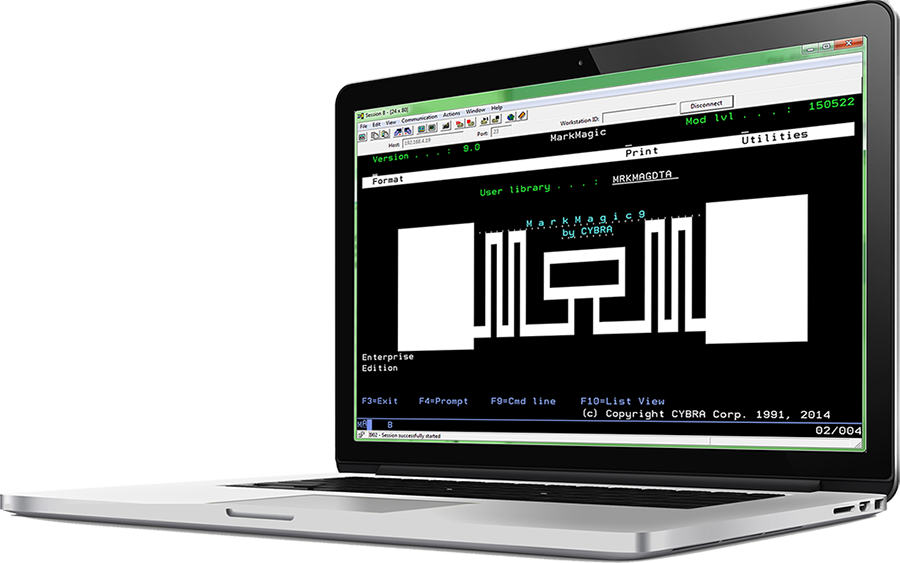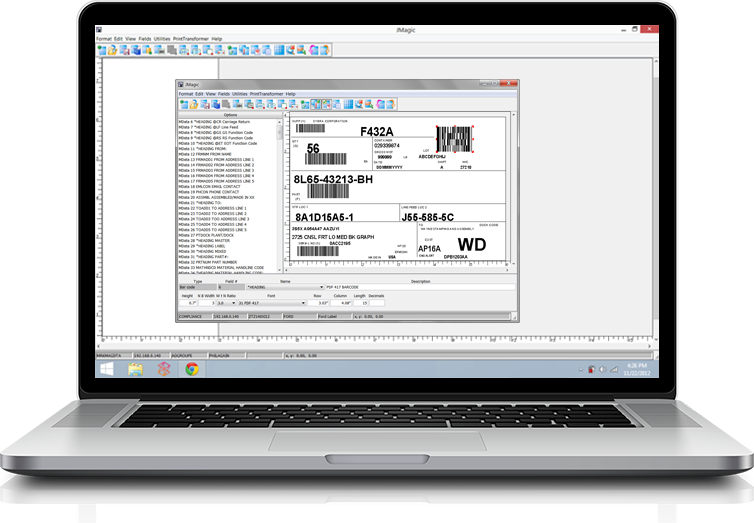 Design Forms and Labels Easily
Many of our customers tell us that JMagic is their favorite feature of MarkMagic. That's because they want to create all different kinds of forms and labels, but aren't programmers or coders. JMagic lets users create complex documents with a simple WYSIWYG (What You See Is What You Get) interface. MarkMagic combines true report writing, label and forms design, and an enterprise class print processing engine in one integrated product that lets you create sophisticated print jobs without programming.
Use MarkMagic's forms and labels WYSISYG editor, JMagic, to create your business documents. JMagic is incredibly easy to use. No programming or coding is needed. Just create the document with the JMagic interface just as you want to see it. What you see is really what you get.
Automate your document printing easily by using variable data and graphics. Easily add color logos or product drawings. And you can define variable graphics when you want different images to print automatically for each product.
JMagic gives you the option of  having a tree structure view of the label or form fields alongside the WYSIWYG canvas and a potent quick edit box that lets you modify field parameters with a few keystrokes. Any change made in any panel is instantly reflected in the alternate views.
Details
Automate Your Form & Label Printing
With MarkMagic you can automate your printing processes. Easily create rules and conditions so you don't have to do any programming to get your printing done. The rules you create will make sure that only files that meet user defined criteria will be automatically printed. You can even automate printing processes using print jobs so your automated jobs come out right every single time. Think of the time that will save!
The powerful MarkMagic PrintMonitor Option watches output queues for spool files and watches physical files for added records. Files that meet user-defined criteria can be automatically printed. Easily specify the criteria so that your forms and labels are composed on the fly without disrupting the printing process.
Enhanced Print Preview lets you can test rules and conditions in real time and watch the screen change dynamically. Save time by creating your documents correctly the first time. Save money by eliminating mistakes.
The MarkMagic User Libraries feature lets users organize labels and forms by department, customer or application. Reuse doc types as templates and save even more time. You can even organize formats, jobs, label files, and graphic images by User Library.
Let MarkMagic do the hard work when it comes to forms creation. No need to manually center align fields now that MarkMagic has the ability to center align even for printers that do not support it natively. Let MarkMagic pad the spaces with blanks to achieve your desired output. Just another time saving function built into new MarkMagic.
Details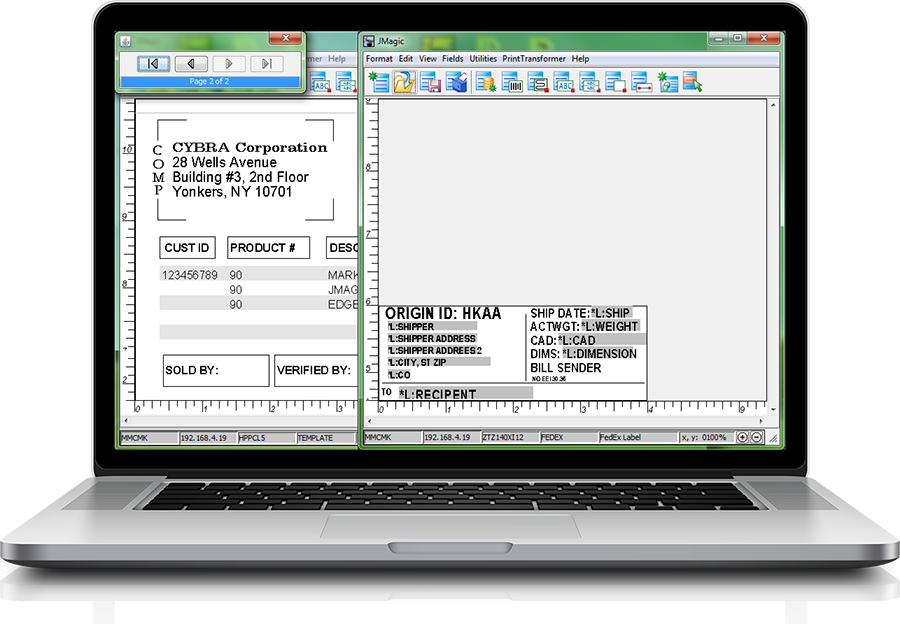 of the Top 50 Apparel Companies Rely on CYBRA for In-Plant Care Label, EPC Tag, or GS1 Shipping Label Printing. Shouldn't you?
Today, MarkMagic has over 2,600 customers. From major apparel brands, to software integrators – they all rely on MarkMagic!
Our most recent survey of customer satisfaction revealed some pleasant results… 95% of our customers gave us an A+.
What Our Customers Are Saying
We've been using MarkMagic since the mid '90s to develop and maintain customer compliant labels. Over the years, we have developed hundreds of labels and MarkMagic is an excellent tool to help us keep up with customer requirements.

I am very happy with this native System i solution. More than an economical solution, MarkMagic is a great value because I can do so much with it. MarkMagic is an excellent performer. I can't even tell it is running. MarkMagic creates labels and forms as quick as the printers can print them.
MarkMagic offered a total solution for Charmant's needs for both labels and forms," adds Kacarek. Additionally, CYBRA Corporation offered everything necessary for the solution such as printers, scanners, ribbons, labels, etc. MarkMagic for the System i gives us confidence that we can deal with any problem that might come up. It is a great product.