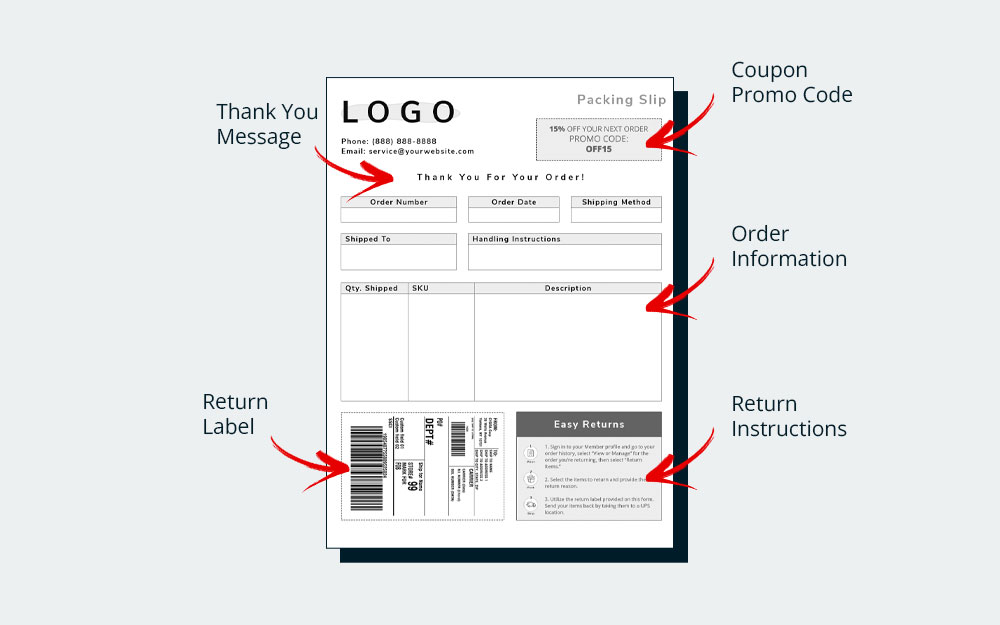 Today supply chains are more complex than ever before. As well, consumer expectations are at an all-time high. Fulfillment teams need to be faster and more efficient than ever. That's why it is vital for distributors to be on the lookout for new innovations and strategies that give them a competitive advantage.
Depending on what kinds of goods you're handling,  you may have a lot of printed documents to add to a shipment. Instructions, packing lists, receipts, promotional material, coupons, carrier labels, return labels, and much more. When it's fulfillment time, your team needs to hustle to get all those documents together. Errors made at packing time will cost you.
For example, 15 to 40 percent of items purchased online end up getting returned. A missing return label or mixed up packing slip can slow the return process of goods bought online. That's why it is so critical for fulfillment teams to find solutions that can mitigate those errors.
A simple and easy way to improve shipping throughput is to collate labels and forms
What Does Collate Mean?
You may be familiar with collating as it pertains to simply printing on both sides of a piece of paper. But, in the industries of shipping and fulfillment, we mean combining shipping documents. A common example of collating shipping documents is combining a return label with a packing slip and return instructions.
Collating your shipping documents can be done a number of ways. Some barcode labeling software applications can automatically collate your shipping documents, so at print time fulfillment teams can print without scrambling for additional forms and labels.
Collating Benefits
There are many benefits to combining your shipping documents, but ultimately it comes down to saving time and money. Collating shipping documents is a low-cost way for distributors to reduce those errors without slowing their teams down. By reducing the amount of documents packed, distributors can save on paper, printing costs.
Collating shipping documents is also a great way for fulfillment teams to save time. Putting the packing list or return labels into the box is usually one of the last things you do for an outgoing shipment. Scrambling at the last second for the right labels and forms can cause errors, waste time, and just be very stressful. By having everything you need on one easy to print document, your fulfillment team can avoid the entire hassle.
What Kind of Shipping Forms and Labels Can be Collated?
Collating shipping labels and forms can be deployed in a multitude of ways. Retailers, manufacturers, and distributors typically combine the following forms and labels.
Shipping labels
Return information
Return labels
Invoices and Statements
Billing Information
Pick tickets
Product Instructions
Packing slips
Terms of Service forms
Other enhancements you can add include customized thank you notes, coupons, rewards program information, and seasonal messaging.
How to Start Collating Your Shipping Forms and Labels
If you want to start converting your forms and labels into collate shipping documents, but you don't have a proper labeling solution, it will likely take a lot more grunt work than you're willing to exert. Barcode labeling software is an often overlooked part of a brand's supply chain. Adding the right labeling solution for your barcode labels and forms can significantly raise efficiency
CYBRA's barcode labeling product, MarkMagic, is relied on by thousands of customers worldwide to develop and print their forms and shipping labels. MarkMagic is easy to use, easy to install and can be integrated with your WMS. Packed into MarkMagic is our free forms and label design application, JMagic, along with hundreds of pre-made templates to help you get started. Download a free demo of MarkMagic today to see how you can improve your operation's forms and label printing capabilities.