Automate Your Print Jobs Dynamically
Did you ever wish that your print jobs could automatically print a text field in red when an amount is less than zero? Or, how would you like the ability to swap bar code types based on the carrier specified – and do it on a record by record basis?
Could you use the ability to have the data determine whether a field appears or not? PrintTransformer adds dynamic formatting to MarkMagic. Define conditional behavior at the field level. Text, Bar Code, Line, Box, Graphic, Text Block and even RFID field attributes can print conditionally based on variable data or job attributes.
TAKE CONTROL OF YOUR DOCUMENT MANAGEMENT
The MarkMagic PrintTransformer add-on lets you take control of your document management with minimum effort. At print time, PrintTransformer automatically processes rules and conditions, changes printing instructions, bursts print files to print each page or record with its own set of instructions and changes field attributes based on field data.
PrintTransformer adds a whole new capability that you never had before – the power to develop sophisticated, dynamically formatted print jobs without writing a line of code.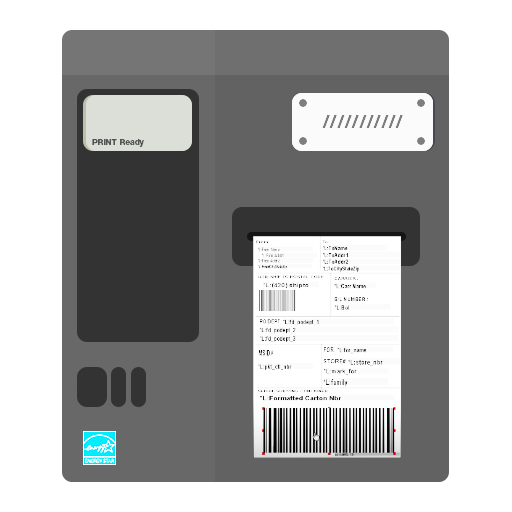 ANY PRINTER
Select Printer based on any field in a label file or spool file, such as customer state, for example, to let you print statements on a branch office printer closer to the customer's location, or route the job to a specific printer based on the time of day, or user, or an unlimited number of criteria.
DYNAMIC INFORMATION
Dynamically Change Fields depending upon label or document information, such as a customer balance greater than zero, and you wish to print a reminder message, or to automatically print a holiday message if the Date is between Thanksgiving and New Year's Day.
COMBINE RULES & CONDITIONS
Rules and Conditions can be combined and multiple rules and conditions can be created to select printer, change multiple field attributes, or modify other instructions all in the same print job.
DYNAMIC GRAPHICS
Dynamic Logos and other graphics can be displayed or suppressed based on Company, Customer, or SKU. Perfect for generating legal documents for multiple entities. Change Field Color based on data in any field in real time.
Change Printer Type
If you know which carrier will be pulling up to each of your loading docks, PrintTransformer can automatically print compliance labels with different customer formats on different loading dock printers. PrintTransformer lets you print these different customer compliance labels on different thermal printer types — even in multiple warehouses.
Change Character Sets
Change Character Sets, for example, by testing for Country and printing country-specific labels or forms with correct currency symbol and formatting.
TRANSFORM YOUR DOCUMENTS WITH PRINTTRANSFORMER
With just a few simple rules you can completely transform your forms on a page by page basis. Easy!
ALL YOUR DATA CAN DO:
With just a few strokes of the keyboard, you can turn your regular forms into dynamic, fully customized documents.
1. Change Logo
2. Move Customer ID Text Field
3. Add Customer ID Barcode
4. Suppress shading in all Box Fields
5. Change Invoice Header Style
6. Move Invoice Date
7. Add Invoice Number Barcode
8. Add Customer Message
9. Change font from Courrier to CG Omega
10. Add product specific Text Block
11. Add product specific images & drawings
12. Move Boxes, Lines, and Text Fields from across bottom lower right of invoice.
THE POWER OF PRINTTRANSFORMER
When PrintTransformer is combined with other MarkMagic features, the results can be dramatic. Combine PrintTransformer with other MarkMagic Add-Ons such as PrintMonitor, and the PDF/e-Mail/Fax Option, and the FormComposer of MarkMagic to make your document management even more powerful.
PDF/EMAIL/FAX
Automatically transform and print a PDF document when a record is added to a physical file or when a spooled output file appears in a queue. There is no limit to the ways PrintTransformer can simplify your document management.
FORMCOMPOSER
Use FormComposer to create and print your monthly statements. Then, let PrintTransformer separate the output by customer. Create a report with lookup fields, repeating detail lines and calculated totals.
PRINTMONITOR
Use PrintMonitor to broadcast the report to multiple printers – and use PrintTransformer to further process the output.
DYNAMIC EVERYTHING
MarkMagic PrintTransformer lets you define "rules" to automatically determine how a print job should run and "conditions" that determine which field attributes will print conditionally.
This dynamic formatting gives you the ability to modify field attributes and redirect in-process print jobs without programming. Spool files that meet user-defined criteria are manipulated and printed according to PrintTransformer rules and field attributes are changed if the record data meets PrintTransformer conditions.
Change Barcodes and Make Text Fields Disappear From One Label to the Next!

CHANGE BARCODE TYPES
Change barcode type based on carrier or customer on a record by record basis.
DYNAMIC PRINTING
Burst print jobs and use a different format for subsequent pages of a document. Now you can print header information on one page, and subsequent pages are all detail.
MAKE CHANGES DYNAMICALLY
Use a different check design. If the Amount is greater than $5,000 and two hand signatures are required, PrintTransformer magically makes the second signature line appear.
POWERFUL TRANSFORMING CAPABILITIES
Stop outsourcing design changes or pulling a programmer off another project. Users who normally request changes (or new formats) can now easily make them on their own. Save time and money by adding conditions to automatically format these changes.
INTERESTED IN THE PRINTTRANSFORMER ADD-ON?
Since 1985, CYBRA has been solving some of the most vexing auto-ID challenges in the world. Relied on by many of the biggest names in retail, manufacturing, and safety & security, trust CYBRA with all your Auto-ID needs.
Leading software vendors such as Manhattan Associates, VAI, and Oracle, and thousands of customers worldwide rely on CYBRA's award-winning software to save time and money.
Contact CYBRA to discuss your specific software and hardware needs, and to see how the PrintTransformer add-on can positively impact your business.
INTERESTED IN THE PRINTTRANSFORMER ADD-ON?
Contact CYBRA to discuss your specific software and hardware needs, and to see how the PrintTransformer add-on can positively impact your business.