CYBRA releases the 10th version of MarkMagic® Bar Code Labels, RFID Tags, and Electronic Forms Software.
Yonkers, NY December 10th, 2020 — CYBRA Corporation, the developers of MarkMagic® Bar Code Labels, RFID Tags, and Electronic Forms Software, and Edgefinity IoT® RFID and RTLS Software, has announced the general availability of MarkMagic X (version 10), an all-new edition of the popular software relied upon daily by thousands of customers worldwide. MarkMagic X includes all-new SQL support, advanced graphic conversion options, new search capabilities, enhanced history logging, and lots more. The new version was formally announced today at a virtual event hosted by CYBRA and the MarkMagic team. "MarkMagic has certainly come a long way since its first inception in 1990," says Harold Brand, CEO and CYBRA cofounder. "We owe it all to our loyal customers who have provided us with the support and encouragement to make MarkMagic X the best version of MarkMagic yet."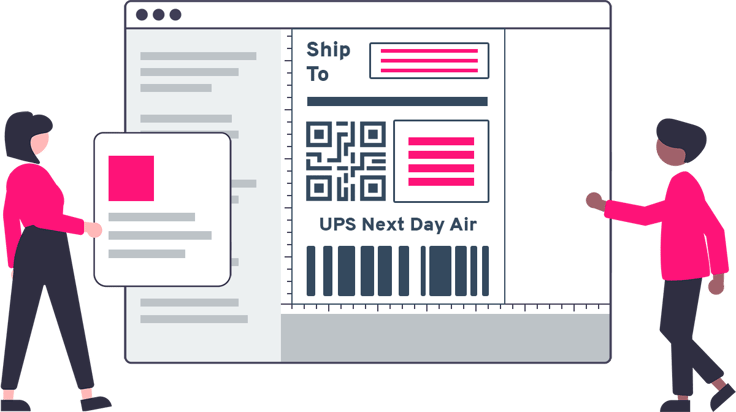 Feature Focused for Enhanced Productivity and Functionality.
MarkMagic X at a Glance
For the tenth version of MarkMagic, CYBRA's R&D wizards have delivered something for every one of us. There are enhancements for all MarkMagic users.  Other improvements are specifically meant for IBM i fans of MarkMagic.  And then there are is some good stuff for those who use MarkMagic on other platforms.
Enhancement Highlights for All MarkMagic Users
Combine data from multiple sources with All-New SQL Support – MarkMagic X users can create labels and forms that combine data from multiple sources – in the same document. Data can be mixed and matched from among MySQL, SQL Server, Oracle and H2 data sources. Previously, combining data from different sources required special programming.  Now it can be done with no programming, using a simple user interface.
Merge any PDF document with a MarkMagic format – PDF documents can now be inserted into MarkMagic formats.  The information contained on the PDF document (which can be produced by any application) can be positioned anywhere on a MarkMagic X format.  One common use of this functionality is for companies that subscribe to carrier APIs in order to take advantage of shipment rating and shopping cart integration.  With MarkMagic's new PDF merge feature, they can automatically transform a PDF of a carrier label into a variable graphic that can be incorporated into e-commerce collated forms.
Advanced Graphic Conversion Options – MarkMagic X provides graphic conversion options for cropping and removing white space. For example, let's say you have an 8.5 X 11 image that consists of a 4 x 6 inch shipping label rotated on the top half and shipping instructions below it.  You can choose the area that has just the shipping label for conversion.  Afterwards, that cropped shipping label could be merged into a label format as described in the previous paragraph.
Enhancement Highlights for IBM i Users
New Search Capabilities – MarkMagic users can now find all fields in all formats that contain a user-specified character string, or an attribute, across user libraries.  This comes in handy when users need to make modifications to  a format. MarkMagic X users can determine which formats will be affected by the change.
History Logging on Steroids – MarkMagic X takes event logging to a whole new level of granularity. Users can now determine which fields in a format were modified, when a field was modified, what was modified, and by whom.  In addition, users can analyze which format was printed, when it was printed, and by which user, sorted by date or by number of times printed.
PrintMonitor Trigger Update – In addition to events being triggered by new spooled output files, and by new records added to physical or logical files, MarkMagic PrintMonitor can now monitor IFS folders and trigger a print job when it detects a newly added IFS file.
Enhancement Highlight for Platform Independent Users (Windows, Unix, Linux, AIX)
New MarkMagic X PI Fusion Edition with Centralized Database – MarkMagic X Platform Independent (PI) Fusion was developed for customers requiring centralized control and standardization of their formats, rules and graphics.  Fusion consists of a single MarkMagic X PI Fusion Server that stores all formats, rules and graphics.  MarkMagic X PI Fusion Run Times installed on other servers print by accessing the standardized formats, rules, and graphics on the Fusion Server.  Using MarkMagic X Fusion does away with the need to export from development and import to production formats each and every time there is a change.  Customers with multiple MarkMagic PI instances that need to be kept in sync will appreciate this new feature.
In addition to the highlights above, there are many other improvements in MarkMagic X as well.
Why MarkMagic?
MarkMagic provides one cost-effective, integrated solution for a company's diverse document needs. With MarkMagic there's no need for separate bar code label, forms, PDF, emailing and report writing software packages, and no need for custom programming.  MarkMagic is a unified document solution for all major server platforms. It has been selected as the Auto-ID print engine of such leading software packages as  Manhattan Associates' WMi and WMOS, Vormittag Associates' (VAI) S2k, and solutions from Infor, Apparel Business Systems, and several others.
About CYBRA Corporation
CYBRA Corporation is a leader in Auto Identification – bar code and RFID technology – serving customers in a wide range of industries.
MarkMagic® Bar Code Labels, RFID Tags and Forms Software empowers customers to design virtually any type of Auto-ID document – labels, forms, RFID tags, tickets, etc. – and print them on hundreds of types of general and specialized printers from laser to thermal to automated high speed applicators.
CYBRA's Edgefinity IoT®, (formerly EdgeMagic) is a platform for rapidly building integrated applications that locate objects and people using RFID, RTLS and other tracking technologies. Edgefinity IoT provides customers with the ability to implement EPC (Electronic Product Code) compliance systems, as well as RFID track and trace applications.  In addition to traditional passive RFID applications, Edgefinity IoT  can be used as an all-in-one rules driven solution for the safety, security and productivity of people and assets.
CYBRA software solutions run on all major computing platforms, including Microsoft Windows, Linux, Unix, cloud and IBM Power Systems (System i, iSeries, AS/400, AIX).  CYBRA Corporation is located at 28 Wells Avenue, i.park Building #3, Yonkers, NY 10701. Product information is available toll free at 1-800-CYBRA-88. CYBRA is represented by a network of value-added resellers throughout the United States and sales and support offices overseas. To request information via e-mail, write to: info@cybra.com
To learn more about MarkMagic visit cybra.com.