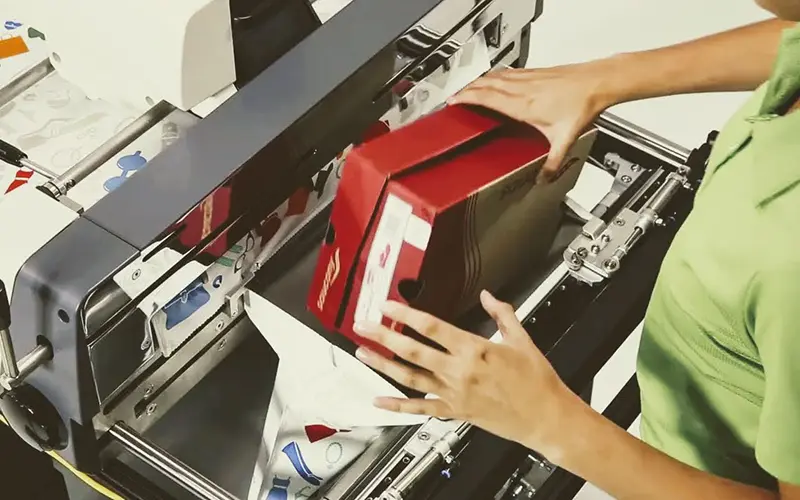 A tabletop bagging machine is a type of industrial equipment that uses a combination of sensors and other automated systems to package products and materials into bags. These machines are used in a variety of industries, including e-commerce businesses. They can be used to package a wide range of products for shipping and distribution. Understanding how to print labels on plastic bags is vital to streamlining throughput and decreasing shipping errors.
What Are Some of the Benefits of Using a Tabletop Bagging Machine?
Many distribution operations add a tabletop bagging machine to their supply chain in order to streamline their fulfillment operations. Having the shipping label of a package get printed directly onto a polybag  solves a number of practical and logistical issues.
Reduced Labor Costs
Bagging machines can take over many of the tasks that are typically done manually, such as filling and sealing bags. This can help to save on labor costs and free up workers to focus on other aspects of their job.
Improved Efficiency
With a tabletop bagging machine, the printing and affixing of a label happens simultaneously – along with the packaging of the item. Not only is this a faster way to fulfill an order, it also reduces common errors such as mislabeling and packing errors. In short it reduces human error while increasing productivity significantly.
Increased Safety
Bagging machines can also reduce the risk of injury or product contamination by providing a more controlled and sanitary bagging process. In addition, they can be used to create customized packaging solutions for products.
Additional solutions include:
Improved accuracy: Tabletop bagging machines can help to improve accuracy by ensuring that products are consistently filled and sealed. This can help to prevent errors, such as lost or misplaced items.
Improved product quality: Tabletop bagging machines can help to improve product quality by ensuring that products are consistently filled and sealed. This can help to prevent damage to products and improve customer satisfaction.
Increased safety: Tabletop bagging machines can help to increase safety by reducing the risk of injuries from manual bagging methods. This is because they do not require employees to lift heavy bags or use sharp objects.
What Are Some of the Different Types of Tabletop Bagging Machines?
A tabletop bagging machine can be classified into several different types, including manual, semi-automatic, and fully automatic. Regardless of the type of bagging machine you purchase, there are some common characteristics that all of them share.
Popular Table Top Baggers
The most common type of tabletop bagging machine is the Autobag PS 125 developed by Automated Packaging Systems. This type of bagging machine is easy to use and is compatible with a wide variety of bags. It has a user-friendly display that allows users to access operating parameters, job set-up, and onboard system diagnostics.
This model is ideal for businesses that want to package a wide variety of products, from fasteners to electronic components to literature and various foods. The machine is also ideal for companies that need to package items that are difficult to handle, such as shirts and other clothing.
The Right Barcode Printing Software for Your Tabletop Bagging Machine
In order to have maximum control of your overall throughput, being able to create or edit the shipping labels your print onto your bagging machine is vital. Unfortunately, not all barcode label printing applications work with bagging machines.
Here at CYBRA, we identified the importance of offering users the ability to integrate our barcode printing software with tabletop bagging machines. CYBRA's MarkMagic barcoding software created a driver specifically to support Autobag machines, and is available to try for free. Contact us today to request a free demo, and to see how you can print shipping labels directly to your packages.