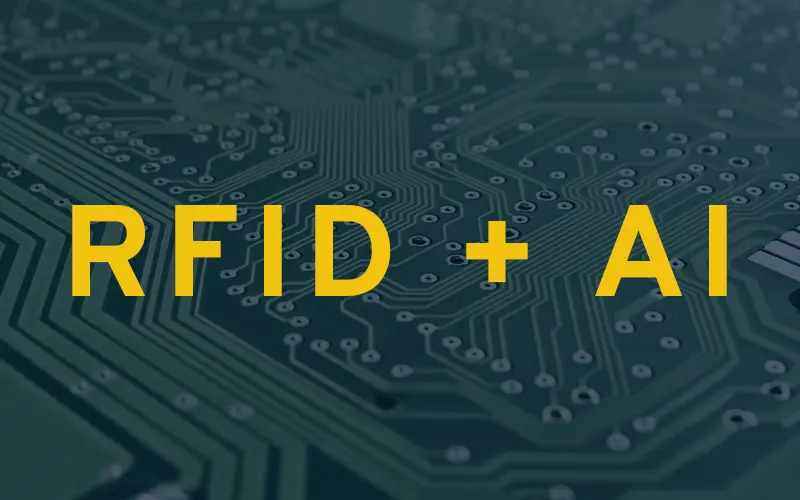 In the midst of the work-from-home movement, quiet-quitting movements, and an uncertain economy, businesses are looking to technologies that can help them improve efficiency and increase bottom-line growth. Artificial intelligence (AI) and RFID are two of the most popular technologies that can be used to achieve this goal.
35% of companies are using AI and 42% of companies are exploring AI for its implementation in the future (Source: TechJury). Additionally, RFID has seen an increase in adoption – for example, a 93% adoption rate within the retail sector (Source: LPM).
RFID provides numerous solutions for a wide range of industries. For instance, RFID can be used to track manufacturing plants and materials throughout the production process, allowing for better quality control and increased productivity. It also can provide real-time tracking, data accuracy, and information sharing throughout an organization's supply chain.
Manufacturing
RFID technology can work with AI (artificial intelligence) to improve efficiency in manufacturing. Specifically, manufacturers can use the technology to track inventory, personnel and materials handling equipment in order to ensure that products are not mishandled or shipped in the wrong place.
For example, an RFID-enabled material handling system can help companies identify the locations and movements of materials handling equipment such as forklifts and clamp-trucks. This helps to ensure that forklifts are not taking goods out of stock or driving them off the shelf in the wrong direction.
In addition to tracking, RFID can also be used for production planning and loss reduction. It can help to increase production efficiencies by providing a more accurate method of inventory control and reducing labor costs.
Shipping
AI and RFID technology are working together to improve efficiency in shipping. It can help with inventory, safety and route optimization.
With RFID, a company can tag cases, cartons or containers with tags that contain information about what is inside the container. This means that staff can quickly and accurately scan the container to ensure that everything is correct.
Moreover, this method eliminates the need for staff to count items manually. Instead, staff can simply sweep an RFID reader around the warehouse's shelving or stock room and verify each item's location in real-time.
The speed of these processes allows logistics firms to deploy more employees to more valuable tasks and improves their bottom line. It also helps reduce the number of times shipments are lost or damaged. This saves money on labor, fuel and insurance. And it increases the likelihood that shipments will arrive on time, every time. It also makes it easier to track packages, allowing companies to provide customers with more accurate delivery information.
Materials Handling
RFID (radio frequency identification) is a technology that uses radio signals to identify and track objects. It is a cost-effective and versatile technology that can be used in a variety of industries to automate inventory management, tracking, and logistics.
AI (artificial intelligence) can be a great help to companies who want to implement RFID technology into their supply chain. It can improve efficiency and reduce costs by reducing labor and providing real-time information about the movement of raw materials.
It also helps to improve inventory accuracy by identifying which items are in stock or not and can prevent loss and damage.
Similarly, it can also be used to improve construction projects by providing accurate data about the materials required for a particular project. This will help construction managers estimate the materials needed for the project and can save a lot of time and money.
Supply Chain
For supply chains to be efficient, they need to move items from point A to B as quickly and accurately as possible. This can be accomplished with the use of RFID technology, which helps businesses identify and track inventory from raw materials to finished goods.
RFID improves data accuracy, accelerates processes and provides traceability throughout the chain. It also reduces loss and improves inventory management.
AI can work alongside RFID to make the technology more accurate and scalable. In addition, AI can help determine when a product is out of stock and when it needs to be restocked.
AI systems can improve warehouse efficiency and ensure that orders are fulfilled on time. They can also monitor workplace safety and alert manufacturers when dangers arise.