[eBOOK]
5 Facts Manufacturers Should Know About RFID
RFID isn't just for retailers. Check out how manufacturers, distributors, and retail brand owners can reap the benefits of RFID technology.
Learn About the Benefits of Adding RFID Technology to Your Supply Chain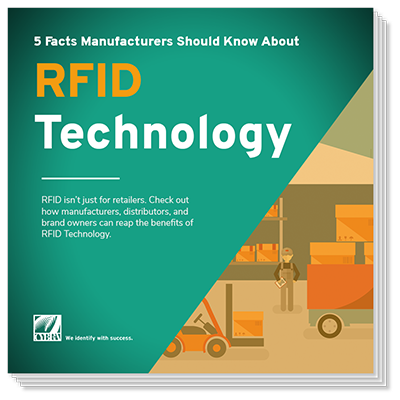 RFID is a powerful tool that can help manufacturers and distributors improve supply chain efficiency and inventory accuracy. With a RFID tracking system, manufacturers can seen 80% improvement in shipping and picking accuracy. Additionally, RFID can help increase inventory count rates from 200 to 12,000+ items per hour, and reduce labor costs by 7.5%.
In this ebook, we will share the following:
Why RFID tag usage is growing exponentially
How RFID saves money and reduces shipping costs
What RFID can do to increase supply chain productivity
How RFID improves warehouse inventory visibility
We at CYBRA have been active leaders in RFID technology for several years. In publishing this ebook we aim to educate and inform those looking to improve their operations and supply chain. We hope you'll find this document helpful and engaging.