CYBRA, Sewio Networks Announce RTLS Partnership
The pairing of CYBRA Corporation's Edgefinity IoT® RFID Software with Sewio Networks' RTLS Hardware Forms a Comprehensive Platform for Customers Seeking Advanced Safety, Security and Productivity Solutions
Brno, Czech Republic & Yonkers, N.Y., October 25, 2018 – CYBRA Corporation, the New York-based developers of Edgefinity IoT tracking software, and Sewio Networks, a leading global provider of field-proven real-time location hardware, announced today a partnership to deliver RTLS – centered solutions focused on safety, security and productivity applications. The strategic partnership was announced today at the Sewio Summit, the first European RTLS Conference. The Summit is being held in the heart of Czech wine country, Rakvice.
CYBRA's patent pending Edgefinity IoT® (formerly EdgeMagic) is a platform for rapidly building integrated applications that locate and help protect people, assets and vehicles using RFID, RTLS and other sensor technologies. Sewio Networks is a manufacturer of real-time location system (RTLS) hardware and software based on Ultra-Wide Band RFID technology (UWB).
CYBRA is pleased to announce its new strategic partnership with real-time tracking hardware provider, Sewio.
Says Harold Brand, CEO of CYBRA, "We've been working with Sewio for some time now, and we're excited to formally announce the new strategic partnership. It means customers looking for a manufacturer-certified real-time tracking solution are in luck. Many of our clients look to us to find the right hardware for their needs. We are excited to represent Sewio's exceptional catalog of RTLS anchor readers and tags, and to use their hardware and advanced firmware for some of our most challenging projects. In addition to extreme precision, Sewio's hardware combined with CYBRA's Edgefinity IoT software allows organizations to implement real-time tracking solutions for both indoor and outdoor requirements scalable from a single building enterprise to multi-national corporations with global operations."
"Today's intralogistics and supply chain managers are feeling increased pressure to demonstrate highly positive ROI and short payback periods from their workflow process optimizations," adds Petr Passinger, CMO at Sewio. "We're proud to have CYBRA as a Sewio Partner, because of their outstanding experience in the field which they will leverage to add genuine value to our technology."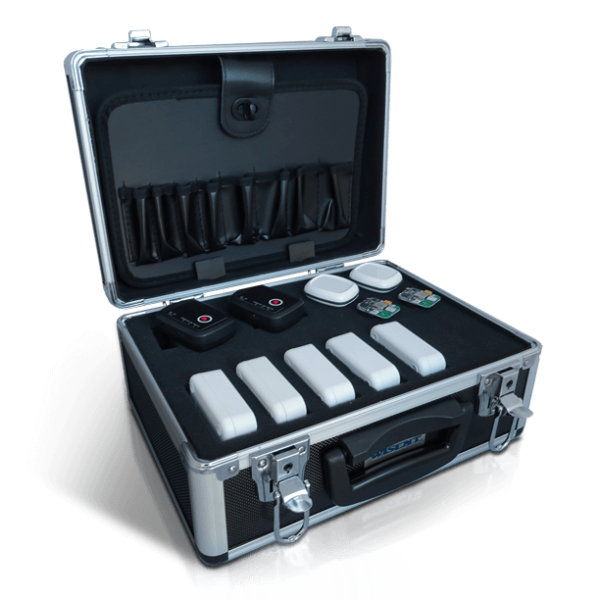 Edgefinity IoT for Safety, Security and Productivity tracks people, assets and company vehicles to provide comprehensive real-time situational awareness at any facility or campus. Upon detection of a rule-defined event requiring response, Edgefinity IoT issues alerts to a specified individual, group of staff and/or management to ensure that safety incidents and hazards detected by the system are dealt with immediately and effectively. If a predetermined amount of time passes and an alert does not receive the requisite response, the rule-based system can be configured to escalate the incident to higher enterprise echelons, first responders, etc.
Edgefinity IoT addresses the complex safety and security needs of organizations ranging from typical white- collar offices to Critical Infrastructure. A fully scalable software/hardware solution, combining the most effective blend of active and passive RFID hardware and software with Real Time Location Systems (RTLS) and multi-sensor capabilities, Edgefinity IoT gives stakeholders an assurance of continuous monitoring of the health, safety and security of staff and contractors – particularly in lone worker situations.
Additional applications include mustering and evacuation, first responder location, monitoring and management, school safety, protection of high value assets (such as artworks), and optimizing operations from factory floors to airport tarmacs and other facilities.
About Sewio Networks
Sewio Networks provides a real-time location system (RTLS) for indoor positioning that drives business results for companies in the intralogistics, retail, sport, entertainment and livestock industries. The system is built on ultra-wide band technology (UWB) and delivered with RTLS Studio, remote management and visualization software.
It gives partners and customers a precise, easy-to-integrate, reliable and fully scalable IoT solution for the digitization of movement to allow process visibility, boost production efficiency, simplify the inventory process and increase safety. Founded in 2014, Sewio is headquartered in the Czech Republic with offices in Germany and France. Sewio has 29 system integration partners and powers customers in 37 countries. Customers include: Volkswagen, Budvar, Pirelli, Matador, TPCA, Škoda.
For more information, go to https://www.sewio.net.
About CYBRA Corporation
CYBRA Corporation is a leader in RFID, RTLS and bar code technologies, with a portfolio of proprietary software products that serve customers in a wide range of industries.
Serving thousands of customers world-wide, CYBRA's MarkMagic® Bar Code Labels, RFID Tags and Forms Software empowers users to design virtually any type of Auto-ID document – labels, forms, RFID tags, tickets, etc. – and print them on hundreds of types of general and specialized printers from laser to thermal to automated applicators.
CYBRA's Edgefinity IoT®, (formerly EdgeMagic) is a platform for rapidly building integrated applications that locate assets and people using RFID, RTLS and other tracking technologies. Edgefinity IoT provides an all-in-one rules driven platform for the safety and security of people and assets. It also provides RFID track and trace applications, as well as EPC (Electronic Product Code) compliance systems..
CYBRA software solutions can be deployed via the cloud or on local servers. CYBRA software runs on all major computing platforms, including Microsoft Windows, Linux, Unix, and IBM Power Systems (System i, iSeries, AS/400, AIX). CYBRA Corporation is located at 28 Wells Avenue, i.park Building #3, Yonkers, NY 10701. Product information is available toll free at 1-800-CYBRA-88. CYBRA is represented by a network of value added resellers throughout the United States and sales and support offices overseas.
Contacts
Press for Sewio:
Petr Passinger, +420 777 144 172
petr.passinger@sewio.net
Press for CYBRA:
Phil Andrianos, 914-963-6600 x 213
Digital Marketing Specialist
pandrianos@cybra.com