Thermo Fisher Relies on CYBRA's RFID Tracking and Alerting Capabilities to Keep Blood Cold
CYBRA's award-winning, patented Edgefinity® IoT RFID solution allows Thermo Fisher Scientific to accurately track medical serum inventory in real-time in sub-zero conditions.
The Customer
Since its founding in 1956, Thermo Fisher Scientific has been a major name in scientific instrumentation, reagent, and consumable services. With more than 600 offices and facilities around the world, Thermo Fisher provides innovative solutions to allow customers to harness the power of science and medicine.
With a highly regulated globalized supply chain, Thermo Fisher requires the utmost levels of accuracy and compliance. At the state-of-the-art facilities in Grand Island, NY, the Thermo Fisher team focuses on cell growth and function which are vital for the creation of Thermo Fisher's Fetal Bovine and Other Animal Serum.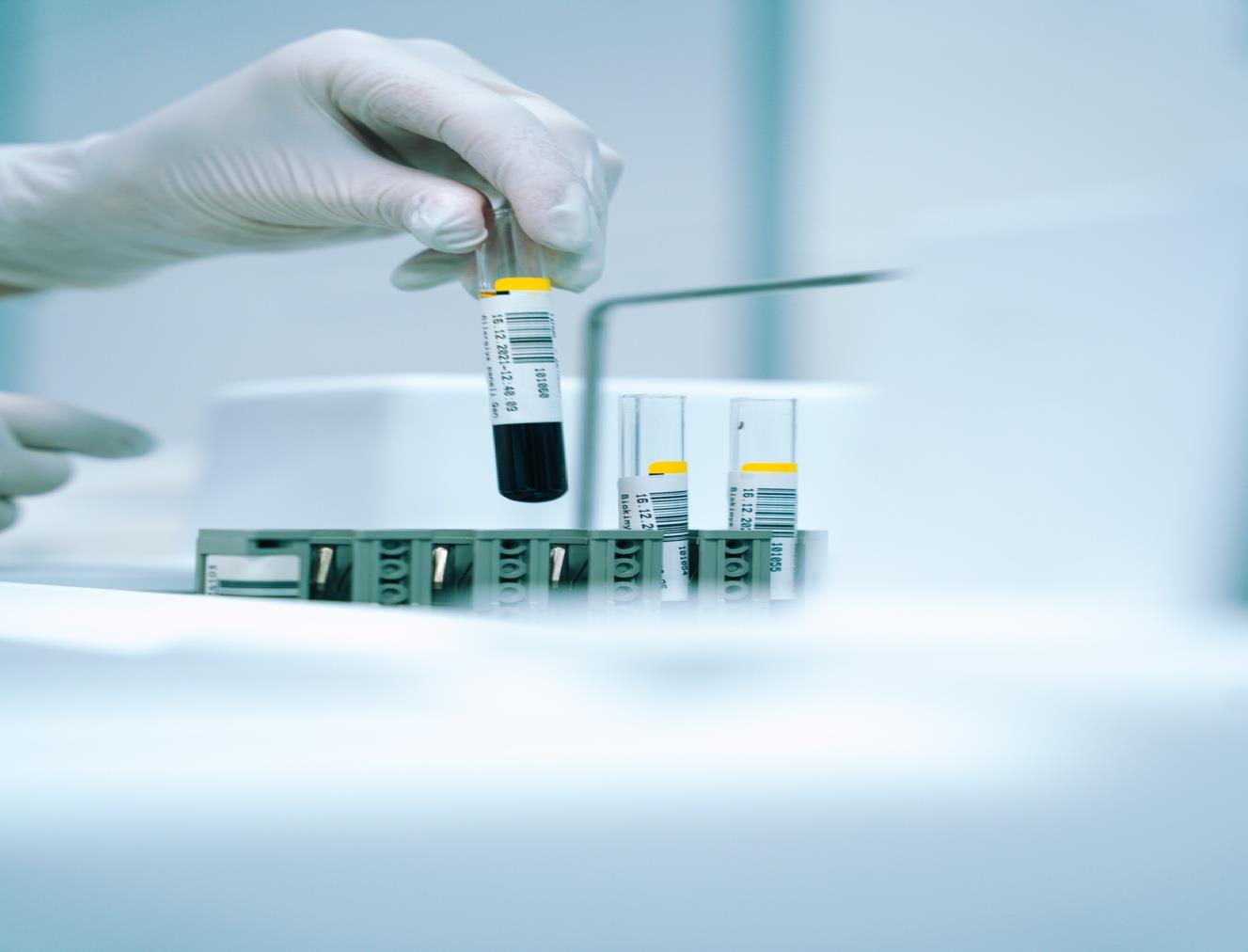 The Challenge
The time-sensitive development process begins with animal blood (aka serum). The sources of the blood come from a wide range of animals including horse, sheep, and rabbits.
Thermo Fisher required a foolproof inventory control system that would track the processing and transport of the serum, which is kept in quarantine at sub-zero temperatures that require meticulous monitoring. The quarantined zone is known as the Quarantine Cage (Q Cage, for short). If the blood is moved out of Q Cage for more than a minimum period of time, it can be rendered unusable, as well as in violation of strict USDA guidelines. Therefore, Thermo Fisher needed a tracking and alerting solution that could track precise location and status in real time. The system had to respond to quarantine disruptions by immediately alerting staff by sounding a siren, triggering a flashing light, texting, and emailing as many as seventeen staff members. Thermo Fisher issued bids to several software companies, and CYBRA's Edgefinity® IoT RFID Solution checked all the requirements boxes. In addition, CYBRA separated itself from the pack with its ultra precise tracking capabilities that include active and passive RFID, and real time location services (RTLS).
Precise tracking is of critical importance in this application. If a pallet containing serum is moved out of the Q Cage and placed alongside the outer part of the Q cage wall — which in places is simply a chain link fence – the system needs to be fine-tuned to tell the difference between a pallet on the outside versus the inside. If the system cannot detect the difference, the necessary alerts may not be triggered, thereby defeating the whole purpose of the system.
The Solution
CYBRA's Edgefinity IoT RFID Solution empowers customers such as Thermo Fisher to deploy precise, customized inventory tracking and alerting applications that offer an ease of use that is unrivaled. Shiza Khalid, Manufacturing Engineer III at Thermo Fisher was impressed with CYBRA's software and interfaces. "There was another vendor that proposed a 100% foolproof method but we would have had to build the user interface from scratch. With CYBRA's Edgefinity, everything was already pre-made. So, it's very plug and play in a sense – we just had to map out where the anchors were going to be."
The complexity of the warehouse space, combined with -20 Celsius temperatures, the liquid nature of the cell culture media, and the amount of metal in the area presented a range of physics challenges for RFID tracking. CYBRA recommended Ultra-Wideband hardware (tags and antennas) for precision tracking, along with special batteries to withstand the frigid temperatures. The tags are reusable – the Thermo Fisher team can commission and decommission them as necessary, allowing for the RTLS tags to be reused when another pallet comes in.
Once the system was installed, the Thermo Fisher team could track the movement and status of inventory in real time – on virtually any device with a web browser such as a laptop, tablet, or smartphone. When inventory is moved to a different department, the data on the tag records who handled the inventory, and when it was handled or moved. With all location data stored within Edgefinity, users can run a history playback report, which visually shows a map of items moving during a selected timeframe.
To safeguard overall compliance, Thermo Fisher required a system that had both audible and visual alarms. In addition to generating sound and light alerts, Edgefinity IoT sends text and email alerts to update staff throughout their enterprise. If the system identifies an issue, notifications are sent out immediately to as many staff members as needed. Notifications are managed by the Edgefinity IoT rules engine, which can be configured to be activated for events such as zone violation, temperature changes, unauthorized handling of inventory – even low battery conditions.
"From an inventory control perspective, I think it has all the features a manufacturing company would need," says Khalid. "It has timestamps of when was an asset is brought online. You have real-time data to see where something is at all times…there's a heightened sense of accountability too, because whoever timestamps it also has their user account linked to it. So, it's a complete audit trail."
The Benefits
Not only did Edgefinity IoT accomplish Thermo Fisher's essential system requirement of responding to quarantine disruptions by sounding a siren, triggering a flashing light, texting, and emailing staff, the authorized users were able to configure these capabilities by defining straightforward rules built into Edgefinity. No programming was necessary.
Edgefinity IoT allows Khalid and the Thermo Fisher team to know when they've received the product, when it gets released from manufacturing, and when it's been sent to distribution. The real-time mapping aspect of Edgefinity helps the team get an optimal view of how their operations are functioning like never before. "It's really cool to be able to be at my desk upstairs and see the movement of each tag." says Khalid. The tag refresh rate is configurable from 50ms to over 10 seconds. In Thermo Fisher's case, tags are set to refresh and update the current location of each pallet every second.
With Edgefinity IoT's abundance of software features, the Thermo Fisher team plans to leverage its investment in CYBRA's Edgefinity in other areas of their day-to-day tasks. The team looks forward to using features such as the history report tool in Edgefinity, which allows users to see patterns in their operations and identify any bottlenecks or other recurring issues.
"This project highlights what an RFID tracking product like Edgefinity IoT can do", says John Schino, senior solutions architect at CYBRA. "It's not just for tracking retail inventory. With Edgefinity IoT, companies can solve complex logistical challenges without having to reinvent the wheel."
About CYBRA Corporation
Since 1990, CYBRA Corporation has been a leader in bar code and RFID technologies, serving thousands of customers in a wide range of industries.
CYBRA's Edgefinity IoT®, (formerly EdgeMagic) is a platform for rapidly building integrated applications that locate objects and people using passive and active RFID, RTLS, and other tracking technologies. Edgefinity IoT provides customers with the ability to quickly implement Electronic Product Code (EPC) compliance systems, as well as RFID tracking and trace applications. In addition to traditional passive RFID applications, Edgefinity, can be used as an all-in-one rule driven solution for the safety, security, and productivity of people and assets.
MarkMagic® Bar Code Labels, RFID Tags and Forms Software empowers customers to design virtually any type of Auto-ID document – labels, forms, RFID tags, tickets, etc. – and print them on hundreds of types of general and specialized printers from laser to thermal and automated applicators. To learn more about MarkMagic, visit MarkMagic.com.
CYBRA software solutions run on all major computing platforms, including Microsoft Windows, Linux, Unix, cloud, and IBM Power Systems (System i, iSeries, AS/400, AIX).
For more information, please visit www.cybra.com
About Thermo Fisher
Thermo Fisher Scientific, Inc. is the world leader in serving science, with annual revenue of over $40 billion. Its Mission is to enable its customers to make the world healthier, cleaner, and safer. Whether their customers are accelerating life sciences research, solving complex analytical challenges, increasing productivity in their laboratories, improving patient health through diagnostics or the development and manufacture of life-changing therapies, they are there to support them. Its global team delivers an unrivaled combination of innovative technologies, purchasing convenience and pharmaceutical services through its industry-leading brands, including Thermo Scientific, Applied Biosystems, Invitrogen, Fisher Scientific, Unity Lab Services, Patheon and PPD. For more information, please visit www.thermofisher.com.