How MarkMagic Helps Roth Industries Package Thousands of Prepared Food Products Every Week
The Customer
From their headquarters in Colorado Springs, Colorado, Roth Industries is changing the prepared food industry – one 14-ounce package at a time. Founded in 2016, Roth Industries produces and sells ready-to-eat meals that are the 21st century evolution of frozen TV dinners. Boasting innovative manufacturing and packaging technology, Roth distributes its high-quality prepared meals to major retail chains including Walmart, Kroger, Food Lion, and Safeway. Roth Industries brings to the table both private label offerings and its own Bourbon Brothers brand, and serves up a wide variety of delicious, ready-to-eat meals that can be found in over 8,000 stores across the USA.
The Challenge
Though only a few years old, Roth has recently experienced massive growth. With over 100 unique chef inspired recipes, demand for Roth's food products is exploding across its 18 major retail chains and thousands of stores across the country.
And with that rapid growth comes new opportunities — and challenges.
"We've recently seen a lot of expansion," says Jonathan Dilbeck, Logistics and Sales Support Director at Roth. "And, with that growth has come the opportunity for co-packing projects." One such project was for Roth to establish a distribution partnership with Home Chef. Home Chef is a meal kit and food delivery service that brings meals to 48 states across the country. Additionally, they offer meal kits in select Krogers and Walgreens. Creating delicious, prepared meals for Home Chef was right in Roth's wheelhouse. The logistics end of this partnership was where Roth required a plan.
To properly distribute Home Chef's products, they'd need to ship meals to Home Chef distribution centers around the country. What Roth needed was an easy to deploy pick/pack strategy for their operations, that was driven by everyday Excel order files, without adding any extra steps to their production process.  "To do this new pick/pack process for Home Chef, we needed a software solution where we could create our laser pack slips with their own barcode, and then get it all the way to execution where tote labels come out of a label printer," says Dilbeck.
That's where CYBRA's MarkMagic came in.
The Solution
While conducting product research to locate a bar code label and forms software product that was capable of printing at the high volumes needed to meet and exceed both their current and future anticipated needs, Roth came across MarkMagic® and reached out to CYBRA accordingly.
"Once we told the CYBRA team what we needed, they got started right away," says Dilbeck. The MarkMagic support team started by creating the packing slip format for Roth that features a PDF417 2D bar code containing all the ship to information required for the downstream labeling component.
To ensure the project would be a success, the CYBRA team went the extra mile, recommended, configured, and tested the printers Roth needed. The team ordered the printers, made sure they worked as needed, then shipped the printers out to Roth's facilities in Colorado. "Once we had the printers, it was really just plug and play," says Dilbeck.
Dilbeck adds order data to a standard CSV spreadsheet which MarkMagic accesses to print both on-demand and batch Packing List forms.  The Roth production team packs the pre-made meals into plastic shipping totes and then simply put the pack slips in with the meal. Once the totes are packed with the meals and the packing slips, they make their way to the end of a conveyor belt where another production team member scans the PDF-417 barcode that was initially printed on the packing slip by MarkMagic. Upon scanning, a Zebra printer automatically prints out a content label which is affixed to each tote which is ultimately placed onto a pallet for delivery.   While MarkMagic is used to print both the Pack form and Content label, Roth also leveraged a free CYBRA utility that immediately saves the data from the USB Barcode scanner to a file, which MarkMagic's PrintMonitor option is always watching  to print a Zebra content label.  What makes the system so great is how fast (under 2 seconds) from scan to completed label.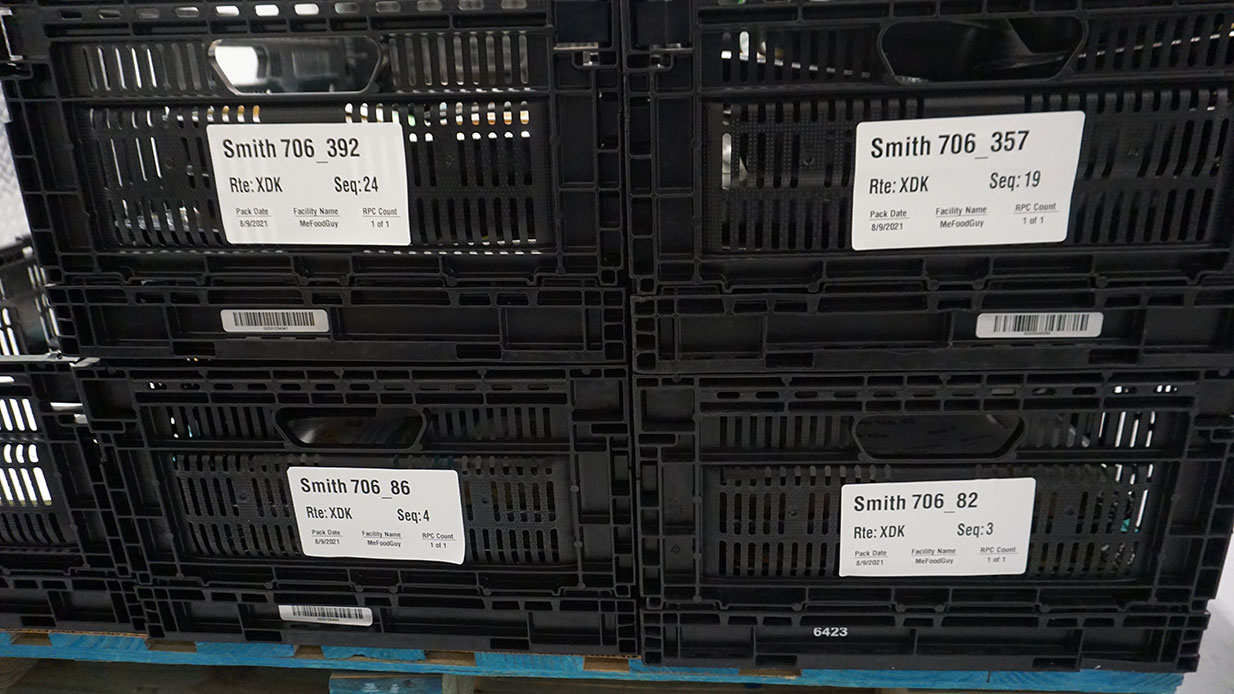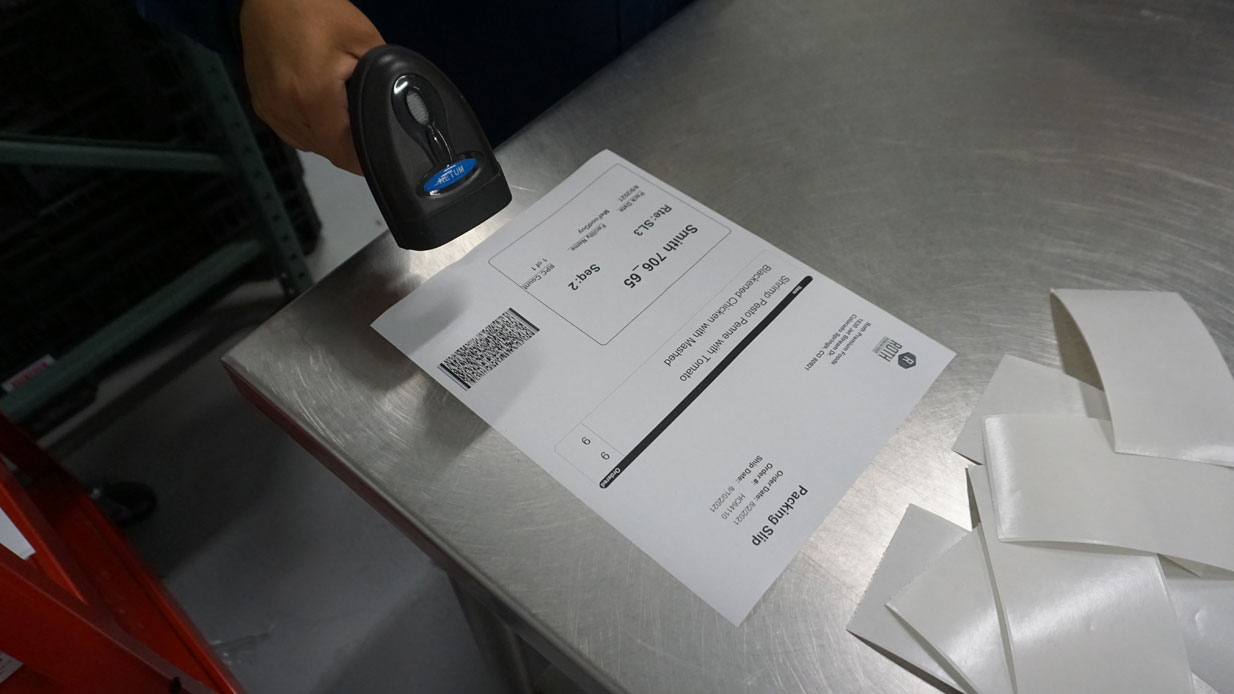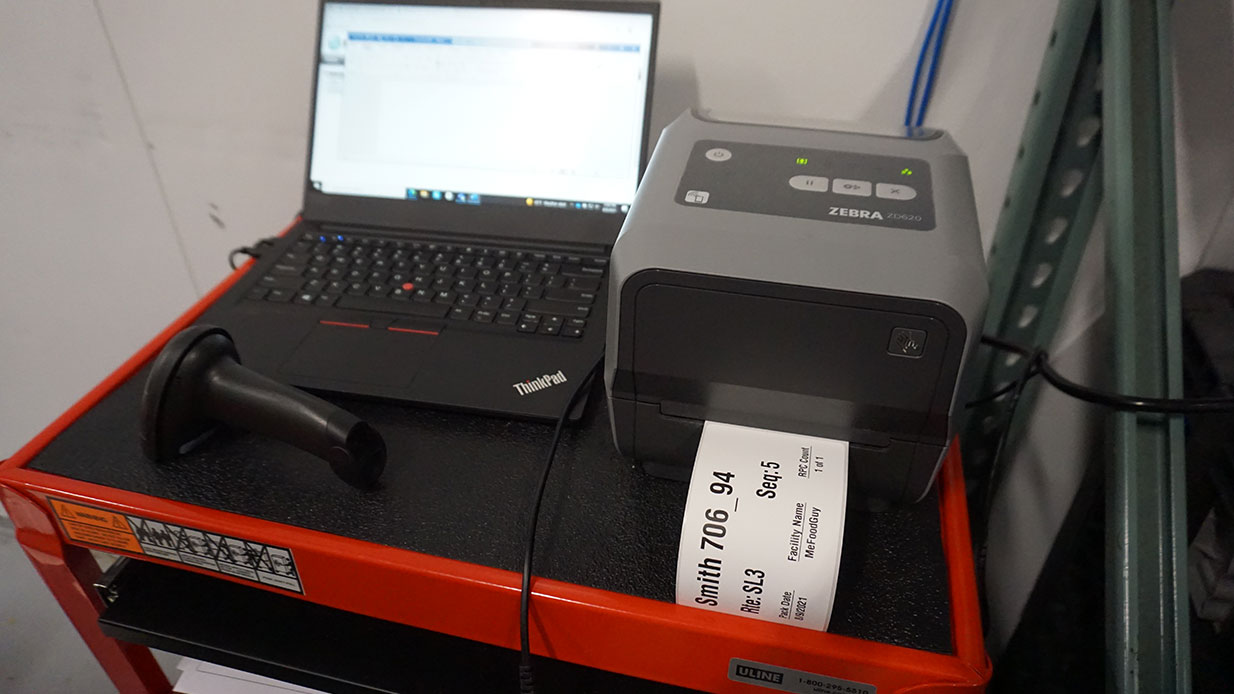 The Benefits
According to Dilbeck, "CYBRA's software is affordable, scalable, and really gets the job done." Unlike many barcode labeling software products, MarkMagic can manage several kinds of media including labels and forms. Instead of buying one product for forms and another for labels, Roth just needs MarkMagic. Another big plus is MarkMagic's ability to work with a wide array of printers. Roth affixes their totes with synthetic labels that use water soluble glue. This allows Roth to wash and reuse those totes instead of having to continually purchase new ones. The Roth team assumed a product with that degree of flexibility would be cost prohibitive but were pleasantly surprised at CYBRA's competitive pricing.
Altogether, it only took a few months for Roth's new system to go live. Along the way, Dilbeck and his team were amazed by CYBRA's impeccable level of support. "The support from CYBRA, I can't say enough about it," says Dilbeck. "I don't feel like they sold us their software and disappeared. They were there for us even on holidays. This kind of support makes the decision easy for us in the future to work with CYBRA again.
Now that MarkMagic is integrated into their supply chain, Roth has been able to scale their labeling to other co-packing projects. Roth simply changes the information in their MarkMagic format. "It works flawlessly," according to Dilbeck.
Roth has recently agreed to do more co-packing projects with other retailers as well. And, with MarkMagic streamlining their fulfillment processes, their appetite for growth will be satisfied.
About CYBRA Corporation
CYBRA Corporation is a leader in bar code and RFID technology, serving customers in a wide range of industries.
MarkMagic® Bar Code Labels, RFID Tags and Forms Software empowers customers to design virtually any type of Auto-ID document – labels, forms, RFID tags, tickets, etc. – and print them on hundreds of types of general and specialized printers from laser to thermal and even automated applicators.
CYBRA's Edgefinity IoT®, (formerly EdgeMagic) is a platform for rapidly building integrated applications that locate objects and people using passive and active RFID, RTLS and other tracking technologies. Edgefinity IoT provides customers with the ability to quickly implement EPC (Electronic Product Code) compliance systems, as well as RFID tracking and trace applications. In addition to traditional passive RFID applications, the newly released, fully redesigned software, can be used as an all-in-one rules driven solution for the safety, security and productivity of people and assets.
CYBRA software solutions run on all major computing platforms, including Microsoft Windows, Linux, Unix, cloud and IBM Power Systems (System i, iSeries, AS/400, AIX). To learn more about MarkMagic visit MarkMagic.com.
Roth Industries
Roth Industries is a prepared foods company specializing in manufacturing, distributing, selling, and marketing freshly prepared foods. We pack our own brands, which are distributed in more than 8,000 stores nationwide with the largest retailers and supermarket chains in the country, as well as private label and co-packed products for grocers, restaurants, CPG start-ups, and established brands. We are a chef-driven producer of premium prepared foods utilizing a state-of-the-art, USDA, SQF-certified plant centrally located in Colorado Springs, Colorado. With our cutting-edge packaging technology, we're able to achieve the highest quality products at the best value on a national scale. Making food deliciously in a trustworthy way matters to consumers and to us, which is why we deliver excellent service, fresh ingredients, and safe food with Good Manufacturing Practices. Learn more at rothind.com.
Try MarkMagic for Free
Loaded with powerful features, MarkMagic is the easiest way to design and print the barcode labels, electronic forms, reports, and RFID tags you need to communicate with your customers and suppliers. Request a free demo today!