How Albany Medical Center Monitors Medications with CYBRA's MarkMagic Barcoding Software
The Customer
In operation since 1849, Albany Medical Center is the leading name in medicine, research and medical education in northeastern New York. With more than 1,500 beds, over 800 physicians and dozens of outpatient locations, AMC (Albany Medical Center) is the trusted name in healthcare in the Capital Region.
Overcoming the many challenges in healthcare requires a commitment to excellence and embracing new techniques in medicine and technology. So, when leadership at AMC was looking to improve how they monitor medication for patients, they went to the experts – CYBRA. Michael Belemjian knew a challenge when he saw it. The Director of the Albany Medical Center Hospital Pharmacy needed to establish an efficacious medication reconciliation program to guarantee patient safety. He needed the right tool to bring his department into the 21st century.
When hospital management announced a plan to bring the 631-bed hospital into the future–including adding bed-side bar code scanning, Belemjian needed a way to add bar codes to his existing forms without modifying any application programs. Belemjian is a long time user of McKesson Series, a System i-based pharmacy management software application. So he turned to CYBRA for help. MarkMagic Forms Software with the PrintMonitor Add-on Option was just what the doctor ordered.
How PrintMonitor Helps Match Patients to Meds
Belemjian and pharmacist Rob Davis used MarkMagic Forms Software to replace the outdated hand-written Medication Administration Record system. Because McKesson Series was capable of outputting the MAR forms on greenbar paper, Belemjian and Davis were able to easily create print monitors to watch McKesson Series output queues. They now print 1,800 MAR forms a day using 27 print stations that are tied to 27 different MarkMagic monitors.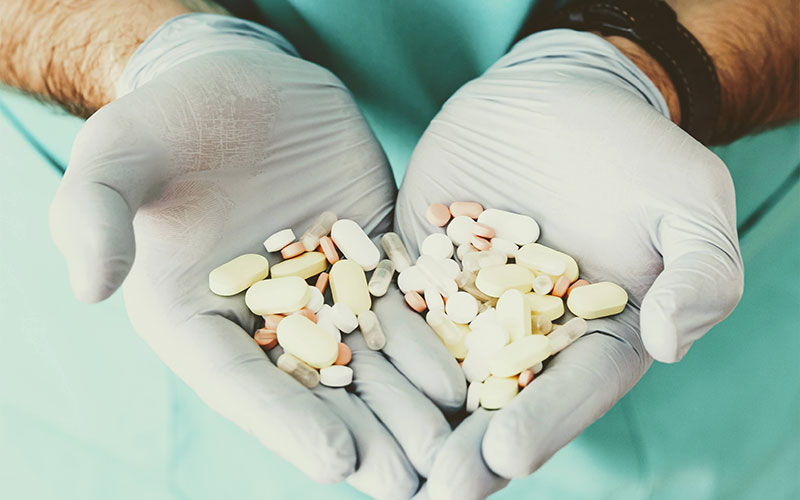 Medical Labels IV Drugs
After rolling out the Medication Administration Record (MAR), the next project to be updated was the IV medication labeling system. Belemjian and Davis used MarkMagic to create bar code labels to replace the old dot matrix labels. Using the JMagic "Select all" function, then linking a bar code to the patient ID field, the old labeling system was modified in minutes. Belemjian then created print monitors to watch the old label output queues and started printing bar code labels on Zebra printers, replacing outdated IBM 5224 models.
Today, Albany Medical Center is the only academic health sciences center in the 25 counties of eastern New York and western New England. The Medical Center incorporates the 631-bed Albany Medical Center Hospital, one of upstate New York's largest teaching hospitals. As a "tertiary care hospital," – caring for the most seriously ill and injured patients – Albany Medical Center Hospital maintains several unique regional resources, including the NYS-designated regional trauma center, the NYS-designated regional perinatal care center, the region's only bone marrow, kidney, and pancreas transplantation programs, and the area's only NYS-designated AIDS treatment center.
The Hospital also houses in the only children's hospital in Northeastern New York State. Tools such as MarkMagic help ensure Albany Medical Center can continue to serve eastern New York and western New England for years to come.
Try MarkMagic for Free
Loaded with powerful features, MarkMagic is the easiest way to design and print the barcode labels, electronic forms, reports, and RFID tags you need to communicate with your customers and suppliers. Request a free demo today!