CYBRA's MarkMagic – A Perfect Fit for Luxury Men's Clothier Supply Chain Challenges
How important is shipping fulfillment? Ask any retailer today, and they'll tell you it is the lifeblood of a successful omnichannel supply chain.
Aligning business strategies to modern retail trends is a crucial way for retailers to stay relevant in such a competitive market. And every part of the supply chain needs to run efficiently to ensure operational efficiency. From picking and packing, to proper label compliance, operations should always be looking for better and more innovative ways of improving throughput.
Like most retail brands, this company's supply chain has recently become more complex. The growth of online sales – both on their own ecommerce site and with online retailers – has driven the need for them to incorporate strategic measures that speed up their supply chain. In particular, the retailer realized that revamping the ways they work with carrier partners was essential.
For this retailer, they need a labeling solution that could work with their warehouse management system – Manhattan WMS. As labeling industry leaders, and longtime partners with Manhattan Associates, CYBRA was the first name they thought of to reach out to.
The relationship between CYBRA and Manhattan Associates goes back more than twenty years, and includes over 500 shared customers and more than 3,000 licenses. Even well before this project challenge, the retailer's development team was already enjoying the benefits of using MarkMagic which is integrated into Manhattan's WMi warehouse management software. "We realized that since CYBRA has such a close relationship with Manhattan Associates, as we got more proficient with Manhattan's WMi, it was a natural progression to become more familiar with CYBRA's MarkMagic," says the retailers application manager.
CYBRA's customer support showed the retailer's development team how to enable a PDF to graphic conversion feature within MarkMagic that allows PDF files, such as the FedEx 4×6 inch Cross Border PDF label, to be dynamically added to existing MarkMagic formats. "Working with MarkMagic to develop the FedEx Cross Border label solution was incredibly easy" says Brian Gowan of Manhattan Associates. "As soon as the retailer brought CYBRA on board, they were very receptive to working together and ultimately delivered the updated collate for Cross Border". A Manhattan Associates veteran, Brian is well aware of the major benefits that MarkMagic brings to the table. "We always rely on MarkMagic to simplify our label creation and maintenance process".
By adding a variable graphic field to the MarkMagic forms they had been using for years, the retailer's new carrier solution was ready to go live almost instantly.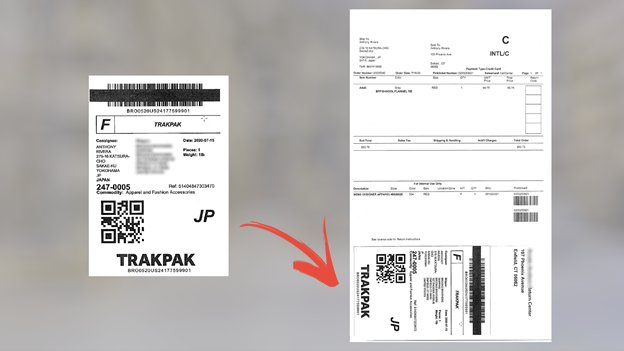 Being able to add different shipping carriers to their supply chain affords the retail the ability to be flexible with the shipping options they offer customers. While domestic consumers may prefer a faster shipping method, the retailer's international customers may prefer a more economical option. Now, it's even easier for them to offer these options.
Even before enlisting MarkMagic to add more carriers and retail partners, the retailer's distribution center had a very refined supply chain. However, every time they needed a new packing slip or carrier label, they would reach out to Manhattan Associates. This was a lengthy and costly process.  "When we added our direct-to-consumer business to our distribution center, we had to recreate all the packing slips and integrate them into Manhattan Associates' WMi. That's when we really started using MarkMagic to redesign our collate forms," adds the retailer's System Analyst. Thanks to MarkMagic's ease of use, the IT team can create new packing slips, or edit current forms and labels in-house, saving time and money.
"CYBRA has exceeded my expectations and have really been great partners for us."
Today, the retailer's fulfillment team prints over 3,000 packing slip carrier label formats every day. And, with MarkMagic, the IT team can easily maintain the 30 packing slip templates needed to fulfill orders around the world.
Try MarkMagic for Free
Loaded with powerful features, MarkMagic is the easiest way to design and print the barcode labels, electronic forms, reports, and RFID tags you need to communicate with your customers and suppliers. Request a free demo today!