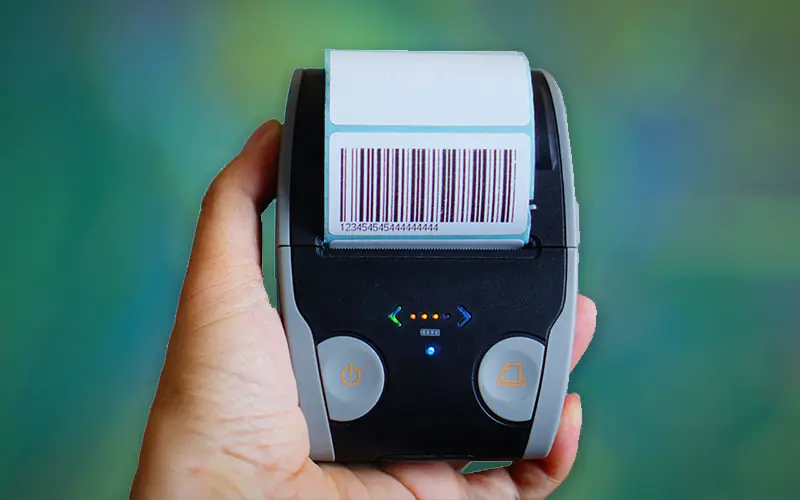 Mobile barcode printers have been growing in popularity in recent years for a variety of reasons. Chief among those reasons is their ability to go virtually anywhere within an organization's environment. But there's much more to these little printers than just their size. Whether you're in an office setting or a manufacturing or distribution center, mobile barcode printers can make a big difference in how you operations function. According to VDC Research, Mobile barcode printers are mostly used to print shipping labels. But that's really just scratching the surface for these machines.. Let's explore a few of them in this article.
Industrial barcode printers have a larger footprint and can print labels up to 8 inches wide. They can also produce thousands of labels per day. Mobile barcode printers on the other hand have a smaller footprint both in media usage and the space they take up. Mobile barcode printers are ideal for jobs that require smaller labels such as a 3 inch product label. And they're especially helpful when you need these labels quickly on demand.
Mobile Barcode Printer Benefits
Here are some of the reasons why manufacturers and distributors are relying more on mobile barcode printers:
Portability: Mobile barcode printers are portable, which allows them to be used in a variety of locations. This can be helpful for businesses that need to print barcodes in different areas, such as warehouses, retail stores, and construction sites.
Ease of use: Mobile barcode printers are easy to use, even for people with no experience with printers. This is because they typically have a user-friendly interface and are designed to be operated with one hand.
Accuracy: Mobile barcode printers are accurate, which is important for businesses that need to print barcodes that are readable by scanners. This is because they typically use high-quality printheads and print materials.
Versatility: Mobile barcode printers are versatile, which means that they can be used to print a variety of barcodes. This can be helpful for businesses that need to print barcodes for different products or services.
Cost-effectiveness: Mobile barcode printers are cost-effective, which makes them a good option for businesses on a budget. This is because they are typically less expensive than traditional printers.
Mobile Barcode Printing Increases Productivity
Mobile barcode printers increase productivity by drastically cutting down on the number of steps it takes to print labels and receipts. This saves time for the worker, but also keeps costs under control.
Productivity gains have been shown in various industries such as fast food, pharmaceuticals, logistics, warehouses and e-commerce. This increased productivity can be achieved through better process cooperation and employee organization.
For instance, if someone is driving and delivering goods, they might need to print off a receipt or a label before setting off. With a mobile printer, they can do this as they drive and ensure that the correct label or barcode is printed.
Another benefit of mobile printers is that they increase efficiency throughout operations in the warehouse, shipping and receiving, and merchandising. They allow for easy and reliable printing of labels, receipts, tickets and more at the point of application.
Increased Accuracy
Barcodes are an essential component of many business processes. They help companies track products and inventory through the supply chain, and they provide valuable data for decision-making and forecasting.
When used correctly, barcodes can increase accuracy in real-time inventory tracking and improve overall efficiency. However, the accuracy of these labels depends on how they're created and where they are placed.
For example, a lack of symbol contrast or a cluttered background can interfere with barcode recognition. This can lead to inconsistencies between items and shipments, resulting in errors that can cost companies a lot of money.
This is where mobile barcode printers come in handy. These printers let your employees print the exact label they need, when they need it – and wherever they are. This makes them more efficient, reducing the time it takes for them to label their shipments and reduces the possibility of mislabeling.
Improved Printing Efficiency
Mobile barcode printers can help you increase efficiency across a range of warehouse processes. In particular, they make it easier to improve labelling accuracy during kitting or light assembly tasks and when workers place items into packaging.
In warehouses, this helps to prevent costly mispicks that can lead to disorganized returns processing. It also ensures that the right shipments are being sent to the correct customers.
If your business relies on automated processes to manage inventory and track incoming shipments, ensuring that a wide variety of materials get the labels they need is essential for these systems to perform effectively.
Using mobile barcode printing to label items at the receiving area can ensure that incoming materials receive barcode labels, which is crucial for checking in, putaway, conveyor and other automated applications.
In addition to improving the productivity and accuracy of your warehouse operations, mobile barcode printers can increase the lifespan of your labels. Thermal transfer printers use a ribbon and printhead to produce accurate barcode images. These printers are designed to print on a range of media types and sizes.
Increased Security
There's no denying that mobile barcode printers have changed the way we work, but they are also notoriously prone to security breaches. A single data breach can put a company out of business and cause havoc on their brand reputation. Thankfully, modern technologies and savvy IT staff can minimize the risk of a data breach by ensuring all devices have the latest anti-malware software installed.
One of the most impressive technologies, however, is the integration of mobile barcode printers with Internet of Things (IoT) technology. IoT-enabled solutions allow enterprises to monitor and manage their omnipresent mobile printing devices and make smarter decisions that improve productivity and reduce costs. From remote printing and mobile device management to the ability to track lost or stolen assets, these innovations can help organizations achieve their digital transformation goals. The best part? These smart solutions don't require a lot of IT resources to deploy. In fact, many of them are designed to be cost-effective, requiring a minimal amount of training and ongoing maintenance.
MarkMagic + Mobile Barcode Printers
CYBRA's barcode label printing software, MarkMagic, supports a wide range of mobile barcode printers from brands such as Citizen, Brother, Zebra, and SATO. If you're looking to deploy mobile barcode printing within your supply chain, we've got you covered.