5 Black Friday Facts Manufacturers Should Know
Evolving Shopping Trends Helps Drive Black Friday Success
Each year the unofficial starting day of the holiday shopping season provides retailers with a major opportunity to boost sales, strengthen customer engagement and brand loyalty. The big shopping day, along with Cyber Monday, accounts for a huge chunk of annual revenue for retailers, brands, distributors, and manufacturers.
While the big shopping days aren't going away any time soon, consumer trends are constantly influx, and, therefore, forces retailers, manufacturers, and distributors to constantly review their selling strategies and supply chain initiatives. In order to ensure maximum success on the big shopping days, it's important to review the constantly evolving trends of shoppers.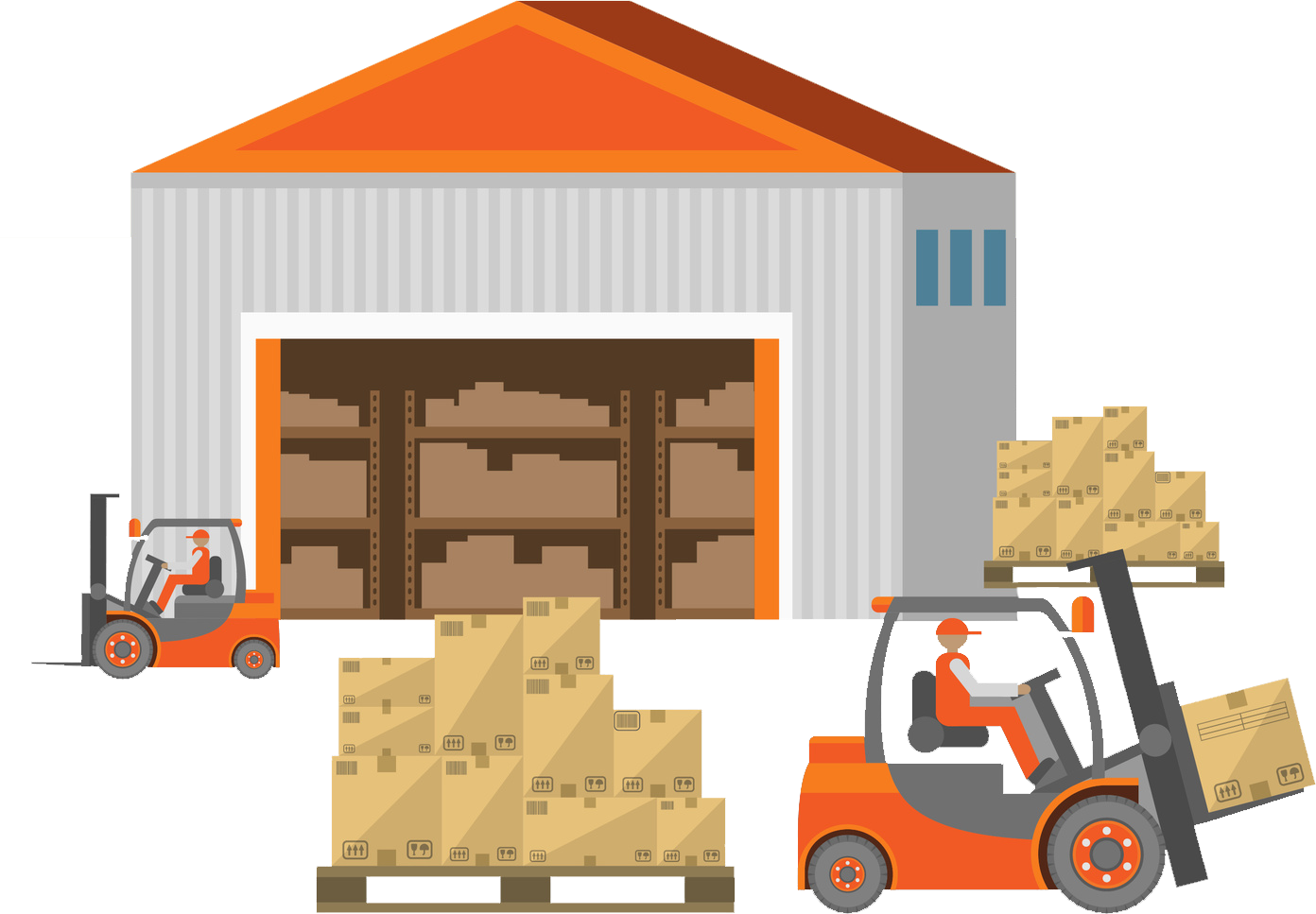 Black Friday Facts & Statistics
1. Black Friday Starts Before Friday
The days of Black Friday shopping starting Friday morning are long gone. Folks may still line up at the shopping mall to enjoy door buster sales, but the truth is Black Friday sales start well before that. And, Black Friday has been starting earlier every year. In 2018, Thanksgiving Day brought in $3.7 billion in online sales – a 28% increase from the previous year.
With more consumers turning to the comfort of shopping from their own home, online sales is spreading out the spending to more than just one frenzied evening. According to Customer Growth Partners, the four day Black Friday weekend accounted for approximately $60 billion in sales.
And, of course, the holiday shopping has extended into the ever-growing Cyber Monday and week following Black Friday. The bottom line is retailers, manufacturers, and distributors should prepare themselves for an influx of orders that come in steadily, and over a longer period of time.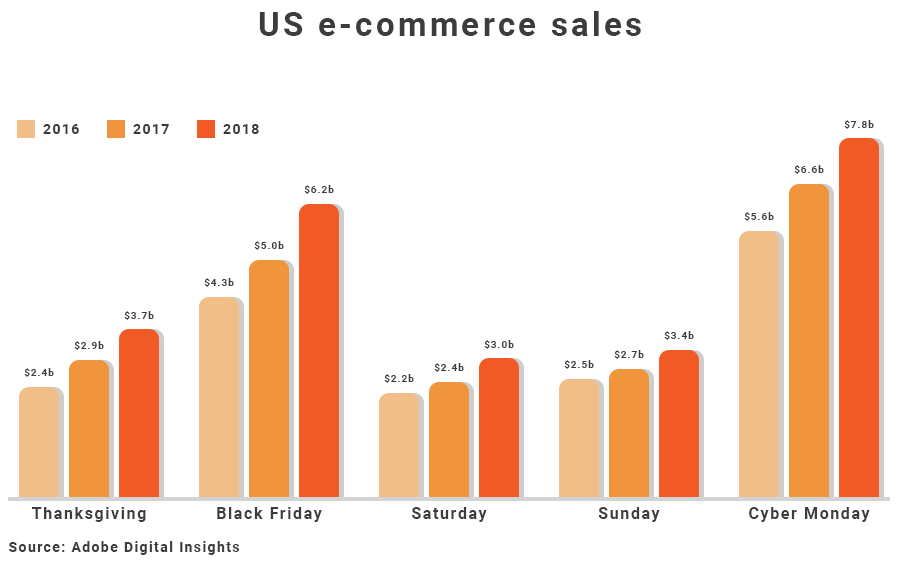 2. Online Sales Are Blowing Up
Online sales on Black Friday and Cyber Monday continue to break records, and all indications point to this trend continuing. Online sales rose 23.6% to $6.22 billion on Black Friday in the U.S. Even Small Business Saturday reached a new e-commerce record with $3 billion in online sales. In 2018, according to Adobe Analytics Cyber Monday hit a record $7.9 billion of online spending which was a 19.3% increase from 2017.
These numbers show that Americans are bullish on shopping right now – especially online. Shopping online is becoming increasingly easy and convenient. Retailers are looking to meet and exceed consumer demands with simpler checkout processes, easier return policies, and faster shipping and fulfillment. Manufacturers and distributors, in turn, must be ready to meet the rise in consumer demands.
3. More People Than Ever Are Shopping on Black Friday/Cyber Monday
The folks who stand in line outside the mall aren't the only people getting in on the shopping after Thanksgiving. Over 165 million people shopped over the weekend in 2018, slightly over the number predicted. RetailMeNot predicted that 78% of shoppers planned to shop over the weekend, and Swagbucks predicted 85%, significantly higher than NRF's 67% of actual shoppers.
Interestingly, data shows more shoppers use the Black Friday and Cyber Monday as opportunities to shop for themselves. Items consumers shop for has become more diverse as the shopping holidays grow. Retailers will look to diversify their sales and offerings as well. Shopping volume is up as well. According to Geekwire.com, Average order volume rose 8.5 percent from Black Friday 2017, reaching $146.
In other words, when folks shop on Black Friday, they are trending toward buying more stuff than less. Just another reason why retailer partners need have their distribution channels optimized for the holiday season.
4. BOPIS (Buy Online Pick Up in Store) Orders Grew 73%
BOPIS, or buy online and pick up in store, has been a growing online shopping trend for the last several years. It's a great solution retailers offer shoppers who like the convenience of shopping online but don't want to pay for shipping. In 2018 there was a big jump in BOPIS purchases as orders grew 73% from Thanksgiving to Black Friday. And, experts expect that trend to grow year to year.
Also known as "click and collect services", BOPIS is very attractive to retailers. Shipping costs are lowered with BOPIS orders since retailers don't need to get the inventory all the way to a customer's front door. Also, retailers see BOPIS as beneficial since shoppers buy online and make their way physically to the store. This offers the added benefit of customers buying goods at the store when they pick up their orders.
This additional service is something manufacturers and distributors will need to cognizant of, as it provides further logistical challenges. Retailers want to provide BOPIS while offering next-day or even same-day order pick-up. In order to keep up with demands, distributors need a supply chain that is highly visible. Real-time inventory data is necessary for distributors in order to prevent shipping delays and errors. Without it, issues like OOS (out of stock) can slow distribution down.
5. Shipping Expectations are Rising
The reason why distributors need to heed all these new shopping trends is because expectations are rising. Specifically, shipping expectations. Thanks to Amazon and other aggressive online retailers, consumers have very high expectations when it comes to online shopping. 86% of consumers say they have higher expectations regarding shipping efficiency than from years past.
Is your supply chain equipped to meet these rising demands? Expectations are changing. So should your supply chain strategy. Using the same old tools will retrieve the same old results. But, with the right tools, distributors can meet and exceed consumer expectations, and keep their retail partners happy.
Interested in Adding RFID to Your Supply Chain?
Built on CYBRA's expert system technology, Edgefinity IoT baseline alerts were developed utilizing the latest in RFID and RTLS (Real Time Tracking Systems) capabilities. Contact an RFID expert today to see how our technology can improve your organizational operations.