EdgeMagic RFID Software
INVENTORY MANAGEMENT | SHIPPING & RECEIVING | ASSET TRACKING | LOSS PREVENTION
LEARN MORE
REQUEST A DEMO
The RFID Software Solution You've Been Looking For.
One software platform. Many solutions. Whether you need to track large amounts of inventory, or you need to reduce chargebacks, EdgeMagic gives you a boost in tracking inventory, goods and equipment. EdgeMagic lets you quickly deploy advanced, industrial strength RFID and barcode solutions without costly custom programming.
COMPANION HARDWARE
For the warehouse, retail floor, and in transit, CYBRA offers hardware solutions that amplify the power and capabilities of EdgeMagic RFID software. Our hardware inventory includes RFID seals, a conveyor cage, high performance server, and retail security detectors.
LEARN MORE
DOWNLOAD BROCHURE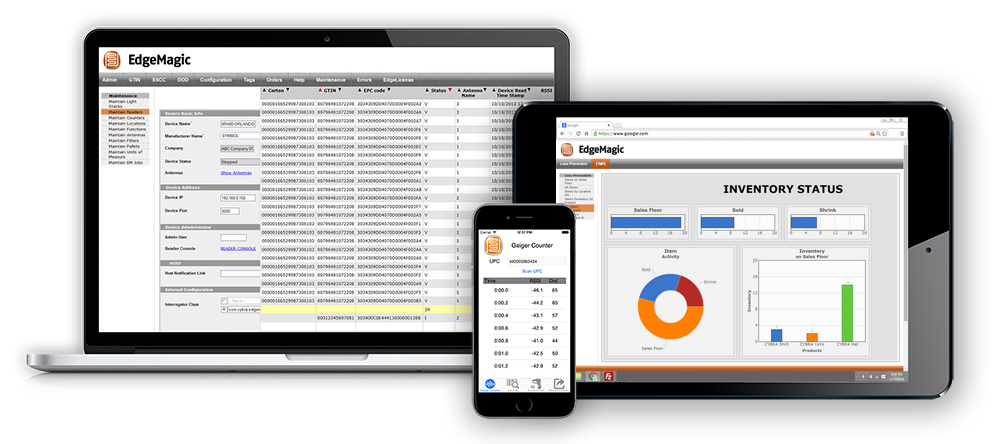 EDGEMAGIC PLATFORM
The EdgeMagic Platform provides the full range of features needed for managing EPC (Electronic Product Code) compliance mandates, printing, reading and validating RFID tags, integration with ERP and WMS applications and management reporting.
EDGEMAGIC ESSENTIALS
Do you already have an existing RFID system in place for your business? If you are looking to improve how your RFID system runs, EdgeMagic Essentials could be perfect for you. Essentials gives you the ability to integrate the best features of EdgeMagic, but only through an API.
EdgeMagic Platform gives you complete control over your tag integration, printing, and formatting, along with offering advanced analytics and integration with any device. It's the most powerful RFID software on the market.
EdgeMagic Mobile Plaftorm
EdgeMagic is fully available on any modern smartphone device. Receive important inventory and product tracking data right to your phone, and never be out of the loop with your inventory and supply chain. EdgeMagic Mobile Platform includes support for Windows Mobile, Android, and iOS EdgeMagic Apps. Note: EdgeMagic Mobile Platform is required for all apps requiring handheld RFID readers
REQUEST A DEMO
Interested? Let's Talk.
EdgeMagic is a highly customizable software solution for applications in almost every industry. Please contact us so we can better understand your unique business challenges. Reach us at info@CYBRA.com or 1-800-CYBRA-88.
CONTACT US