Just because you use multiple platforms, doesn't mean your machines cannot run the same software. With MarkMagic's latest edition, Platform Independent, you can run your favorite barcode labeling software on any and all machines at your office.
MarkMagic PI allows you to manage your MarkMagic documents through a web interface. You can print, monitor a folder for print data, maintain printers, and more through the MarkMagic PI web interface. MarkMagic PI allows you to have access to your MarkMagic documents as long as you have a connection to the server that MarkMagic PI is installed on.
Try MarkMagic For Free!
Download MarkMagic PI
Powerful WYSIWYG Interface
Can you imagine designing labels and forms actually being fun? MarkMagic Enterprise features our exclusive Java-based JMagic WYSIWYG Label and Forms Designer. You'll be more productive instantly. Working with MarkMagic's elegant WYSIWYG designer is effortless.
Picture yourself tracing compliance labels right on the screen. Then, preview your finished label or form right on the screen with your actual data automatically extracted from your application files.
Need to resize a barcode, graphic or text field? Just drag the field's handles! No programming. No code either! You can even import all file fields with one mouse click.
When designing a label, form, or report, all the fields in the source data or spooled output file can be mapped and imported into the form with one click of the mouse.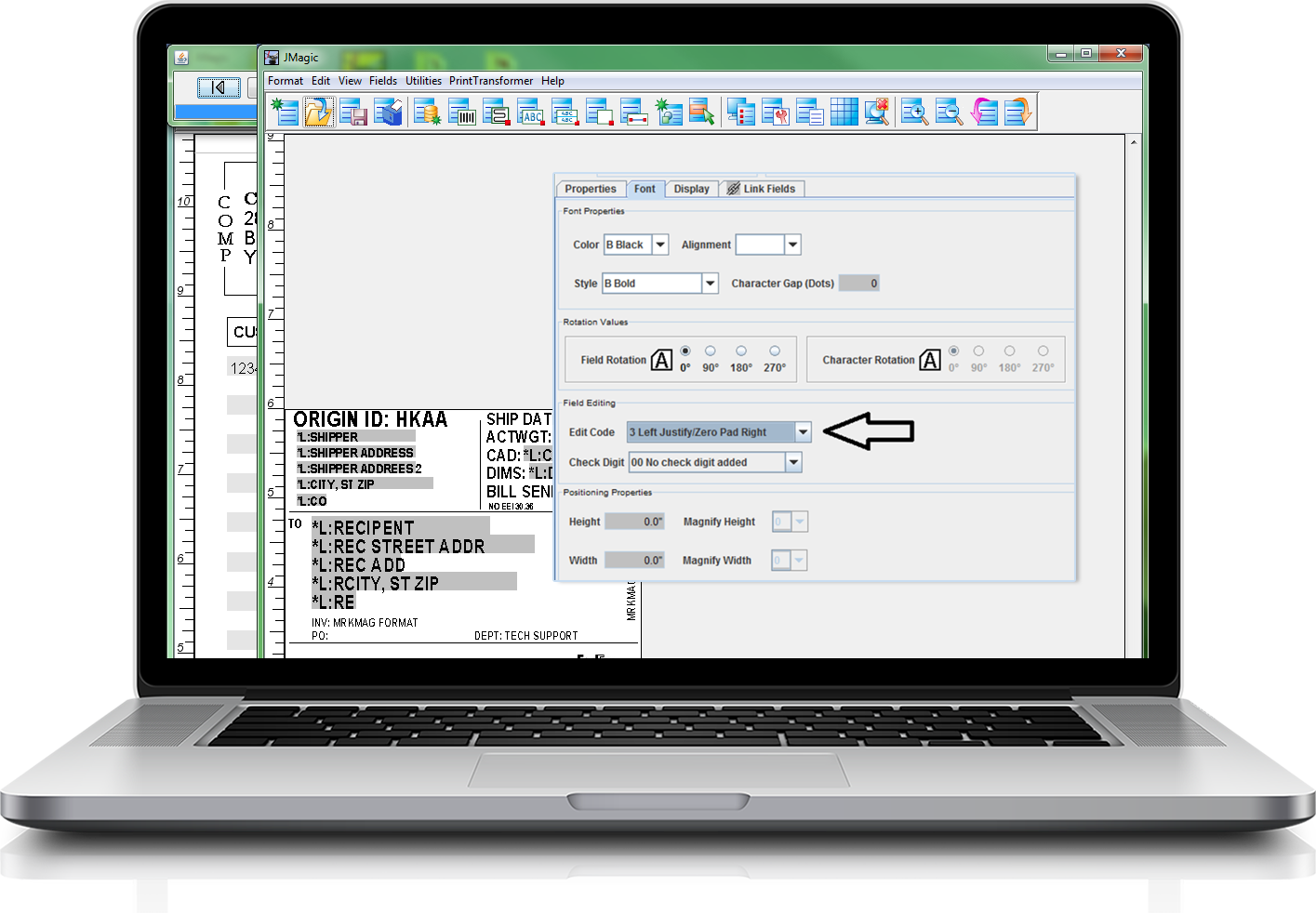 Can't Have Too Many Edit Codes
Need a way to pad field data with Zeros or blanks?
Just select one of four new edit codes (Left Justify/Zero Pad Right, Right Justify/Zero Pad Left, Left Justify/Blank Pad Left, and Trim Blanks).
Say you want to add a barcode to your form. In some symbologies "blanks" are not supported and in others, they waste precious BC space. Without programming, you can have MarkMagic trim out the blanks. For example, a field containing ABC 12 A 56 number and barcode it as ABC12A56.
Label and Ticket Design Made Easier
No need to manually center align fields now that MarkMagic has the ability to center align even for printers that do not support it natively.
Let MarkMagic pad the spaces with blanks to achieve your desired output. It's another time saving function built into new MarkMagic. We've also added Tag Edge and Center Aperture options in the supply set up packet for Avery Dennison Monarch printer types.
PDF/E-Mail/Fax
This MarkMagic Option lets you produce Adobe Acrobat PDF files containing searchable text and readable barcodes. You can send PDF documents as e-mail attachments or via fax.
This is great for reprinting and e-mailing copies of invoices, statements, and even labels.
RFID Quick Comply
The RFID Quick Comply Option lets you quickly and easily comply with your trading partner's EPC (Electronic Product Code) mandate. Manage serial numbers and print RFID tags and labels on Avery, Datamax, SATO, and Zebra printers.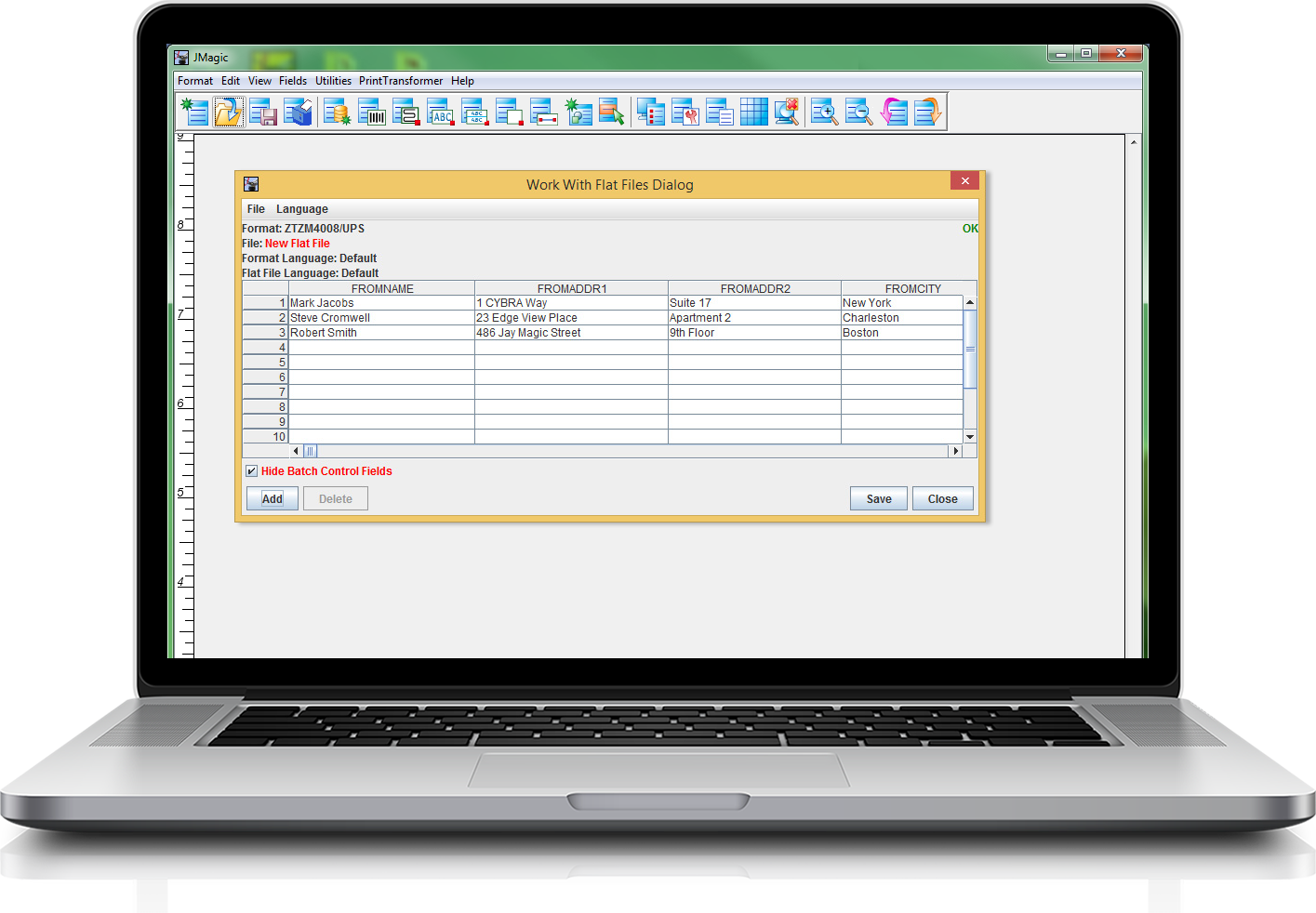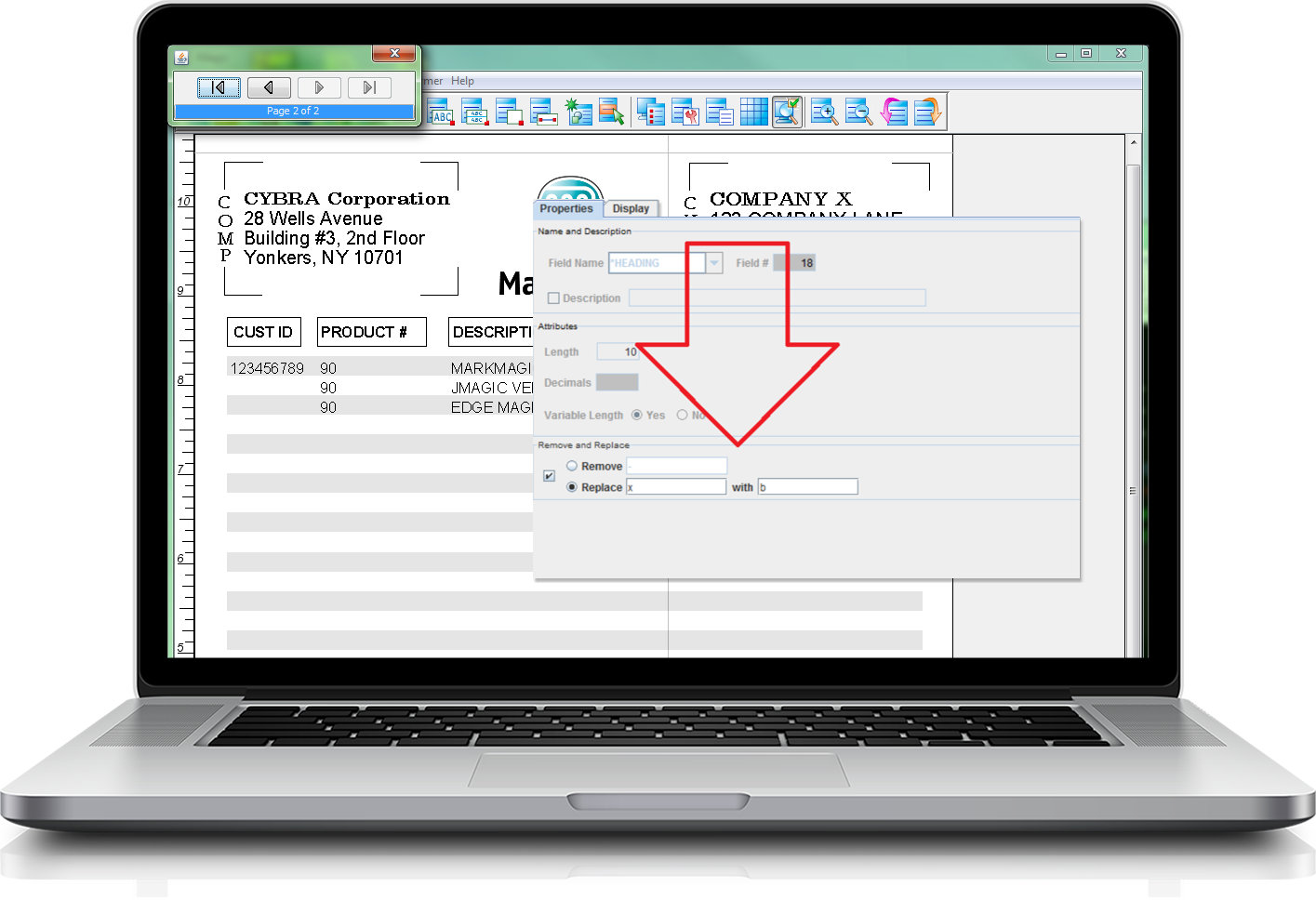 PrintTransformer - More Powerful Than Ever.
The MarkMagic PrintTransformer Add On Option gives you the ability to perform conditional printing without any programming. New in MarkMagic 9 are the following new capabilities:
1. Test any variable when using PrintTransformer. You can even have conditions test environmental variables, such as who the user is that's running the job and set rules for different users.
2. Multiple layers of "&Rules" (And Rules) provide you with the capability to have more than one action results from one set of rule test formats via conditions instead of needing multiple formats. For example, you may want to print out an Office and Customer copy that have slight differences. Just add an '&Rule'.
3. Test data with conditions in PrintTransformer. Imagine, you can now "substring" the test data of a condition. Take any number of characters and specifically test only the position, or positions, you require such as position 5 out of 20 characters.