JMagic Designer
MarkMagic's WYSISYG editor
JMagic Java-Based WYSIWYG Label and Forms Designer
Can you imagine that designing labels and forms can actually be fun? All MarkMagic development editions feature our exclusive Java-based JMagic WYSIWYG Label and Forms Designer FREE with your MarkMagic Developer License.
You'll be productive instantly. Working with MarkMagic's elegant WYSIWYG designer is effortless. Picture yourself tracing compliance labels right on the screen.
Then, preview your finished label or form right on the screen with your actual data automatically extracted from your application files.
You can even map all file fields with one mouse click. JMagic features drag and drop field placement and other powerful, exclusive features that let you design and print formats with a point and click of a mouse.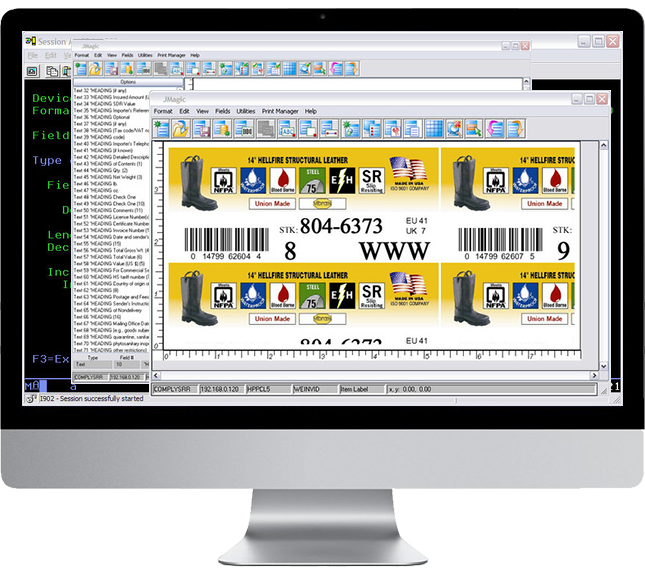 Save Time With Variable Graphics
Easily add color logos or product drawings. And you can define variable graphics when you want different images to print automatically for each product.
Save Money on Chargebacks
MarkMagic includes UCC-128 compliance label templates for J.C. Penney, K-Mart, Sears, Walmart, and other retailers.
MarkMagic makes it easy to comply and save money on chargebacks.
Easy Carrier Compliance
MarkMagic includes carton label templates for UPS, FedEx, and other carriers. Our exclusive Print Preview lets you design labels with your actual system data right on the screen!
Got A Question?
Not sure which solution is right for your business? Contact CYBRA, and see how our Bar Code & RFID Solutions can apply to your business.
Contact CYBRA at 1-800-CYBRA-88 (1-800-292-7288) or info@CYBRA.com
Contact Us