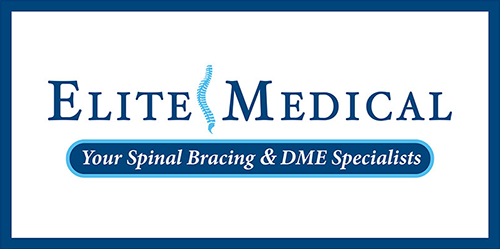 How CYBRA's Edgefinity IoT Improved Inventory & Asset Tracking at Elite Medical
The Background
Elite Medical Supply is a Durable Medical Equipment supplier, established in 1997, that specializes in disorders of the spine. Products stocked include collars and orthotics for lumbar bracing, cervical bracing, and ambulatory traction, as well as electrotherapy, and bone growth stimulation products.
Elite Medical Supply currently serves thousands of patients, and provides chiropractors, neurosurgeons, pain management doctors, and primary care provider's durable medical equipment for their patients. Elite Medical Supply is a Medicare accredited DME provider.
Improving Operational Efficiency
When Elite Medical Supply first opened fifteen years ago in West Seneca, New York, they stored all of their medical supplies in one main storage room. Now, the company serves a much larger number of patients, leading to an abundance of medical supplies. Elite needed assistance in finding a way to keep these supplies organized and easily accessible by creating a consistent way to help track and trace every piece of equipment efficiently and effectively from every storage location; whether it is located in the main storage room, the salespeople's vehicles, multiple doctors' offices, or even when they are delivered to patients.
Elite saw an opportunity to gain operational efficiency by implementing a system that tracks medical supplies in their inventory. They decided that the best way to accomplish its objectives was to deploy CYBRA's EdgeMagic asset tracking solution.
A Better Asset Tracking System
The previous tracking system that Elite was using had a number of shortcomings. Before their implementation of CYBRA's EdgeMagic, Elite had a labor-intensive manual process for receiving and tracking and had no way of determining how much product was in any location aside from their main storage. Tracking was done the old fashioned way by counting stock regularly to determine reorder needs.
Another limitation involved tracking which products and how many of them had been sold to patients. This made the process of handling Medicare reimbursements increasingly more difficult. Occasionally supplies were misplaced and even lost among the inventory locations, resulting in extreme difficulty when trying to serve patients and completing paperwork. This also resulted in a significant monetary loss for Elite.
NO MORE LOST ITEMS
Minimize displacement of supplies & improve speed of reimbursements.
INVENTORY MANAGEMENT
Develop a track and trace system that makes updating inventory effortless.
KEEP TRACK OF EQUIPMENT
Locate medical supplies in any inventory location quickly and efficiently.
EdgeMagic's Solution
CYBRA and Elite Medical Supply decided on Symbol's handheld barcode scanners from Motorola coupled with CYBRA's EdgeMagic software to improve inventory management. Barcode data collection, as compared to manually counting stock, is far faster and more accurate. The bar code solution not only easily allows Elite personnel to update inventory, but also informs them how much inventory is in stock.
The first step in implementing the EdgeMagic system involved entering all inventory data such as product ID, product description, vendor, size, and weight of products Elite Medical Supply currently carries into their EdgeMagic Inventory Master List. Then Elite personnel affixed a barcoded triplicate label to every medical item in their inventory. Upon receiving products from medical vendors, the employees at Elite print labels for each individual item containing human readable description and a unique bar code. Staff members then apply labels to individual items. They shelve and proceed to next product category. Finally, they enter a quantity next to each unique item and execute "check-in" by clicking a button which performs the action automatically.
How it Works
When a staff member needs to ship an order to a customer, they select the "check-out" operation, enter the order number or customer name. Each product item is scanned with a barcode reader and a pack list prints with function weight and quantity.
Staff members also use this menu item to track any product leaving stock for any other reason, such as sending a sample to sales rep or doctor's office. Scanned data updates the EdgeMagic Inventory database reflecting changes to the inventory once the check-in or check-out is confirmed. As products in inventory drop below a predetermined level an alert is triggered to remind staff to reorder particular stock.
Chuck Roskow, CYBRA VP of Operations, stated "Bar Code technology is proven to reduce human errors in data collection. When combined with the powerful query and reporting capabilities of our EdgeMagic system, CYBRA offers HME (Home Medical Equipment) and DME suppliers a proven, industrial strength solution for Medicare compliance."
The Result
Elite's Inventory Manager, Dennis Abrahamson, is now able to ascertain from EdgeMagic's custom reports precisely which piece of inventory has been added or removed from inventory at any time. Mr. Abrahamson comments "We can have an average of 189 pieces a month of average value of $500 each in transit, so being able to keep track of that is critical".
"We could not have grown as quickly as we have without the CYBRA system."
Dennis Abrahamson (Elite's Inventory Manager)
INTERESTED IN EDGEMAGIC?
Built on CYBRA's expert system technology, EdgeMagic baseline alerts were developed utilizing the latest in RFID capabilities. Contact an RFID expert today to see how our technology can improve your organizational safety efforts.