MarkMagic Forms Edition
CYBRA MarkMagic Forms Edition
How does MarkMagic Forms work?
MarkMagic Forms Edition gives you the ability to transform iSeries spooled files into sophisticated electronic forms. You can add barcodes, reformat and edit spooled file data with no program modifications whatsoever. You need only one easy to use product for designing laser forms, barcode compliance labels, garment tags, tickets, and plastic ID cards.
Using the familiar MarkMagic interfaces, you design a format – bar code and text fields, line, box, and graphic fields by mapping the variable data fields to the lines and columns of an existing spool file (instead of an DB2/400 database file).
After you've designed your form, run the job that generates the spool file and then call the PRTLBLF (Print a label File) CL command to print the transformed spool file.
A MarkMagic Job can be defined that combines these steps, and the optional MarkMagic Print Monitor can be used to automatically print a form whenever a spooled output file appears in a an output queue.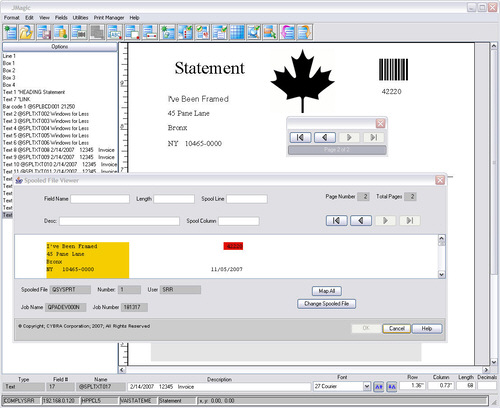 Does MarkMagic Forms require a PC for design or for printing?
No. The screen of any 5250 terminal becomes the canvas upon which the Form itself is created. If you prefer a WYSIWYG interface, you can use JMagic to design your Form. Use the cursor to locate positions on the format, and to select the line and column of the spool file to be mapped. Any supported printer can be used to print MarkMagic Forms.
What is the difference between MarkMagic Labels and Forms?
MarkMagic Labels Edition uses a physical label file (or data passed through a data structure or data queue) to populate a label or a form. MarkMagic Forms Edition uses only existing spooled output files to populate a label or a form.
Is programming required to print MarkMagic Forms?
No. MarkMagic Forms can accommodate a wide range of electronic printing needs without any programming whatsoever. If your application produces a spool file, MarkMagic Forms will transform it
Is MarkMagic Forms only for Laser Printers?
No. You can use MarkMagic Forms to print thermal labels but only from data on an existing spool file. If you wish to print labels from another source you'll need MarkMagic Enterprise Edition