Green Ship Solutions
Green Ship Solutions for Digital Retail and Direct to Consumer Shipments
Create & Print your shipping label, return label, packing slip and invoice with one simple solution.
How? The GY412 printer by SATO and MarkMagic™ software by CYBRA put both sides of your labels to use while making significant environmental progress that benefits both the earth and your bottom line.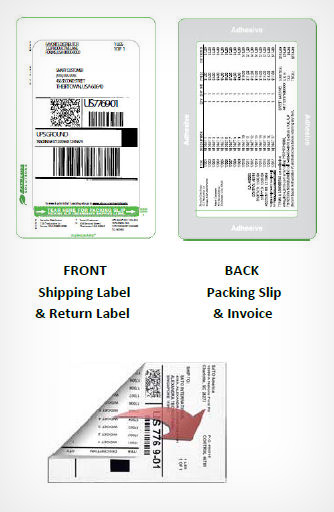 Two-Sided Thermal Labels
All-In-One Combination Duplex Shipping + Return Label + Confidential Packing Slip
Features & Benefits
Eliminate the expensive and labor intensive "Packing List Enclosed" pouch
Stop Customer Complaint of no packing slip sent with order
Increase Accuracy with 100% shipping label & packing slip match.
Fast, versatile design features let you create labels, forms and tags and easily merge information from your databases.
One Printer vs. Two Printers to maintain
Fewer Consumable to Inventory in order to ship boxes (Thermal Duplex Packing Slip vs. 4x6 Shipping Label, Plastic Pouch, Packing List, Toner).
Going Green: much smaller carbon footprint compared to all other systems
Lower Total Cost System

Traditional System vs THE NEW GREEN DUPLEX SYSTEM GY412 SPECIALTY DIRECT THERMAL PRINTER Advanced "GREEN SOLUTION" technologies are applied to this direct thermal printer that simultaneously prints on specially designed labels using 2 thermal print heads.
Efficient
Environmentally Friendly
Stop Customer Complaint of no packing slip sent with order
Improved Throughput Over Single Sided Printer
Savings in Consumable and Operating Costs
Ability to Eliminate Pre-Printed Information
Lower Total Cost of Operation
Going Green: much smaller carbon footprint compared to all other systems
Effective
Provides Streamlined B2C and B2B Customer Communication Processes
Print On Demand Surveys, Coupons, Pack Slips, Warranties & Return Policies
Eliminates the Need for Separate Packing Slip and Other Printing Devices
Enhances Pick Pack and Ship Applications, Reducing Errors
Sustainable
Positive Environmental Impact
Reduces Land Fill Waste and Associated Expenses
Eliminates the Need for Additional Printers
Create Labels Without Programming
CYBRA's Award-winning MarkMagic™ is the easiest and fastest way to design and print your two-sided thermal labels as well as all your other barcode labels, electronic forms, ad hoc reports and RFID tags you need to communicate with your customers and suppliers. MarkMagic replaces multiple software packages with one cost-effective , integrated offering to help add barcode, forms, reports and RFID technology without programming.
MarkMagic Options
The following MarkMagic™ options provide you with ultimate ease & flexibility to achieve outstanding results for duplex labeling.
Print Transformer Add-On
MarkMagic Print Transformer, the all-new Add On Option adds dynamic formatting to MarkMagic . Print Transformer makes it easy to define conditional behavior at the field level. Text, Bar Code, Line, Box, Graphic, Text Block and even RFID field attributes can print conditionally based on data values or environmental parameters. Users can easily make formatting changes on their own, with absolutely no programming.
Form Weaver Add-On
Form Weaver enables printing of documents that combine multiple formats. Form Weaver Documents come in many varieties, including the merging of two or more formats on one page. Using the MarkMagic Form Weaver Option for printing complex labels or forms means you can concentrate on designing documents that fit your business requirements, without worrying about programming for the layout of these special forms.