FROM THE DOCK DOOR TO THE SELLING FLOOR & BEYOND
One software platform. Many solutions. Whether you need to track large amounts of inventory, high value assets, or locate misplaced equipment, EdgeMagic lets you quickly deploy advanced, industrial strength RFID capabilities without costly custom programming.
EdgeMagic solutions offers a compelling alternative approach, enabling implementation of RFID projects in a few weeks, without any risky specific developments. CYBRA offers an end-to-end solution, including software, hardware, and services.
INVENTORY ACCURACY
Reduce cycle count time by as much as 90%. Count as often as needed. EdgeMagic increases inventory accuracy – critical for omni-channel operations.
ASSET TRACKING
Keep assets organized. Track the latest location of a pallet or tote, see whether items are not where they should be, and know when an asset has been damaged.
REDUCE CYCLE COUNT TIME
Cut cycle count time by as much as 90%. Count as often as necessary. This frees up your sales team so associates can stay on the selling floor.
LOSS PREVENTION
EdgeMagic's loss prevention functions give you instantaneous information on exactly which products are leaving your store unsold. A virtual eye in the sky.
REAL TIME AUDITING
Read every single item in every single carton received, and validate every single item in every single outbound carton packed. Nothing gets past EdgeMagic.
REDUCE OUT OF STOCK
Cut down on out of stock items. No more lost sales due to hot items not on the sales floor. EdgeMagic can send alerts so you know when to replenish the right items.
Five Facts Retail Brand Owners Should Know About RFID
RFID technology is taking off. In just the past few years RFID has been adopted by major retailers. Why? In order to fulfill the mult-channel retail demands of today's consumers. Retailers are using RFID to improve online shopping experiences, while making brick and mortar operations run more efficiently. Brand owners can benefit tremendously from RFID, as well. How? By using the RFID tags in their own supply chain.
Using  passive RFID, EdgeMagic monitors a wide array of sensing information as soon as the data is relayed It continually updates location, acceleration, temperature, etc. The data collected is evaluated against rules that you set in consultation with CYBRA's retail experts. This layer of visibility gives you a complete view of your operation.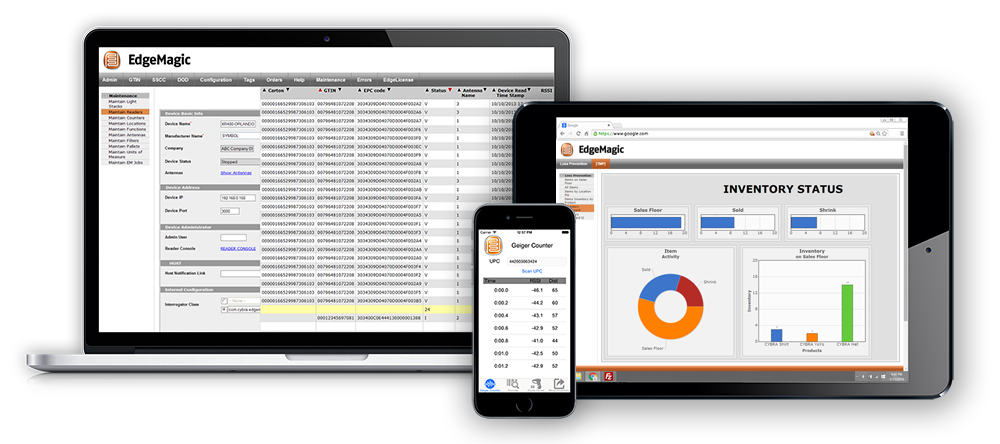 EAGLE EYE VIEW
EdgeMagic gives you a complete, real-time view of your entire warehouse or retail facility.
TRACK EVERYTHING
EdgeMagic knows when someone sign in or out, where a shipment went, if an asset is being mishandled, or when it's time to replenish.
ACCESS TO DATA 24/7
EdgeMagic is web-based. So, you don't need to be at the office to get inventory status updates. Get alerts sent right to your phone or tablet to stay in the know all the time.
EDGEMAGIC MOBILE PLATFORM
EdgeMagic is fully available on any modern smartphone device. Receive important inventory and product tracking data right to your phone, and never be out of the loop with your inventory and supply chain. EdgeMagic Mobile Platform includes support for Windows Mobile, Android, and iOS EdgeMagic Apps. Note: EdgeMagic Mobile Platform is required for all apps requiring handheld RFID readers
REQUEST A DEMO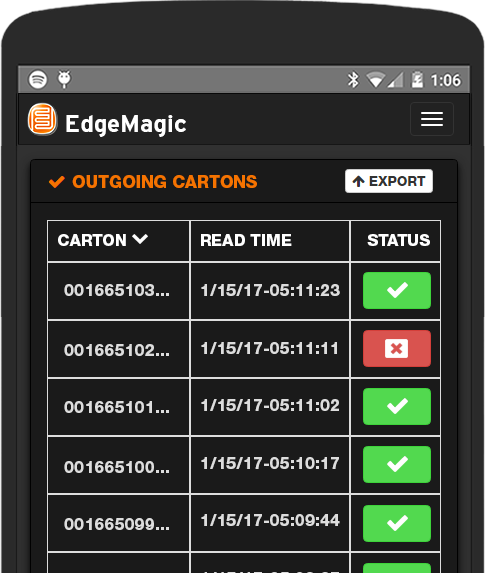 Leading software vendors such as Manhattan Associates and thousands of customers worldwide rely on CYBRA's award-winning software to save time and money. We can show you how to implement a scalable RFID inventory asset and management system.
Contact us today to learn how our auto-ID solutions can positively impact your bottom line.