EdgeMagic® is designed to manage your edge devices, commission, write, read, and verify your RFID tags. It can be fully integrated with your business applications. EdgeMagic is a browser based web application that can be accessed from anywhere, so you always have access to your inventory & tracking information at all times.
EdgeMagic lets you get a closer look at your big data, without having to do hours of inventory. The power of RFID ensures that your data is accurate, and CYBRA makes sure that the data from those RFID tags make sense to you.
Whether you're tracking goods in shipping, or maintaining store inventory, EdgeMagic gives you a boost in tracking your inventory, goods and equipment.
Quickly deploy advanced, industrial strength RFID and barcode solutions without costly custom programming.
EdgeMagic installs in days, not months, so you'll be up and running in no time. That's why EdgeMagic customers see rapid ROI (Return On Investment) on their RFID and other Auto-ID investments.
EdgeMagic encodes and reads RFID tags and barcode labels and updates system database files in real time for accurate information and decision making.
EdgeMagic runs on major computing platforms like Microsoft Windows, Linux, IBM System i/OS and AIX. So, no matter what modern operating system your business relies on, you can rely on EdgeMagic.
Since EdgeMagic is a browser based web application, you can access your company's vital tracking and inventory information anywhere. EdgeMagic data interface can even be accessed via the cloud!
Add Your Readers Quickly & Easily
Simply pick from a list of supported readers, supply an IP address, and you're ready to read RFID tags. Supporter reader manufacturers include Alien, Intermec, and Motorola.
No PC Needed
A native System i solution for commissioning, writing, and reading RFID tags, EdgeMagic is designed to manage edge devices, encode and read RFID tags as a stand-alone application or can be fully integrated with System i ERP/WWMS applications.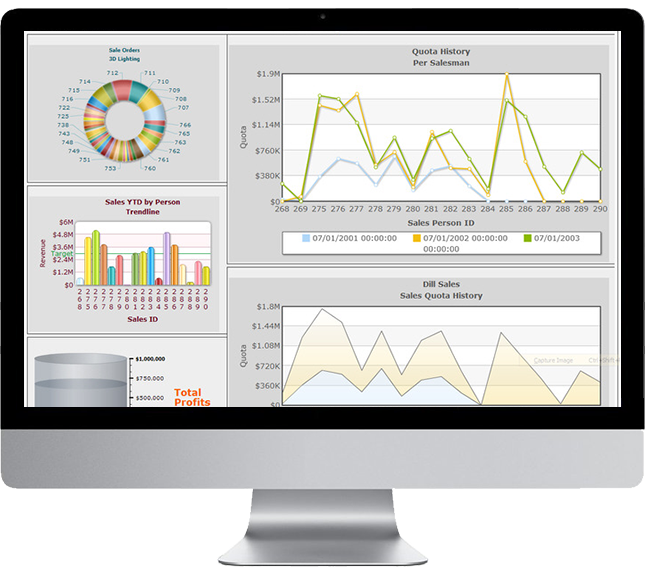 Browser Based & Cloud Accessible
Even when you're not near your work computer, you still need to make sure your business is running. Get access to EdgeMagic's data interface anytime, anywhere, on any device.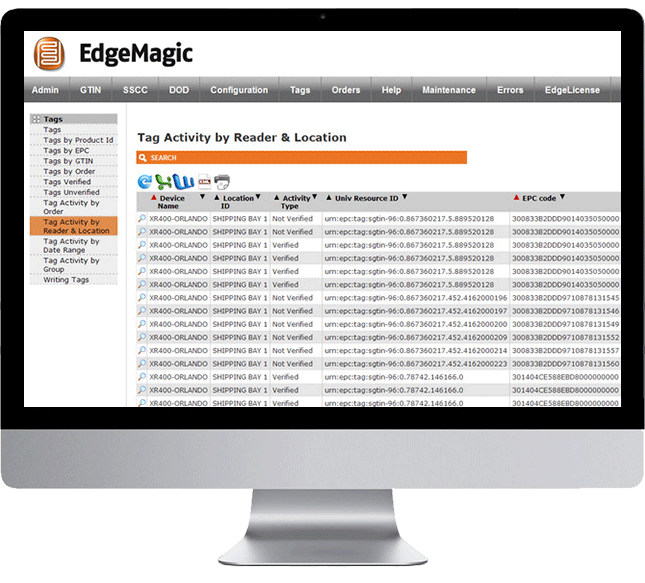 Tag Activity By Reader Or Location
EdgeMagic gives you complete control of reader performance. You check which tags were verified (or not) by reader name, reader location, activity type, or EPC code or URI (Universal Resource ID)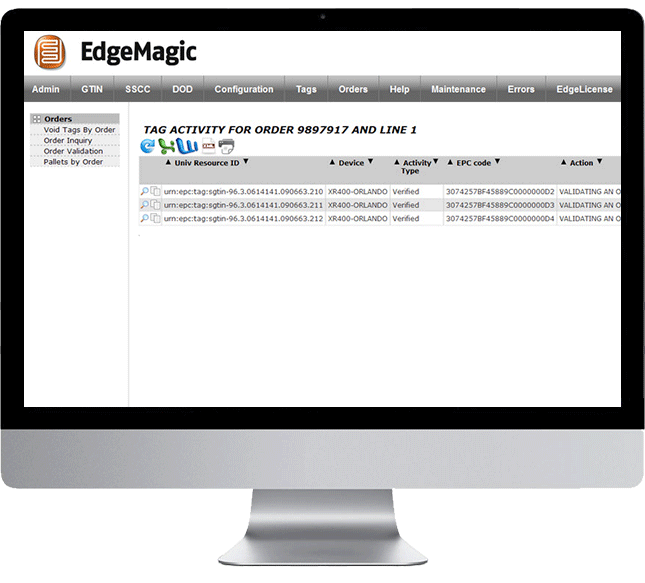 No More Chargebacks
End chargebacks and save money with EdgeMagic. Prove to your trading partner that you read every EPC tag for every line on every folder.
Tags Verified
EdgeMagic makes it easy to verify RFID tags by product, description, GTIN, URI, EPC, user and other user defined criteria.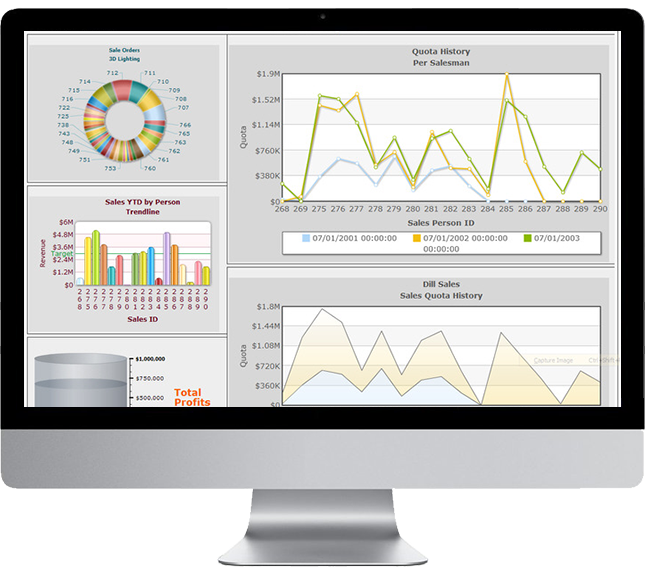 EdgeMagic Dashboards
EdgeMagic Dashboards make it easy to visualize RFID tag data in context with your oder, production, and sales data. You can analyze performance, spot trends, and act on the improved business intelligence because the RFID data is not on an island – it's an integral component of your ERP or WMS system.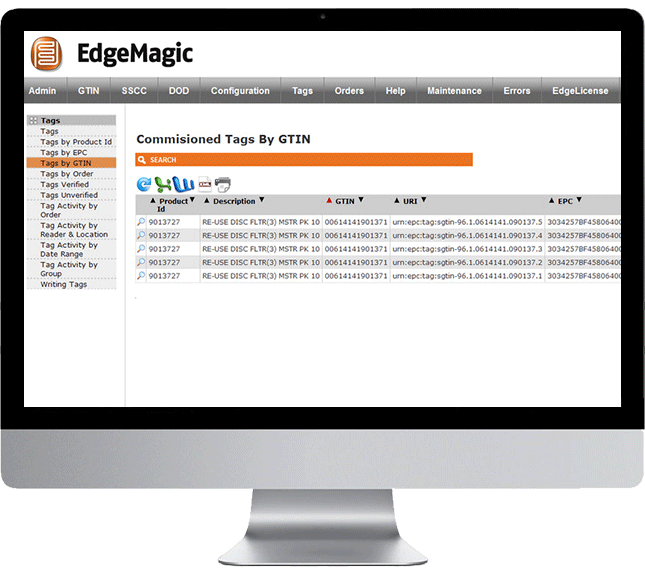 Search By GTIN
With EdgeMagic, you can search for commisioned EPC tags for any GTIN (Global Trade Item Number). Each unique carton or item tag generated can be easily found and its status determined.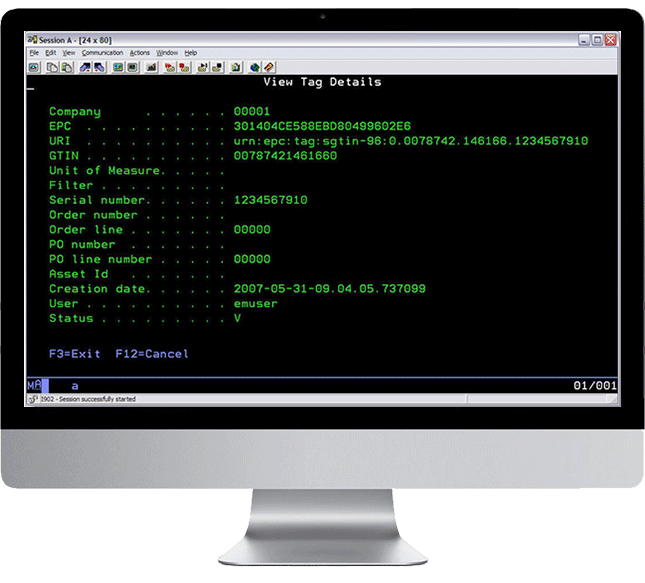 View Tag Details in 5250 Interface
EdgeMagic is the world's only native RFID control software that runs on IBM i operating system. No BSOD (Blue Screen of Death). No viruses. No need for PC servers.
Current Versions
EdgeMagic Platform
The EdgeMagic Enterprise Edition provides the full range of features needed for managing EPC (Electronic Product Code) compliance mandates, printing, reading and validating RFID tags, integration with ERP and WMS applications and management reporting.
EdgeMagic Enterprise gives you complete control over your tag integration, printing, and formatting, along with offering advanced analytics and integration with any device. It's the most powerful RFID software on the market.
Learn More
EdgeMagic Basic
The EdgeMagic Basic Compliance Edition includes the basic functions you need to assign, commission, print, and validate RFID smart labels. It works together with MarkMagic to print smart labels. Basic Compliance comes with the following:
– Outbound (shipping) EPC compliance.
– Smart label printing via MarkMagic.
– RFID reader support: Fixed & Mobile RFID Readers.
– Tag Validation: Physical & Data check.
– Business Analytics: Basic Reporting and Queries.
Learn More
Auto ID Facts & Figures
Raise Inventory Accuracy From an Average of 63% to 95%

95%

Increase Item Availability to Boost Sales From 2% to 20%

20%

Improve Inventory Labor Productivity By 96%

96%

Cut Out of Stock at Retail By Up to 50%

50%
Can I Purchase EdgeMagic in a Language Other Than English?
Yes. EdgeMagic is available in any language.
Can I Download a New Version of EdgeMagic?
Yes. If you would like to update your version of EdgeMagic, go to our Downloads page to download the latest version.
Which Operating Systems Work With EdgeMagic?
EdgeMagic will work on your System i, AIX, Linux or Windows business server
How long does it take to integrate EdgeMagic into my business?
It is up to you! If you are already using RFID tags on your goods, and have your preferred RFID tag readers, it can take a few hours to start getting data coming into your EdgeMagic interface.
Does EdgeMagic Come With Tech Support?
No, it is not a standard feature. If you need support, make sure you order EdgeMagic with an annual license.
What Kind of RFID Readers Work With EdgeMagic?
EdgeMagic works with all major RFID readers.
CYBRA Corporation

Makers of world class RFID software applications and barcode printing software.
Contact CYBRA and see how our barcode & RFID Solutions can save you time and money and positively impact your bottom line. Contact CYBRA at 1-800-CYBRA-88 (1-800-292-7288) or info@CYBRA.com.