Real time tracking software that lets users track critical infrastructure, lone workers, and inventory from one interface. Edgefinity IoT is a modern application that combines RFID technology with real time tracking capabilities to give users the ability to locate items and employees with ease.
REQUEST DEMO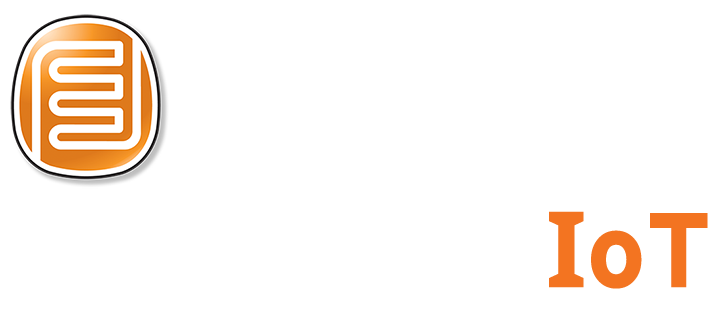 An RTLS software application for tracking assets, inventory, and workers. Edgefinity IoT lets users track critical infrastructure, lone workers, and inventory from one interface. Edgefinity IoT is a modern application that combines RFID technology with RTLS (real time location systems) capabilities to give end users the ability to precisely track and locate items and employees with ease.
REQUEST DEMO
REAL TIME TRACKING SOFTWARE
One software platform. Many solutions. Whether you need to track large amounts of inventory, locate misplaced equipment, or ensure the safety of your employees, Edgefinity IoT lets you quickly deploy advanced, industrial strength RFID and real time tracking capabilities without costly custom programming.
Combining active RFID hardware and software with RTLS (real time location system) and multi-sensor capabilities, Edgefinity IoT keeps you in the know by sending out instant alerts whenever an incident occurs. No matter where managers are, they can always have a live, real-time view of any active alert situation from inception through resolution.
Edgefinity IoT is the cutting edge for real-time tracking of inventory, assets, and employees.
RELIABLE HARDWARE
Edgefinity IoT is deployed with state-of-the-art RTLS ID badges, tags, monitors and receivers, both fixed and mobile. This advanced sensor network allows Edgefinity IoT to deliver up-to-the-second information on any person, vehicle, asset or process.
REAL TIME REACTIONS
Easily create rules – both simple or complex to detect incidents and safety violations. It is as if an unblinking supervisor were ever present. During any incident, Edgefinity IoT can call security or first responders, lock doors, send text messages to all staff, and much more.
RULES BASED LOGIC
Build complex rules and logic without writing a single line of code. How? At the heart of Edgefinity IoT is the rules engine. With the Edgefinity rules engine, you can select specific events, and pair them with the right locations, assets, and people so your system is customized to fit your needs.
EAGLE EYE VIEW
Edgefinity IoT gives you a complete, real-time view of your entire warehouse or retail facility. Keep an eye on your facilities from any device, anywhere. Edgefinity IoT is web-based, so as long as you have access to a connected device, you're connected to your facilities and employees.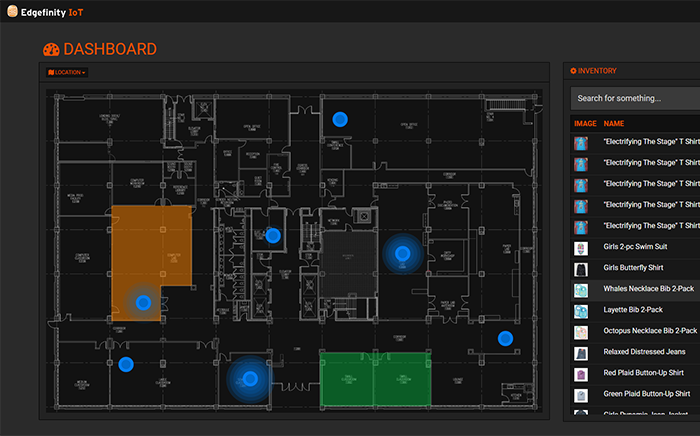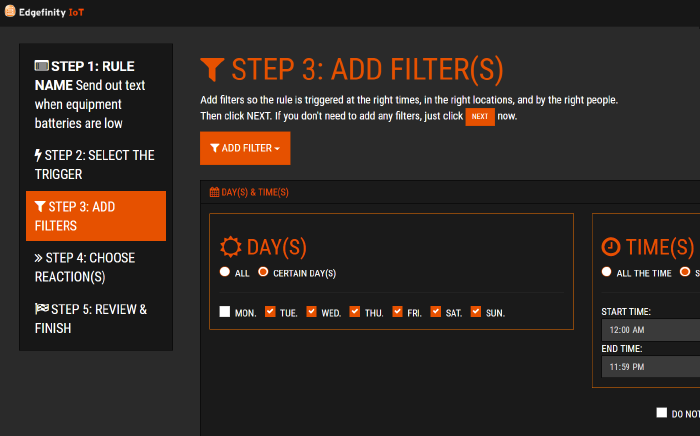 CREATE COMPLEX RULES
At the heart of Edgefinity IoT is the Rules Engine. Build complex rules in five simple steps. Rules that range from simple to complex are easy to create. Customize the efficiency of your operation without slowing down your employees or supply chain.

SEND/RECEIVE RAPID ALERTS
When an incident occurs, which meets criteria you select, Edgefinity IoT sends out alerts to the people who need to know to ensure quick, effective action. Alerts can be sent via email, text, SMS, or phone call. Edgefinity IoT can even perform automatic tasks like locking doors, shutting on/off power, turning on/off alarms, and more.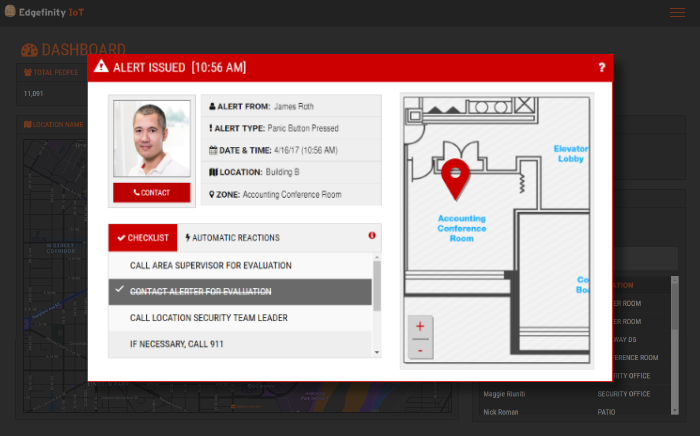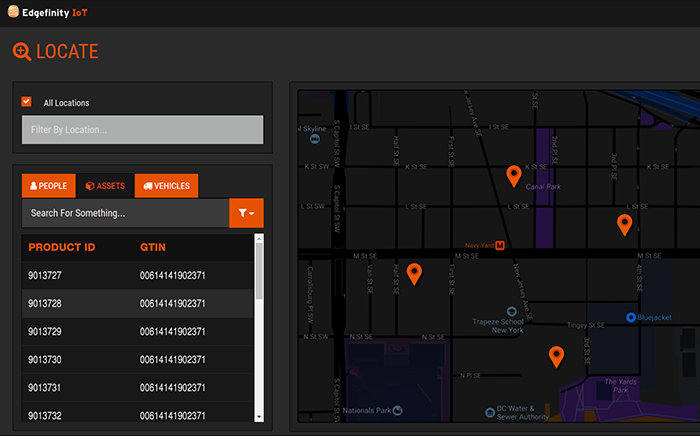 TRACK EVERYTHING
With Edgefinity IoT, you can search and locate any item, asset, or employee in real time. Know when someone signs in or out, where a shipment went, if an asset is being mishandled, or when it's time to replenish. Edgefinity IoT offers a user friendly interface to find anything in no time.
GET ALERTS. STAY IN THE KNOW. ANYTIME. ANYWHERE.
When an accident occurs at your facility, you don't have a second to waste. Edgefinity keeps your security team organized when an incident occurs. Edgefinity's RFID & RTLS technology ensures every incident is acted upon, and catalogs every incident for review. Receive alerts via text or email as they happen – right up to the second.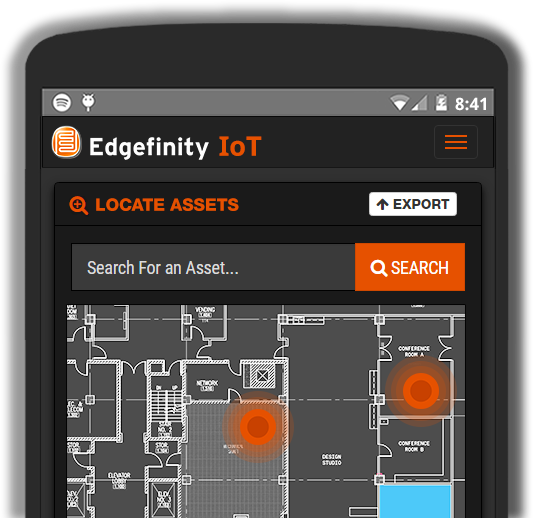 Edgefinity IoT Capabilities
INTELLIGENT ALERTS
Edgefinity IoT alerts can be instantly sent to mobile devices, laptops or desktop computers. Audible and/or visual alarms can be triggered as well. You can set certain alerts so that only those on site receive the alert, while major alerts can be distributed to all appropriate people wherever they may be. With Edgefinity IoT, managers on staff, as well as first responders, can quickly gain complete situational awareness even via iOS and Android mobile devices.
LOGGING & REPORTING
Every alert triggered in your Edgefinity IoT system is recorded as to exactly how and when it was handled as well as it's final disposition. Managers at all levels can generate custom reports based on any combination of alert types and any other parameters. Edgefinity IoT offers report templates to suit your organization's requirements.
WEB BASED ACCESS
No matter where you are, or where an incident occurs, Edgefinity IoT can send instant alerts if appropriate. Managers have full visibility, as if they are on site. If you have access to a browser, you'll have an eagle eye view no matter where you are.
LIMITLESS SCALABILITY
Whether you have a single large or small facility to manage, or thousands worldwide, Edgefinity IoT is designed to handle it in stride. It can accommodate an unlimited number of staff, users, managers and administrators as well as assets, vehicles and remote sensors. Cloud-based, local and hybrid solutions are all available to suit your needs. Big or small, local or multinational, Edgefinity IoT has you covered with one common infrastructure and user interface.
TOTAL CUSTOMIZATION
With just a few strokes of the keyboard, you can have a fully functional RFID & RTLS system that is customized perfectly to your facility and operation. Add floor maps, specific zones and locations, sensors, people, and complex security schematics without any heavy lifting or custom coding.
TOTAL HISTORY
Every single alert is assessed and recorded in Edgefinity IoT. System administrators can identify trends and modify alert rules so false alarms can be lowered, and future incidents can be addressed quickly. Not only is Edgefinity IoT safe – it's smart.
REAL TIME RFID SOLUTIONS
Built on CYBRA's expert system technology, Edgefinity IoT baseline alerts were developed utilizing the latest in RFID and RTLS (Real Time Tracking Systems) capabilities. Contact an RFID expert today to see how our technology can improve your organizational operations.
Here are some of the RFID/RTLS solutions we offer:
Tracking and tracing WIP (Work in Process) goods.
Preventing items from being used by unauthorized workers.
Ensuring vital equipment is not taken off premises.
Keeping track of reusable bins and equipment.
Auditing outbound shipments to reduce chargbacks.
Checking where items are stored for quick finding.
Monitoring the safety & security of lone workers.
Tracking employees during mustering and evacuation procedures.
CYBRA's RFID and RTLS technology combine to offer organizations the ability to track and locate people and assets in real time. Contact us to see how our applications can streamline your daily operations.